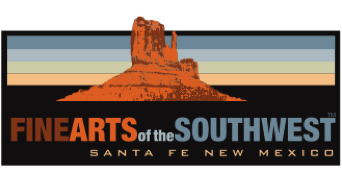 © 2010-2021 by Fine Arts of the Southwest, Inc. All rights reserved.
Unauthorized reproduction or use is strictly prohibited by law.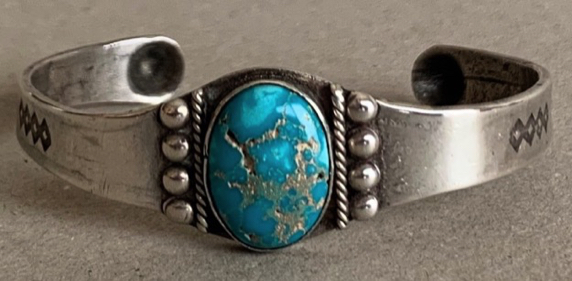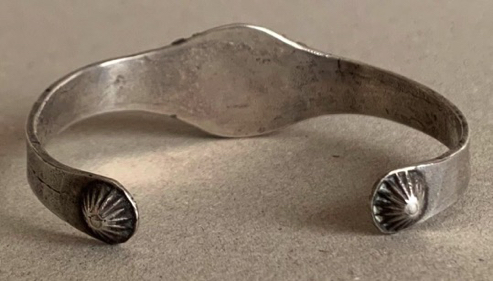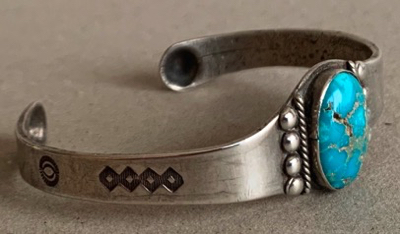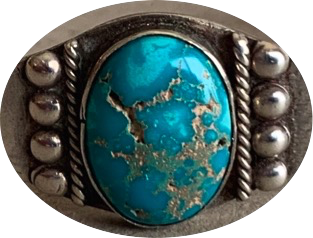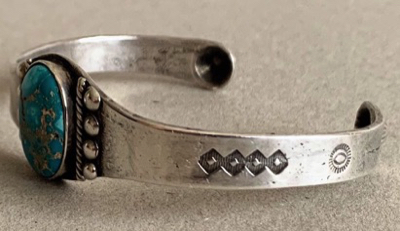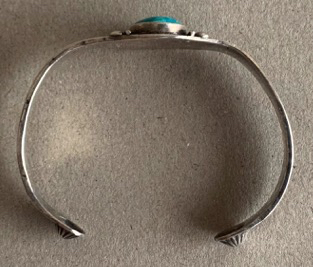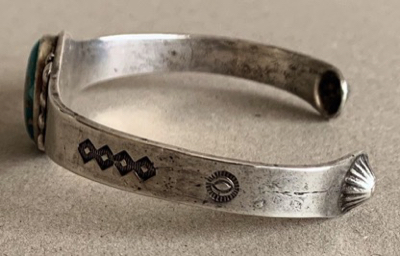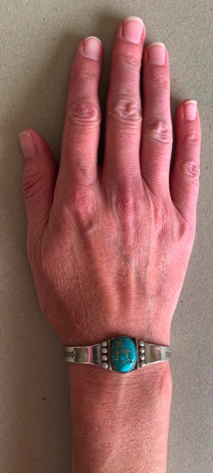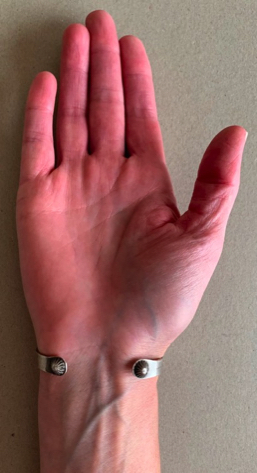 A very finely made early 20th Century Navajo cast 
coin-silver and turquoise bracelet, c.1920's-30's
This beautiful delicate bracelet dates from around the end of the first quarter of the 20th century and was superbly made in the painstaking traditional Navajo way of crafting silver jewelry at the time from melted down silver coins, either American coinage and/or Mexican silver pesos. The silversmith first melted the coin or coins into an ingot-silver "slug" from which he then hammered out the silver shank of the bracelet. He then decorated the shank with some unique simple stamp work and two beautifully-done small, round, deeply fluted repoussees or bump-outs at the ends after which he shaped the bracelet, crafted and mounted the silver bezel and set in the large oval-shaped natural turquoise stone into its old-style "foldover" type silver bezel.
It is also worth noting that, alternatively, this bracelet might not have been cast originally but have been hammered out directly from very highly-heated silver coins which would result in similar annealing or folding marks on its interior. There is also some very slight evidence of coin edges visible. Either method, whether melted and cast silver coins or heated and hammered silver coins is completely traditional and highly-desirable in such a historic piece.
This is precisely the type of bracelet that might have been made at or for one of the early high-quality Southwestern trading posts, such as those run by The Fred Harvey Company, J.L. Hubbell or C.G. Wallace all of which employed talented Navajo and Pueblo silversmiths to make high-quality jewelry pieces for a discriminating clientele.
The stone is flanked on both sides by applied hand-twisted silver wire borders which are themselves flanked by two rows of four large applied silver "raindrops". We are not completely certain which turquoise mine this stone came from, few American turquoise mines were producing at this time, among those that were was the famed Number 8 Mine in Nevada and this stone with its beautiful clear penetrating blue color and light sand colored or "Goldenweb" matrix might very possibly have come from there. The nicely-domed oval-shaped turquoise stone itself measures just under 3/4" in length and is 1/2" in width at its widest point. 
The bracelet measures 3/4" in width at its widest center point and tapers down to 5/16" at the slightly rounded terminal ends. The inner circumference end-to-end is 5 9/16" and the gap between the terminals is 1 1/8" for a total interior circumference of 6 11/16". The bracelet weighs a very comfortable and easy to wear 20 grams or 3/4 ounce. The bracelet is in excellent original condition with some age-appropriate wear and a fine soft patina. The stone has some small matrix-related surface pitting, but is not cracked or otherwise unstable. 
All in all, this bracelet is a very interesting and uniquely precious piece; an elegant clean-lined reminder of the well hand-crafted simplicity of earlier days when bigger and heavier and flashier wasn't necessarily more desirable and fineness and refinement of craftsmanship was paramount.
Price $975
The bracelet pictured alongside a rough nugget of Nmuber 8 Nevada "Goldenweb" turquoise. (Sorry, nugget is not included)