© 2010-2022 by Fine Arts of the Southwest, Inc. All rights reserved.
Unauthorized reproduction or use is strictly prohibited by law.

A unique vintage Navajo Coin silver bracelet set
with a Mexican silver one-Peso coin, c. 1920's-30's
Mexico and Navajo have an old historic silver connection. Navajo silversmiths originally learned their craft from Mexican blacksmiths and silversmiths beginning around 1860 and continuing through the early years of the 20th Century. The raw silversmithing material of choice and of neccessity at the time were primarily silver coins, Mexican and American, which move freely across the border in both directions.
This interesting old Navajo bracelet not only has silver coins on the inside, it has a silver coin on the outside too, a Mexican peso. The bracelet's triple split-silver shank was made in the traditional Navajo silversmithing method of first melting down a quantity of American and/or Mexican silver coins then casting the molten silver into a silver ingot or "slug" from which the bracelet's shank is subsequently hammered out to form.
When the shank was finished to the silversmith's satisfaction he set a silver Mexican one-Peso coin atop it which he further accentuated by encircling it with a beautifully wrought twisted silver wire surround and silver wire side borders. This particular type of silver Peso coin was made between 1920 and 1945. This bracelet beautifully underscores the importance and significance of silver coinage to the making of early Navajo jewelry, not only did it form the substance of the pieces themselve, but also formed many decorative designs on bracelets such as this, on rings, on a wide variety of silver buttons using various coins such as dimes, quarters, halves or whole silver dollars or pesos themselves.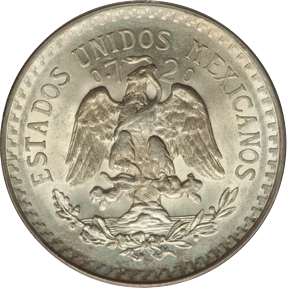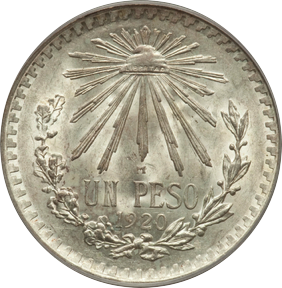 1920-1945 Mexican "Liberty" One Peso
At left, the obverse of the coin with the Mexican coat of arms which features a Mexican golden eagle perched on a prickly pear cactus devouring a rattlesnake. The eagle, cactus and snake are surrounded by an oak branch on one side and a laurel branch on the other. The head of the eagle and snake denotes the coin's purity of 0.720 %. The coin is stamped "ESTADOS UNIDOS MEXICANOS" over the coat of arms. At right, the reverse of the coin with a radiant cap, the denomination and wreath below. At center, a Navajo silversmith at work in his hogan, c. 1930's.
-Silver peso photo source and © Heritage Auctions
The primary use of coin-silver in making Navajo and Pueblo jewelry declined over the years from the 1930's onward as other sources and types of silver such as "Sterling" became available, but it has enjoyed a renaissance of sorts in recent years with leading Navajo and Pueblo silversmiths such as Perry and Quaid Shorty, Darryl Dean Begay, Ernie Lister and others choosing to use it for its distinctive color and appearance and as a treasured link and connection to their cultural past.
The bracelet measures a touch less than 1 1/2" in width at its widest center point and tapers down to 1/2" in width at the terminal ends. The inner circumference end-to-end is 5 3/4" and the gap between the terminals is 1" for a total interior circumference of 6 3/4". The bracelet weighs a very comfortable and easy to wear 41 grams or 1 1/2 ounces and it is in excellent original vintage condition with a fine soft patina from nearly a century of age and use.
This bracelet is a fascinating and historic Navajo/Mexican silver piece, an attractive and distinctive-looking piece of jewelry and a unique piece of the Southwest's extraordinary cross-cultural past.
Price $975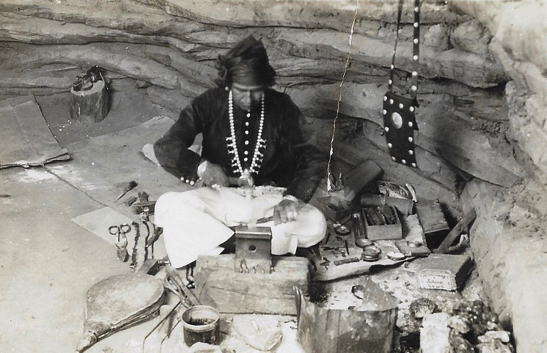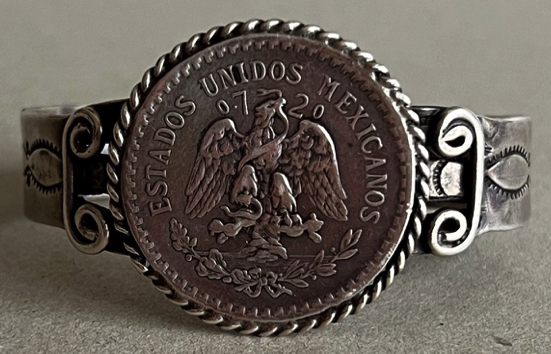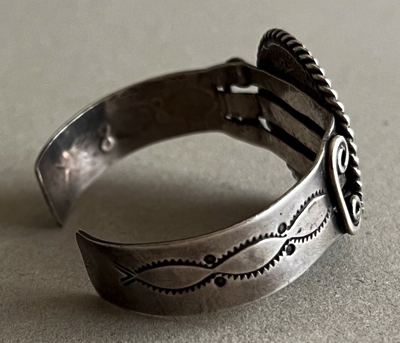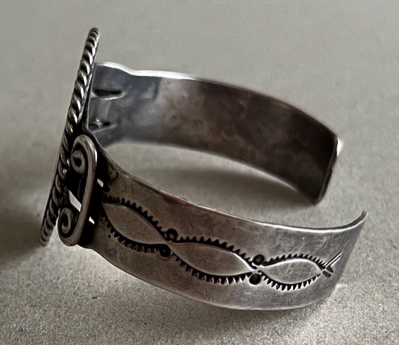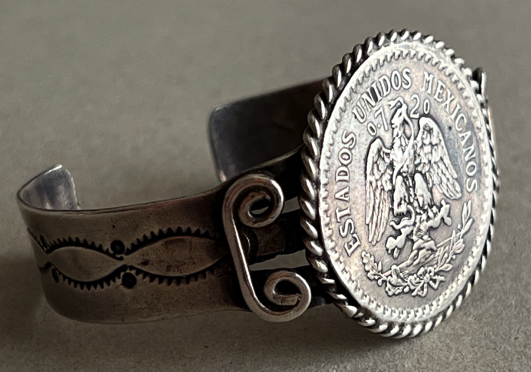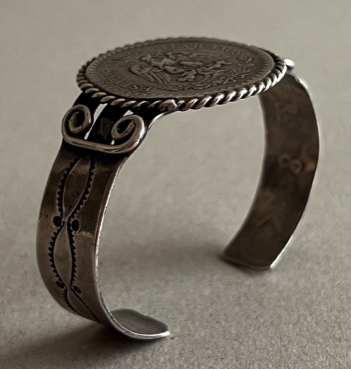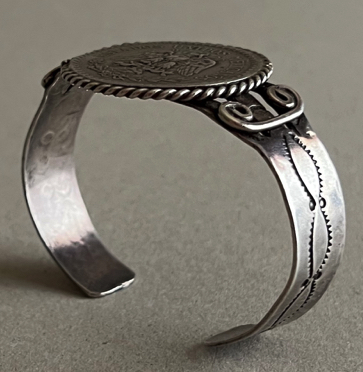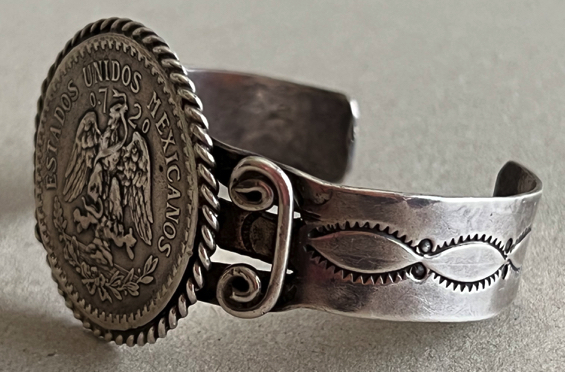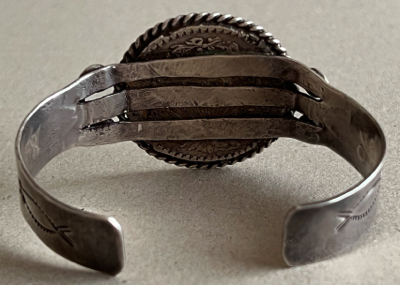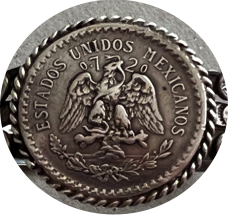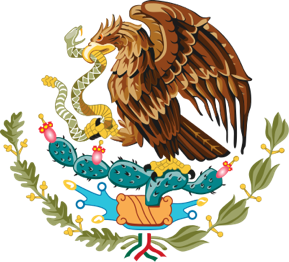 "The coat of arms of Mexico (Spanish: Escudo Nacional de México, literally "national shield of Mexico") depicts a Mexican (golden) eagle perched on a prickly pear cactus devouring a rattlesnake. The design is rooted in the legend that the Aztec people would know where to build their city once they saw an eagle eating a snake on top of a lake.
The image has been an important symbol of Mexican politics and culture for centuries. To the people of Tenochtitlan, this symbol had strong religious connotations, and to the Europeans, it came to symbolize the triumph of good over evil (with the snake sometimes representative of the serpent in the Garden of Eden)."
-Quotation and photo source © Wikipedia