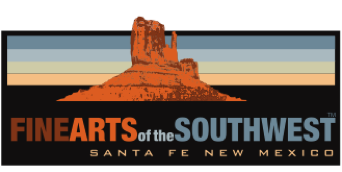 © 2010-2021 by Fine Arts of the Southwest, Inc. All rights reserved.
Unauthorized reproduction or use is strictly prohibited by law.

An outstanding 14-strand Navajo coral tube
bead necklace with turquoise, coral and spondylus shell "Jacla" pendants, c. 1940's-50's
ex: Martha Hopkins Struever Collection, Santa Fe
A particularly striking necklace composed of fourteen perfectly-matched strands of Mediterranean coral tube beads in the rich cantaloupe-orange color so favored by the Navajo people as opposed to the deeper-red "Oxblood" shade of coral generally preferred by the Zuni and other Pueblo people. The turquoise beads in the "jacla" pendants are a particularly beautiful vibrant blue with a dark chert matrix indicating they are possibly from the famed Blue Diamond Mine in Nevada.
The necklace measures 13" in length from the top of the "Pueblo" style cotton wrap to the bottom of the coral beads and it is 16" in length from the top of the wrap to the bottom of the turquoise jaclas measured while lying flat on a table. The necklace's overall circumference all the way around is approximately 26". The necklace and jacla pendants together weigh a substantial yet quite comfortable 146 grams or 5 1/8 ounces.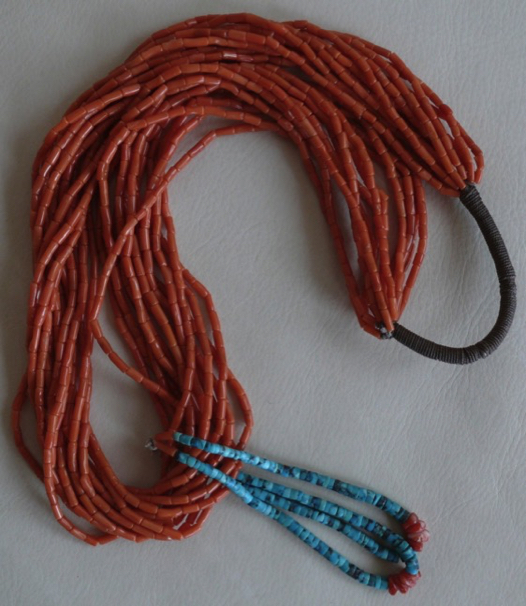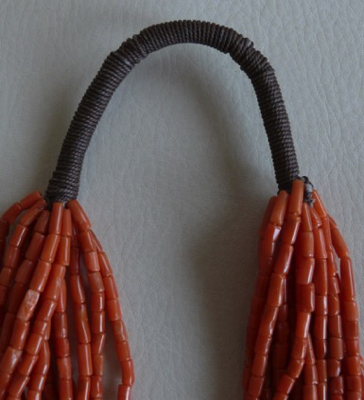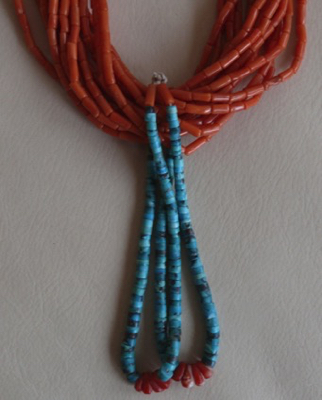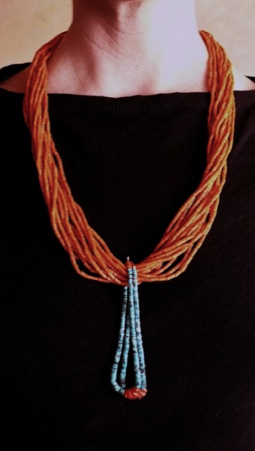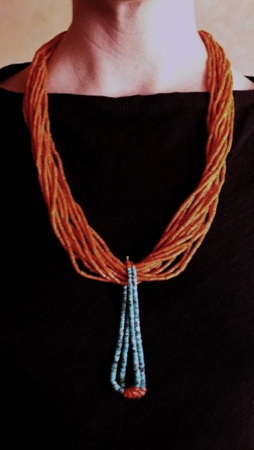 Both the coral necklace and the turquoise jacla pendants are in excellent condition. The necklace has been rewrapped for safety with a dark brown "Pueblo"-style cloth wrap within the past fifteen years. Top-quality older coral necklaces such as this piece are getting infinitely rarer and more difficult to come by with every passing year and especially the larger ones like this piece with fourteen individual matched strands of coral as opposed to the far more common for or six or seven strand pieces.
In addition to all its other remarkable attributes, this necklace has an outstanding provenance too. It was formerly in the personal collection of the renowned longtime Santa Fe Indian arts dealer and author, and our longtime close colleague and friend, Martha Hopkins (Marti) Struever (1931-2017). Marti deeply loved coral necklaces and she had a number of treasured pieces including this one which she was gracious enough to sell to us in 2014.
This necklace is a rare and elegant prize which would be equally at home worn with with a formal dress at a Metropolitan Opera Gala, in the front row at a Ralph Lauren runway show or on a casual day trip to the annual Santa Fe Indian Market.
SOLD

A Navajo man wearing a similar coral bead and jackla necklace, c. 1910. Karl Moon photo source and © Library of Congress, Washington D.C.