© 2010-2021 by Fine Arts of the Southwest, Inc. All rights reserved.
Unauthorized reproduction or use is strictly prohibited by law.

A finely made Navajo hammered coin-silver bracelet set with a beautiful piece of Persian turquoise, c.1920's
This bracelet is an early example of cross-cultural pollination in the making of Southwestern Native American arts. In the early 20th century there was an increasing demand for Native American jewelry fueled by a sharp increase in Southwestern tourist travel on the Santa Fe Railroad and The Fred Harvey Hotel system. At this time, there were only a very few American turquoise mines producing turquoise so enterprising Indian traders such as Juan Lorenzo (J.L.) Hubbell (1853-1930) in Ganado, Arizona turned to Europe to import fine Persian turquoise to the United States with which to make Native American silver jewelry as can be seen in this gorgeous Navajo coin-silver cuff bracelet set with a beautiful precious high-domed Robin's egg blue Persian turquoise cabochon stone. This beautiful stone is nicely matrixed with a deep reddish-black matrix.
Persian turquoise has a long and storied history, having been used in jewelry making for approximately four thousand years. It was a favorite jewel of fancy 17th Century English gentlemen. It was so highly prized that all seventy-nine of the emeralds in the crown French Emperor Napoleon the First gave Empress Marie Louise in 1810, pictured above at left, were replaced with Persian turquoise cabochon stones.* In 1923, British King George V gave the diamond and Persian turquoise tiara and its accompanying parure , pictured above at right, to his new daughter-in-law, Elizabeth Bowes-Lyon (better known to us as the Queen Mum). She passed the set along to her daughter, Princess Margaret.
Left photo, text source and © thecourtjeweler*. Text source and © Durango Silver Company. Right photo source and © The Royal Order of Sartorial Splendor
The bracelet measures 1 1/4" in width at its widest points on either side of the high-domed turquoise stone
and it tapers down to 7/8" in width at the terminal ends. The bracelet's inner circumference end-to-end is 5 7/8" and the gap between the terminals is 1 3/8" for a total interior circumference of 7 1/4". It weighs a very comfortable and easy to wear 54 grams or 2 ounces. The bracelet is unmarked for maker befitting its earlier
time frame and it is in thoroughly excellent original condition. This bracelet is a wonderfully made and historically significant Southwestern jewelry piece with a fascinating International pedigree.
SOLD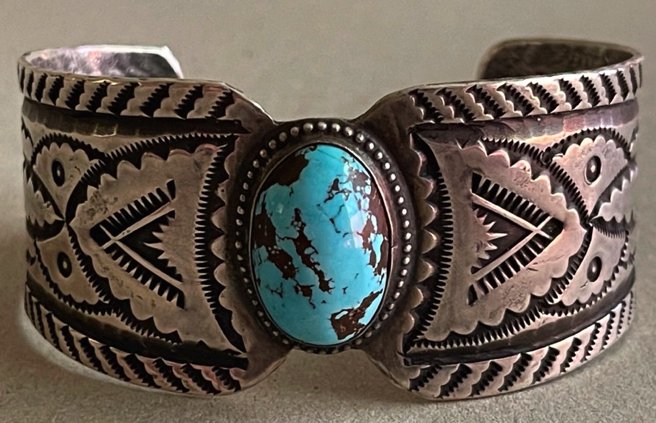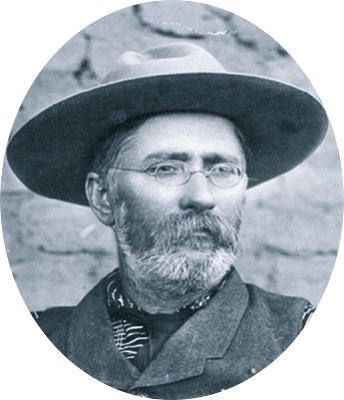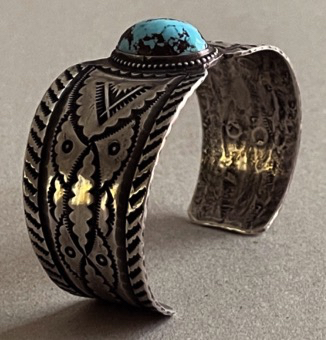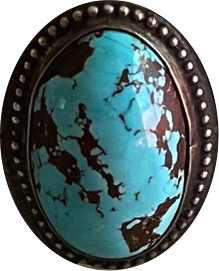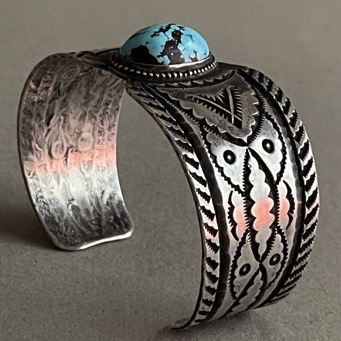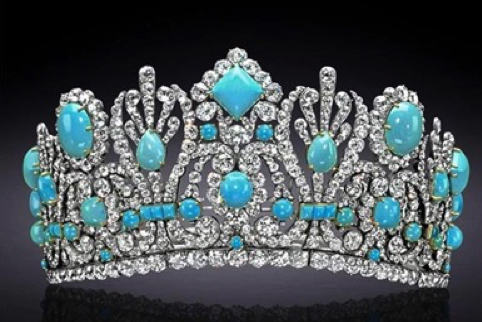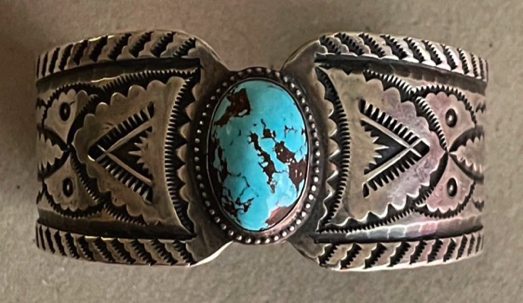 J.L. Hubbell c. 1904
Photo source and © The Friends of Hubbell Trading Post National Historic Site
The historic bracelet is a bit of a conundrum; it appears to have been made in a very interesting and seldom employed old-style method; hammered directly out of a group of historic American and/or Mexican silver coins. Usually in Navajo silverwork, when coins were used as the source of silver as often occurred they were first melted down into an ingot-silver "slug" out of which the jewelry piece or pieces would then be fashioned, but in the case of smaller or somewhat lighter, thinner pieces such as this bracelet the coins themselves were heated to red hot then pounded out together to form the shank of the bracelet.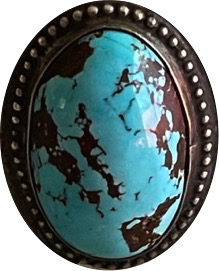 There are still several sections of the original serrated coin edges visible on the interior of the bracelet which is a clear telltale for the use of this interesting technique. This is possibly indicative of a very skilled older silversmith, one accustomed to earlier techniques and more basic materials having made this piece. And this fellow most certainly did not lack in ability; the overall design and construction of every element of this bracelet is nothing short of spectacular. The overall shape with the double-sided swooping silver shank flanking the center stone and the elaborately chiseled and stamp worked decorations rendered in overlapping semi-circular cloud-like forms are most beautifully and profusely done.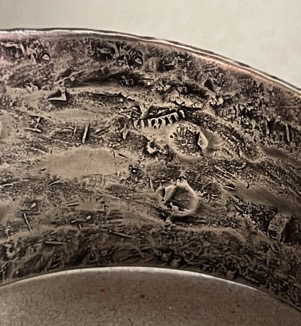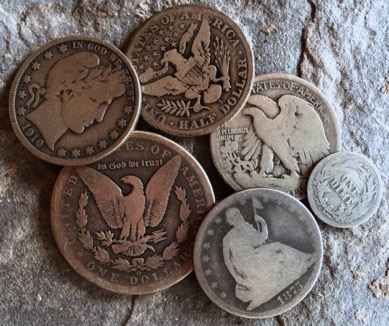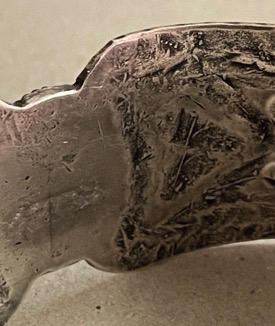 At left and right are remnants of serrated coin edges. At center are the types of historic American silver coins which were used to make this bracelet.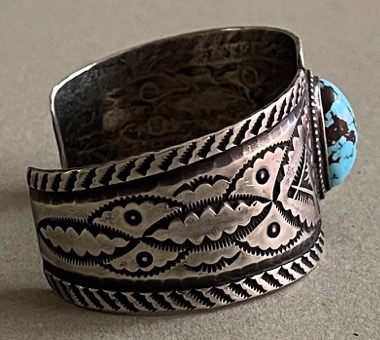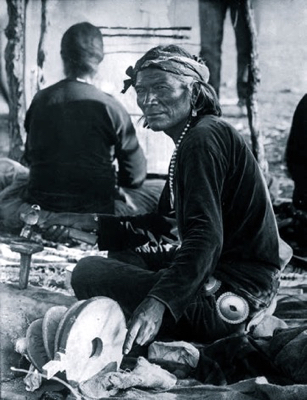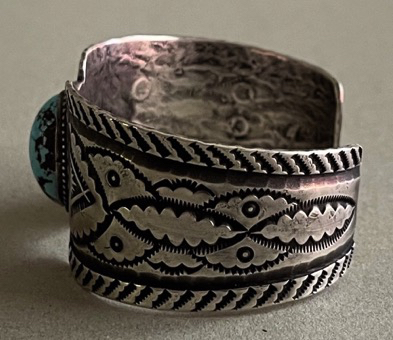 A Navajo silversmith, c. 1920
Photo source and © Pinterest
The beautiful high-domed turquoise cabochon stone is interestingly and very nicely highlighted with a very finely detailed oval surround of small raised silver balls. It is also interesting to try and calculate how many silver coins were used to make the bracelet. Consider that an American silver quarter of this approximate vintage weighs some 6 grams, a silver half-dollar weighs 11 grams, so making this bracelet would have used around nine quarters or five half dollars or some combination of these and possibly other silver coins. Silver coins, the only form of "hard" currency in the predominantly trade economy that existed in early 20th Century Navajoland, were quite rare and hard to come by and could be used to purchase needed household necessities that could not easily be traded for, so dedicating enough silver coins to make this bracelet was a significant investment and event to both the person who made it and to the person for whom it was made.