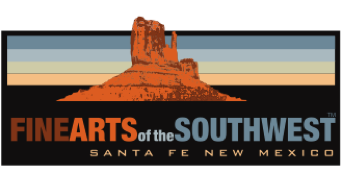 © 2010-2021 by Fine Arts of the Southwest, Inc. All rights reserved.
Unauthorized reproduction or use is strictly prohibited by law.

An outstanding Classic-Period Navajo
coin ingot-silver belt buckle, c.1880-90
Right out of the last two decades of the 19th Century, the storied era of the Classic 1st and 2nd-Phase Navajo Concho belts comes this incredible classic Navajo coin ingot-silver buckle. It has everything one could ever desire
in a classic Navajo silver buckle; outstanding beauty, great rarity, exceptional craftsmanship, delicious patina.
Navajo silversmiths did not start making silver buckles until around 1880 when they first learned how to use solder. Previous diamond-slot Navajo 1st-Phase style Concho belts did not employ solder in the process of making the conchos and they used small commercial American brass harness buckles scavenged from cavalry soldiers' saddles and bridles or other types of horse tack. Beginning around 1880, Navajo silversmiths began making small silver buckles for use mainly on Concho belts as this one might well have originally been intended, but somehow along the way this buckle became a stand-alone piece whether by intent or by happenstance. It could have easily been separated from its original Concho belt and changed hands in a gambling contest such as a horse race which were commonly held throughout Navajo land around the turn of the Century in which many items of value such as Concho belts, individual conchos, buckles, bracelets, rings, necklaces, saddles, and even horses themselves routinely changed hands in the course of enthusiastic and spirited betting. To read an excellent historic account of this activity, refer to Oliver LaFarge's classic 1929 novel "Laughing Boy".
"Laughing Boy" by Oliver LaFarge, Houghton-Mifflin Co., 1929
A Classic-Period Navajo coin ingot-silver 1st-Phase Concho
belt with a similar period coin ingot-silver buckle, c. 1880-85
The square-shaped buckle is made of American silver coins which were melted down and cast to form an ingot-silver "slug" from which the body of the buckle was then hammered out and formed. Importantly, it should be noted that such silver coins were an extremely precious commodity in the remote stretches of Navajoland's trading based economy at this time as they constituted a form of "hard money" which could be used to purchase critical necessities. To set aside a few rare silver coins to make a buckle meant that it had better be a very special buckle indeed. After the silversmith formed the body of the buckle, he decorated it all the way around with rich elegant stamp worked designs using only a couple of different stamps, but using them very creatively and further accented the four corners of the buckle with diagonal stamped designs which are reminiscent of ears of corn. It is amazing to contemplate how beautiful this buckle is given the extremely primitive tools and conditions with which it was created. The finishing touch of all is the gorgeous hand-forged and beautifully hammered silver tang which is itself a tiny work of art. The most noticeable characteristic of the buckle right off is its extraordinary patina acquired over decades of dedicated wear and use. It has the unmistakably authentic look and feel of antiquity.
The square buckle measures 2 1/4" in width and is likewise 2 1/4" in height. The silver body of the buckle is about 1/16" in thickness and it weighs a very comfortable 46 grams or 1 5/8 ounces. The buckle will accept a belt strap of up to 3/4" in width. If you are fortunate enough to already own a fine Navajo 1st or 2nd Phase Concho belt this buckle would certainly look fantastic on it. But if you don't, the buckle looks so incredibly wonderful on its own that you can just save the twenty grand and count yourself all the luckier. This buckle simply doesn't need to be accompanied by an expensive Concho belt in order to look good. And it would look every bit as good on a man or a woman whether worn with jeans or over a great black dress.
The Navajo have an important saying which sums up their entire life philosophy which is that to "walk in beauty" is the ideal manner in which to live. Wearing this buckle would be a very good way to start walking that way.
Note: The leather belt pictured here is for demonstration purposes
only and is not included in the sale of the buckle.
SOLD