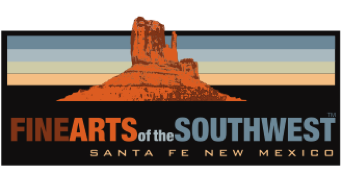 © 2010-2021 by Fine Arts of the Southwest, Inc. All rights reserved.
Unauthorized reproduction or use is strictly prohibited by law.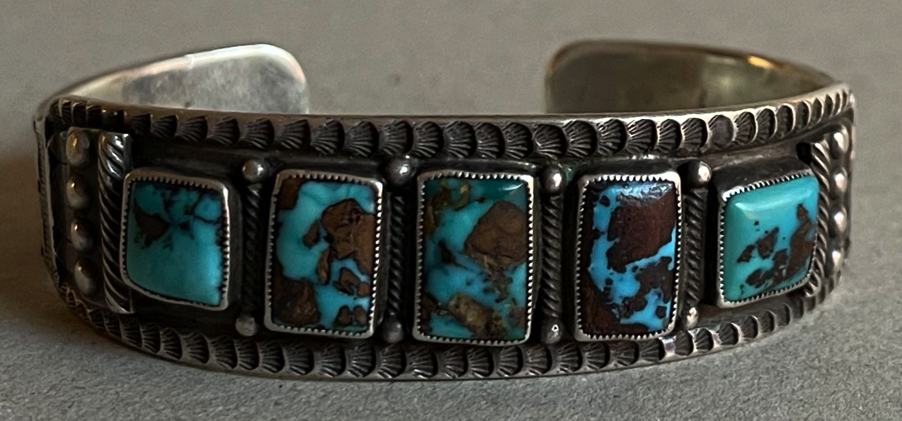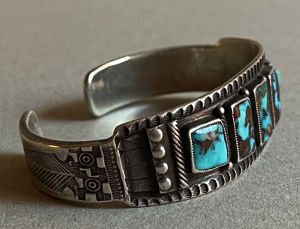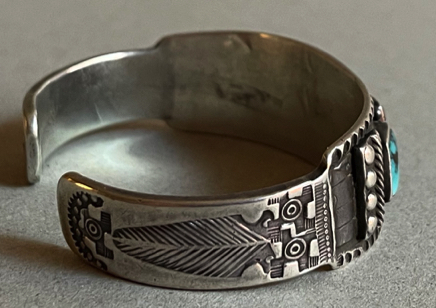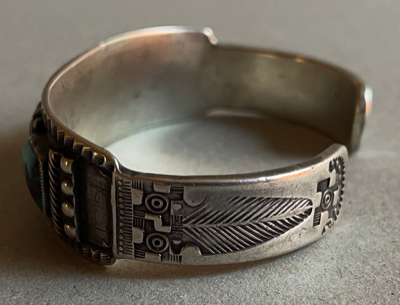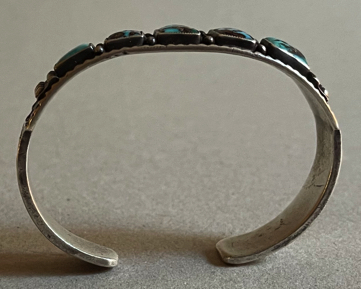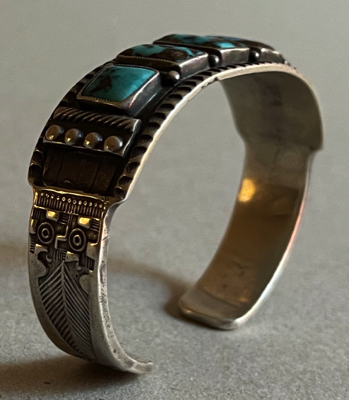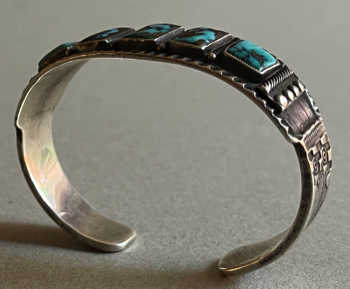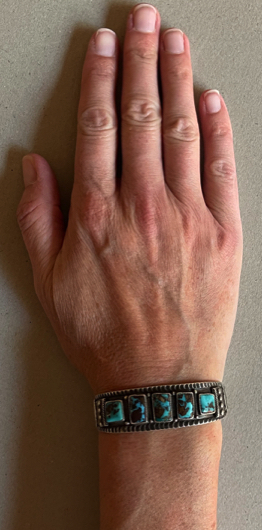 A spectacular vintage Navajo ingot-silver and turquoise row-style bracelet, possibly by Fred Peshlakai c.1940's-50's
This bracelet is a serious stunner, one of the most beautiful and finely-detailed we have ever seen. The first thing one notices naturally are the five gorgeous turquoise stones. They are perfectly matched, handcut square-shaped pieces of beautifully matrixed Bisbee, Arizona turquoise set in individual very finely serrated old-style "foldover" type silver bezels. The three stones in the center are set in a vertical orientation while the stones on either end are set in a horizontal orientation for an interesting decorative touch.
The bracelet's silver shank was made in the time honored traditional Navajo manner; silver coins were melted down to form a cast ingot silver "slug" which the bracelet's shank was hammered out of. Then the various decorative motifs and accents were applied and how incredibly wonderful they all are.
The central panel containing the turquoise stones is surrounded by a border composed of complex stamped designs. There are applied silver "raindrops" interspersed between the stones and also a row of raindrops on both sides of the central panel along with a raised stamped silver bar accent. Moving outwards from the central panel, the shape of the bracelet's shank tapers inwards and there are a pair of two extraordinary figural stamp-worked designs on both sides of a stylized owl with beautifully detailed facial features and a long feathered body. This motif is just a genius artistic distillation and depiction of this majestic and powerful bird and an absolutely brilliant design touch. The owl designs measure one inch in length. Directly under each of the owls at the bracelet's terminal ends other beautifully rendered complex stamped cross-like motifs and crescent designs.
These three signed Fred Peshlakai "row" style bracelets have a number of similarities to our unsigned bracelet in the size, shape, spacing and presentation of the stones, the bezels, and the use of applied silver "raindrops."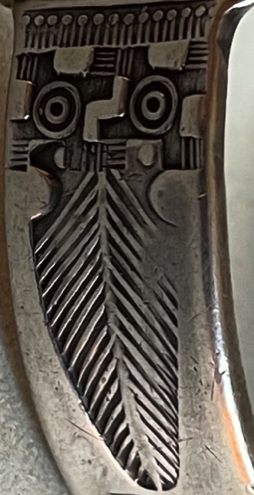 The overall quality and fineness of the silverwork here is simply remarkable. This is clearly a special piece made by a specially skilled silversmith quite possibly for a special particular person; so magnificent and elaborate is the detailing of the silverwork. All of which naturally leads us to some informed speculation on who might possibly have been this unsigned bracelet's extremely-skilled maker. Many of these signs point directly to the great Navajo silversmith, Fred Peshlakai (1896-1974), son of and apprentice to the legendary Peshlakai Atsidi, or "Slender, Maker of Silver" who has long been considered by connoisseurs to be the finest Navajo silversmith in history.
Fred Peshlakai himself has always been considered one of the finest Navajo silversmiths of the 20th Century renowned for his extraordinarilyy well made and detailed silverwork and his accomplished stone cutting ability and use of only the finest stones. Peshlakai had a permanent shop on historic Olvera Street in downtown Los Angeles for decades, but in the summers he would take his mobile shop out on the road making jewelry at various stops all around the Southwest, from Vaughn's Trading Post in Phoenix, AZ to Babbitt's Trading Post in Flagstaff, AZ to the Hotel Escalante in Cedar City, Utah. It is very possible in one of these places, possibly Vaughn's, that he made this bracelet as a custom order, but of course he could have just as easily have made it in his Los Angeles shop.
A considerable amount of Fred Peshlakai's jewelry was unsigned as this bracelet is because a considerable amount of it was made before Navajo silversmiths customarily began signing their jewelry pieces in the 1950's or later. But Peshlakai was also one of the earliest signers of Navajo jewelry and a good deal of Peshlakai's work was signed and as can be seen here there are numerous distinct design similarities of this bracelet to several of these signed pieces of his. Peshlakai specialized in row-style bracelets using the finest turquoise stones and numerous of his signed examples bear distinct similarities to this bracelet. Additionally, we recently consulted with one of our longtime colleagues who is an experienced and acknowledged expert in Fred Peshlakai's work and he agreed there was a distinct possibility that Fred Peshlakai had made this piece.
Also there is the fact that during this time period, there was simply no one else around who made pieces like this in terms of complexity, detailing and skill. Of course, there were other very talented Navajo and Pueblo silversmiths, but none we know of who did work like this.
"Referred to by many as "Row" bracelets, due to their side-by-side alignment of stones on a relatively
narrow band, this is a category of cuff design that remained popular with Fred throughout his career.
Meant to be worn singly or in multiples, the emphasis was always geared toward the presentation of the beautiful stones. The use of such high-grade turquoise stones, combined with meticulous silver work, separates Fred Peshlakai's work from all other artists of the period."
-Steven Curtis, "Navajo Silversmith Fred Peshlakai,
His Life and Art", Schiffer Publishing, Ltd. 2014, pp.120
In any case, it's an enjoyable and interesting scholarly exercise to speculate about the maker in this manner, but we will likely never know for sure. Let's leave it at this; there are certain artists whose work is so singular with a stylistic expression so uniquely theirs that this becomes the "signature" so to speak instead of an actual signature itself. In the field of Native American arts, Fred Peshlakai is certainly one of the most prominent of these artists as is the great Hopi potter, Nampeyo of Hano (1858-1942) who never signed her work over the course of a 60 or so year career, but whose work is extremely recognizable to the knowledgable experienced eye.
The bracelet measures 3/4" in width at its widest center point and tapers down to 3/8" in width at the terminals. The inner circumference end-to-end is 5 5/8" and the gap between the terminals is 13/16" for a total interior circumference of 6 7/16". The bracelet weighs a very comfortable 43 grams or 11/2 ounces and is in remarkably excellent original condition. None of the turquoise stones are cracked or chipped, there is almost no wear and there is a fine warm patina from age.
Be the envy of anyone who knows anything at all about historic Native American jewelry with this masterpiece.
It'll literally take your breath away and everyone else's too!
SOLD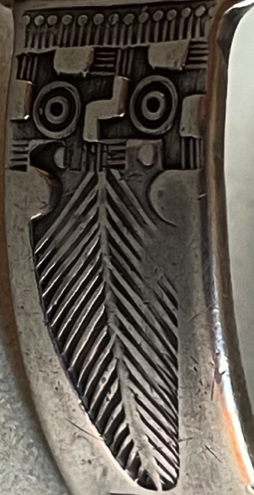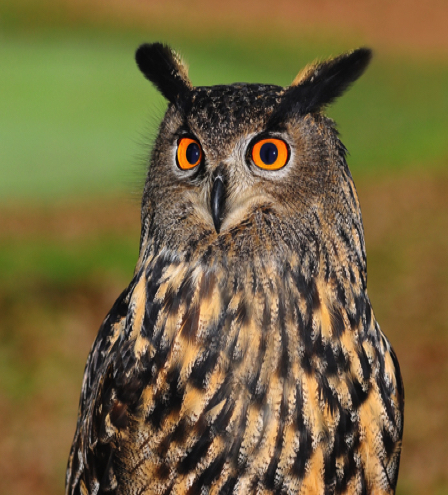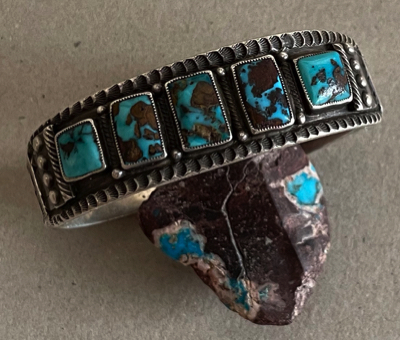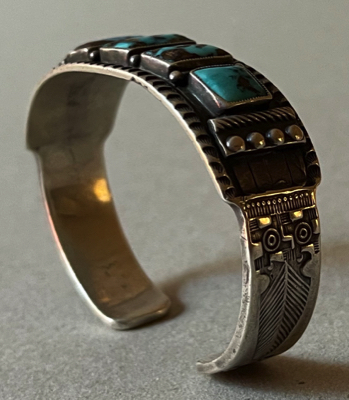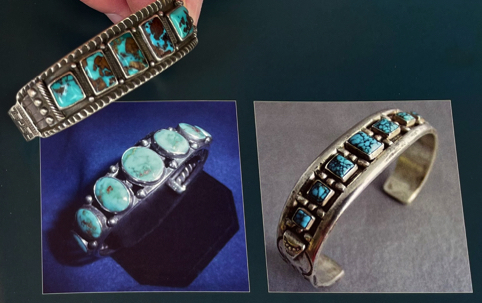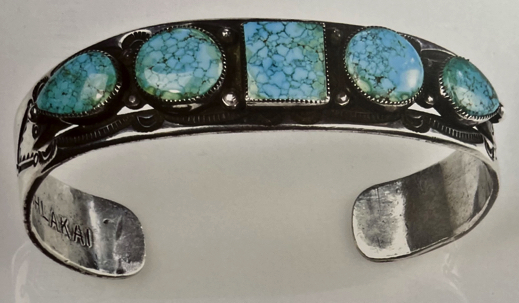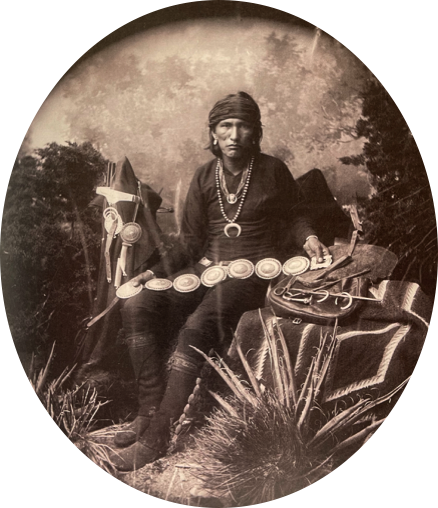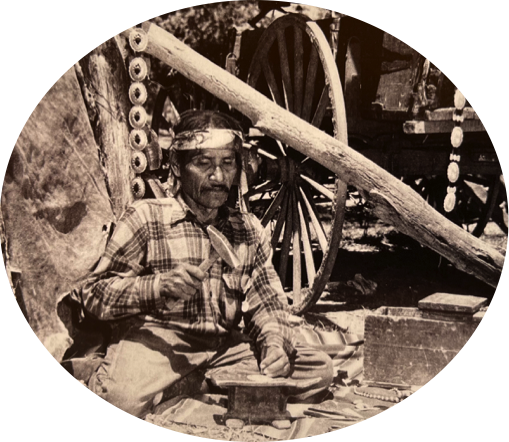 At left, a selection of Bisbee turquoise rough stones and set jewelry at Perry Null Trading Company, Gallup, NM. At right, this bracelet pictured with a Bisbee turquoise specimen rough stone.
-Left photo source and © Perry Null Trading Company, Gallup, NM
At left, a historic Ben Wittick photograph of Peshlakai Atsidi, "Slender, Maker of Silver", Fred Peshlakai's father. At right, Fred Peshlakai demonstrating traditional Navajo silversmithing at the 1934 Chicago Century of Progress and World's Fair.
Fred Peshlakai photo source and © Chicago History Museum, reproduced in Steven Curtis, "Navajo Silversmith Fred Pehlakai" pp.75
Bisbee Turquoise
Bisbee turquoise is a significant by-product of the huge Lavender Pit copper mine, which is now closed. With some of the finest turquoise coming from the section of the copper mine known as the "Lavender Pit," where for years copper miners would bring out fine turquoise in their lunch boxes. In March of 1972 a miner named Bob Matthews was given the only lease ever granted for rights to mine Bisbee turquoise. He was said to have recovered more than 2,000 pounds of good to excellent turquoise by 1974 . Bisbee turquoise is famous for its deep blue color and its smoky black matrix, which has been described as "smoky Bisbee" and as "lavender." Bisbee turquoise is as good as turquoise gets. In 2004 the Phelps Dodge Mining Company no longer allowed anyone near the hazardous old mine and buried the turquoise pit under 100 feet of dirt. There will be no more Bisbee mined. Any Bisbee on the market today was officially mined prior to 1974.
- Bisbee turquoise photo and text source and © Waddell Gallery, Scottsdale, AZ