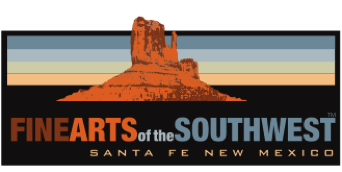 © 2010-2023 by Fine Arts of the Southwest, Inc. All rights reserved.
Unauthorized reproduction or use is strictly prohibited by law.
A rare and historic Navajo ingot-silver bracelet set with four large "Hubbell" style European blue glass stones c.1920's
This is a very unusual and historic cross-cultural piece indeed; a most unlikely meeting between Central
Europe and the American Southwest. In a brilliant stroke of entrepreneurial genius, "Hubbell" glass beads
were imported from Europe in the early decades of the 20th Century by the famed Arizona Indian trader,
Juan Lorenzo (J.L.) Hubbell (1853-1930) and were subsequently sold, traded or given to the Native American silversmiths working for his various trading posts (Ganado, Oraibi, Moenkopi, Winslow, AZ) as a less expensive, more consistently available alternative to turquoise which was sometimes quite difficult to obtain at the
time due to the fact that only a few American turquoise mines were in operation during this period and Southwestern tourism and its corresponding demand for Indian jewelry was rising rapidly.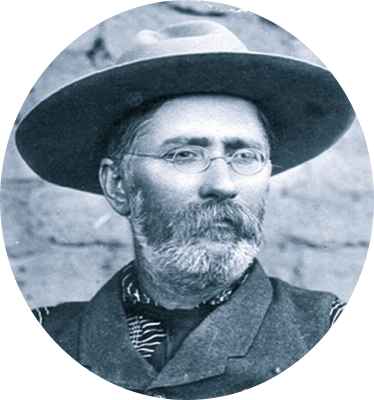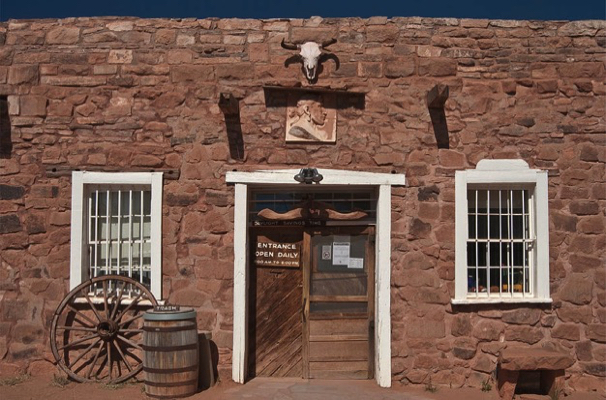 Juan Lorenzo (J.L.) Hubbell, c. 1900-1905
Photo source and © National Park Service
Front entrance of Hubbell Trading Post
Photo source and © by Witold Skrypczak
The blue glass beads were available from Bohemia (present-day Czechoslovakia) in both milky blue and "Spiderwebbed" blue varieties and red glass beads which simulate the appearance of Mediterranean red coral were also available. Navajo and Pueblo jewelry made with these blue and/or red glass Hubbell-style beads, often likely made at the trader's direction, were brisk sellers in Hubbell's various trading posts and in others across the Southwest. "Hubbell" glass beads mark a distinct point in the early 20th Century history of the Southwest, for about a generation, from about 1915 until around 1945.
All historic Native American jewelry made with this "Hubbell" glass is considered to be rare and extremely collectible, but we have never before seen a Navajo bracelet set with so many large pieces of it. This early Navajo bracelet is completely traditional in every respect save for the inclusion of these European glass "stones". It was hand made by an unknown but obviously very skilled Navajo silversmith of coin ingot-silver from melted-down American and/or Mexican silver coins. The bracelet's shank was chisel-split for greater
width and the four large matched triangularly-shaped blue glass Hubbell stones were then set into the top
of the bracelet in a very attractive horizontally-opposed offset arrangement with the "stones" placed into old-style "foldover" type silver bezels. On either side of the central panel of four set stones extending outwards to the bracelet's terminals are panels of beautifully-executed stampwork designs.
The bracelet measures 11/16" in width at its widest center point and tapers down to 3/8" in width at the terminal ends. The inner circumference end-to-end is 6 1/8" and the gap between terminals is 1" for a total interior circumference of 7 1/8". The bracelet weighs a very comfortable and wearable 38 grams or 1 1/3 ounces and it is in excellent original condition with a fair amount of age-appropriate wear to the silver shank and bezels and a marvelous soft patina to the silver from age and use. In addition, the Hubbell glass "stones" themselves have also developed over the past century or so since the bracelet was made a beautiful soft patina from wear themselves which somewhat interestingly makes them look and feel more like the turquoise stones they were originally intended by J.L. Hubbell to be a substitute for. In our view, this is precisely what you want a historic century-old Navajo bracelet to look like.
Think of this bracelet as being a terrific-looking and unique window into a particularly significant time and place and important personality in Southwestern history; a fascinating legacy you can happily go to anytime
you pull open your jewelry drawer.
Price $2,450