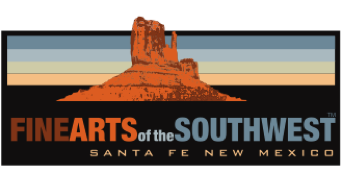 © 2010-2022 by Fine Arts of the Southwest, Inc. All rights reserved.
Unauthorized reproduction or use is strictly prohibited by law.

A very beautifully-crafted Navajo ingot-silver cuff bracelet set with a five-sided turquoise stone, c. 1920's
This kind of piece is an Indian Trader's best friend, the type of finely-crafted, traditionally-made, old-style, coin ingot-silver bracelet you just never want to take off and which makes almost everyone you meet jealous as hell. Every Indian trader worth his or her flip-flops wants one of these as their "go-to" wear it all the time piece.
The bracelet dates from the first quarter of the 20th century and is made in the traditional Navajo manner from melted-down American and/or Mexican silver coins which were first melted and then cast into an ingot silver "slug" which was subsequently hammered out to form the shank of the bracelet.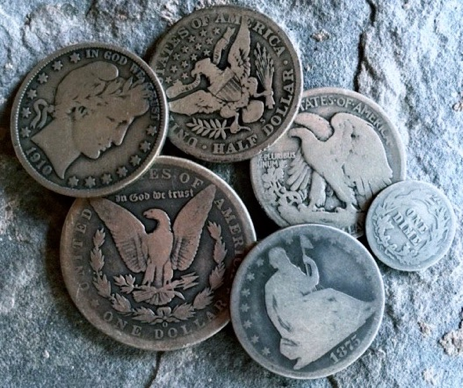 At left, a Navajo silversmith at work in his hogan c. 1920's. At right, examples of the types of historic silver coins this bracelet would have been made from.
This bracelet features an interesting hand-cut five-sided greenish-blue turquoise stone with nice light-brown matrix, very possibly from one of the Blue Gem mines in Nevada. The stone is set in an old-style, "fold-over" type silver bezel. There are complex and beautifully-detailed stampwork design panels on both sides of the stone extending all the way to the bracelet's terminals. This stamp work is masterfully-executed, literally a model of how it should be done.
The bracelet measures 1" in width at its widest center point and tapers down to 5/8" in width at the terminal ends. The bracelet's inner circumference end-to-end is 6 1/4" and the gap between terminals is 1 1/8" for a total interior circumference of 7 3/8". The bracelet weighs a very comfortable 53 grams or 1 7/8 ounces and is in excellent original condition with some age-appropriate wear and a fine patina from age and use.
As the old saying goes, this one is "the kind", the kind of killer piece that has it all.
Price $1,850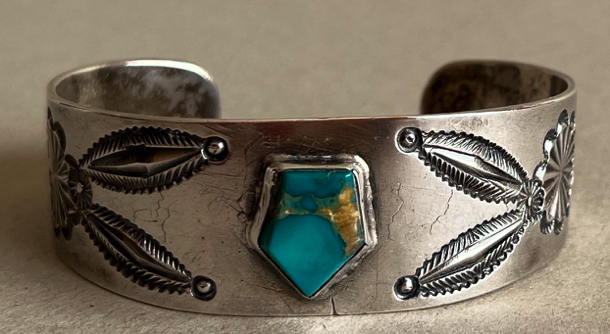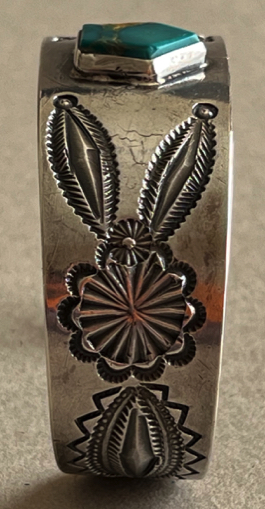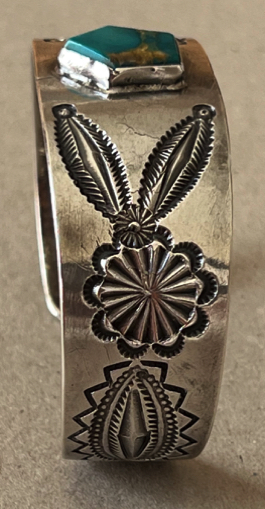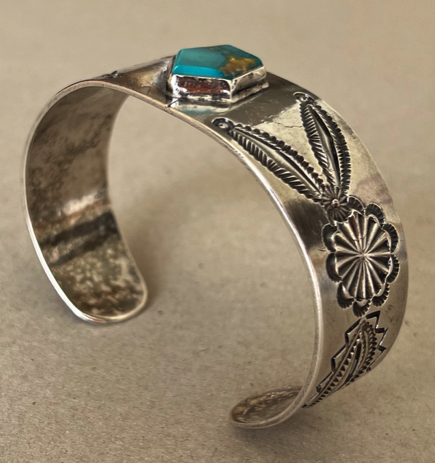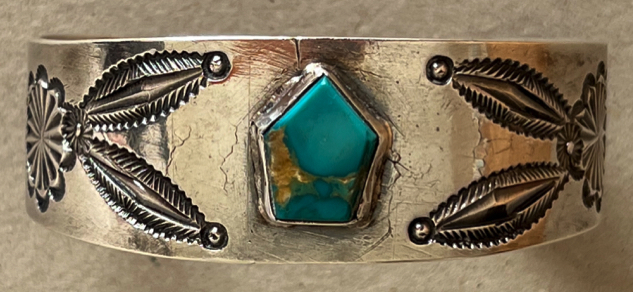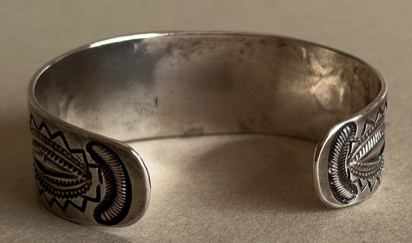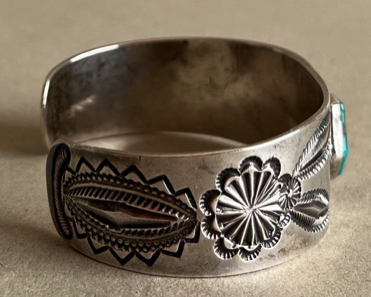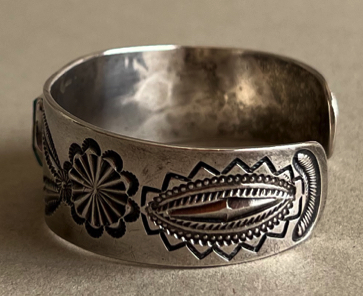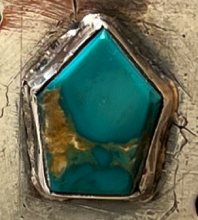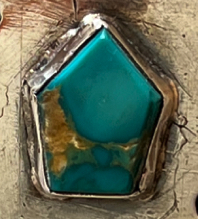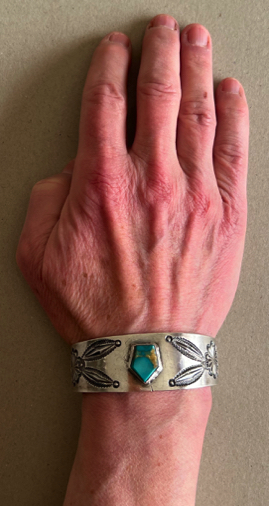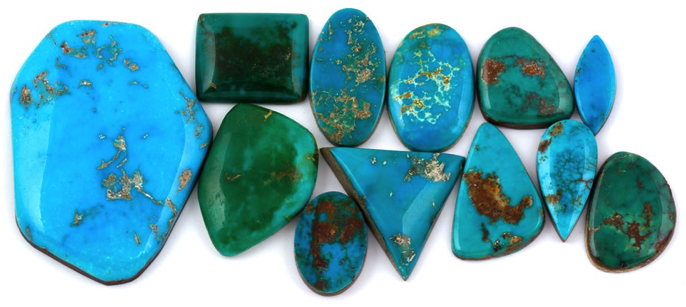 Blue Gem Turquoise
This mine, which is no longer active was located about six miles south of Battle Mountain, within a large copper-mining operation. Of the several Nevada mines that are named Blue Gem, this is the largest and most famous. It produced a great variety of turquoise from intense blue to deep green combinations with a hard, irregularly distributed matrix.
Blue Gem's hardness and fine colors makes this turquoise much sought after by both jewelers and collectors.
-Blue Gem turquoise photo and text source and © Waddell Gallery, Scottsdale, AZ