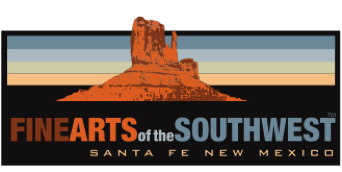 © 2010-2021 by Fine Arts of the Southwest, Inc. All rights reserved.
Unauthorized reproduction or use is strictly prohibited by law.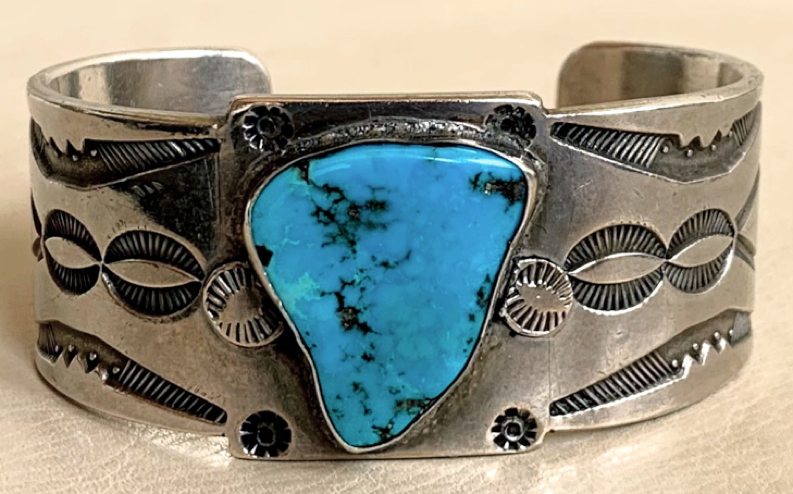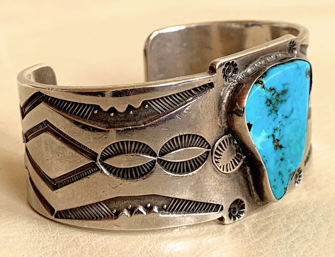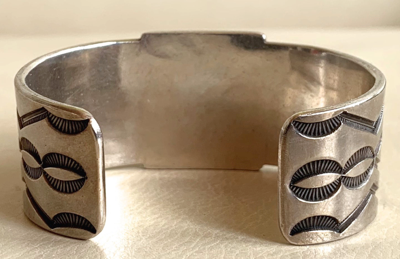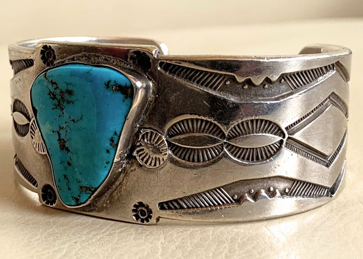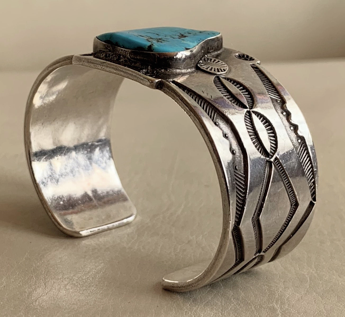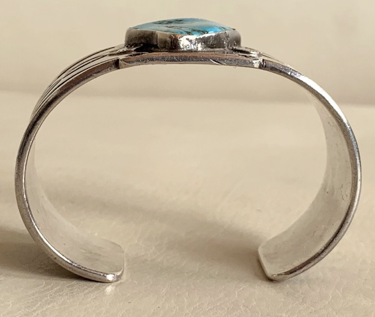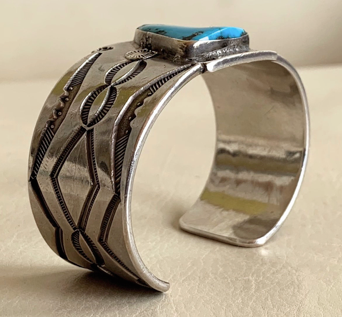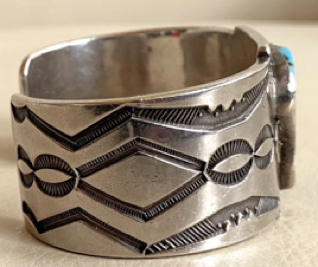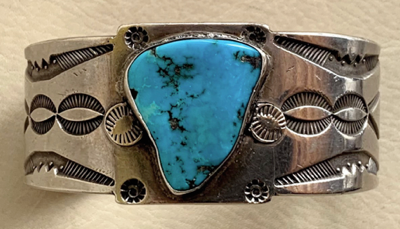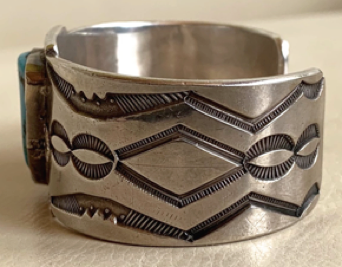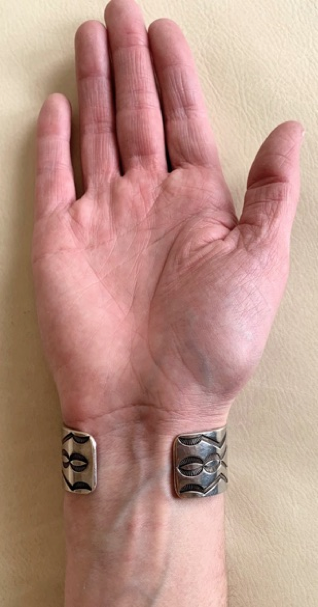 A beautiful vintage Navajo ingot-silver cuff bracelet set
with a large, hand-carved, high-grade turquoise stone
This one is a particularly fine and very striking bracelet; chock full of top-notch traditional craftsmanship and character and possessed with the great old classic Navajo jewelry look and "feel" with an interesting Modernist twist. The bracelet's shank is made old-style technique all the way, crafted of cast ingot-silver, most likely from melted-down silver coins. The shank is very interestingly shaped with a slightly protruding rectangular central panel which tapers down on either side towards the terminals. The central rectangular panel is the perfect platform for highlighting the beautiful large, hand-carved blue turquoise stone which is somewhat asymmetrically-shaped and nicely set into an old-style "foldover" type silver bezel. The stone is a beautiful deep, clear, penetrating and mesmerizing blue. We are not certain which mine the stone is from, but the most likely candidates in our minds are the fine Nevada mines of Number Eight and Blue Gem.
It also has certain elements of the beautiful blue stones of the Morenci, Arizona mine. Whatever it is, it's a total knockout and its wonderful color is even more nicely accentuated and emphasized by its finely hand-carved somewhat undulating surface which catches and reflects the light beautifully. The stone is also nicely set off by the well-done stamp work decorations on the central panel and on either side of the shank. Another interesting and unusual decorative touch are the two small circular-shaped applied silver panels, one on either side of the stone, which have themselves also been decorated with finely done stamp work designs.
The bracelet measures 1 3/8" in width at its widest center point and it tapers down to 7/8" in width at the terminals. The inner circumference end-to-end is 5 3/8" and the gap between the terminals is 1 1/16" for a total interior circumference of 6 7/16". It weighs a satisfying 72 grams or 2 1/2 ounces and is in completely excellent original condition. It is unsigned for the maker as befits its earlier age of around 1925-1940, but whoever was the anonymous silversmith who made this one, he made it particularly special. It's effortlessly, naturally, classically, almost impossibly beautiful...a real joy to behold.
Price $2,150