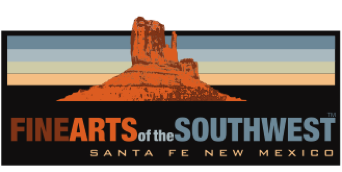 © 2010-2021 by Fine Arts of the Southwest, Inc. All rights reserved.
Unauthorized reproduction or use is strictly prohibited by law.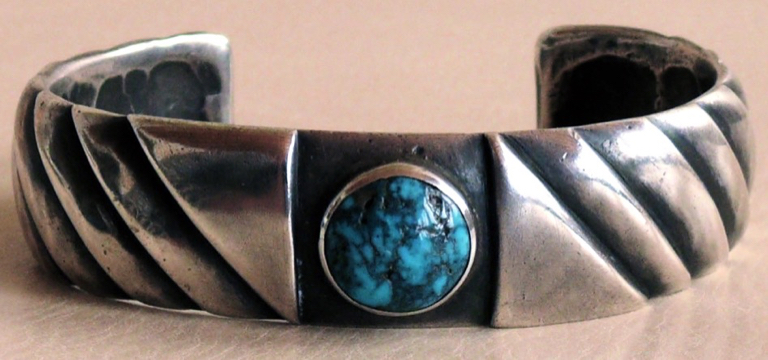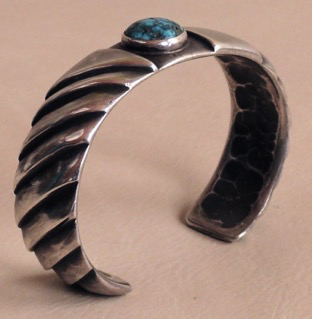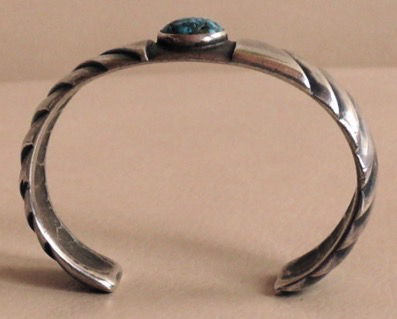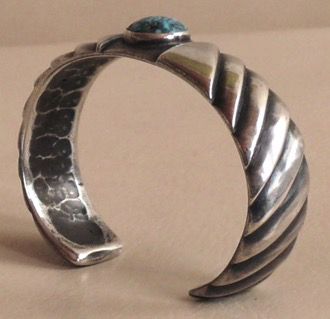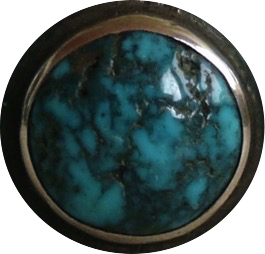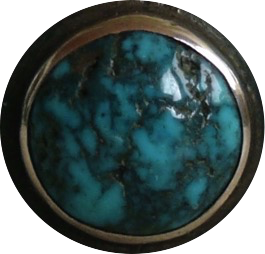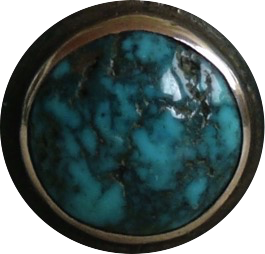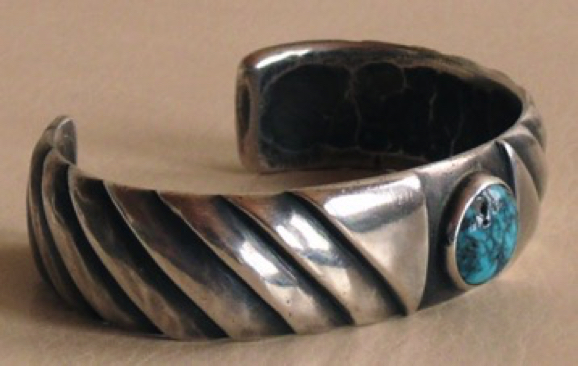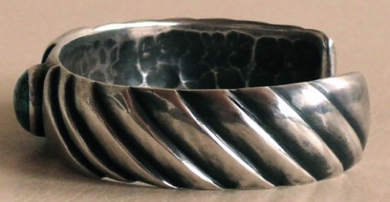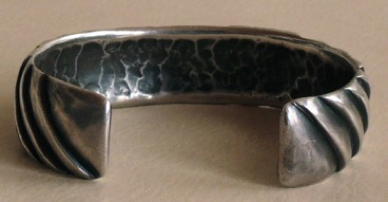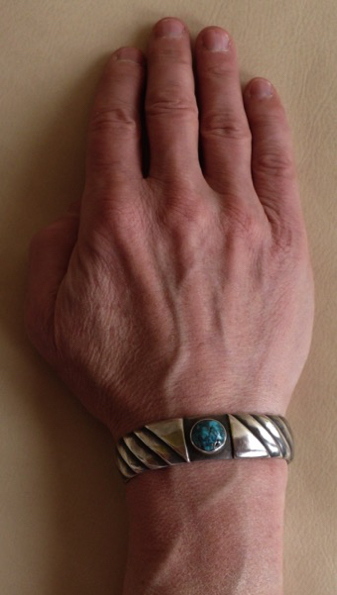 A beautiful, vintage, Modernist-style Navajo ingot-silver
cuff bracelet set with a rare, high-grade Lone Mountain Nevada spiderweb turquoise stone, c.1960
Marriages don't get much better than the union of a gorgeous gem quality Lone Mountain, Nevada spiderweb
stone and masterfully cast and chiseled Navajo silver. The demand for Lone Mountain spiderweb has increased dramatically and exponentially, causing it to skyrocket in price over the past ten to fifteen years and fine quality stones like this one are now commonly selling in the $100-125 plus per carat range. We would estimate this beautiful, round cut, domed stone at being around 6-7 carats.
The round turquoise stone is perfectly center set in a strikingly designed somewhat Modernist-looking silver cuff which has been cast and hammered and essentially repousseed from the inside all the way around its length to form a beautifully curved profile. Interestingly, the silversmith intentionally emphasized and left the pattern of his hammering marks on the interior of the bracelet as an extra design touch which is very attractive and works extremely well. Decoration of any kind on the interior of a bracelet is fairly uncommon in the history of Navajo jewelry, only a few very talented silversmiths have ever done it, likely beginning with Jack Adakai in the 1950s and continuing on through Jack's former apprentice, the now-legendary McKee Platero, and, later, the talented contemporary silversmith, Cody Sanderson.
The decorative designs on the outside of the bracelet are even more dramatic, the filed-out square center panel where the round stone sits and is perfectly highlighted by both the square shape of the silver panel itself and by the dark oxidization of the panel. The dark oxidized silver panel also perfectly accentuates and highlights the dark grey/brown/black matrix of the spiderweb stone. The bracelet's square center panel is flanked on either side by continuous parallel diagonal rows of deeply chiseled grooves which are also oxidized in the centers and give the bracelet a great degree of dynamism and motion. All in all, it's a completely masterful and harmonious Modernist-style composition; impeccably and very cleanly crafted.
The bracelet measures 5/8" in width all the way around. The inner circumference end-to-end is 5 5/8" and the gap between the terminals is 1 3/16" for a total interior circumference of 6 13/16". The weight is a solid but extremely comfortable 66 grams or 2 3/8 ounces. The bracelet is in excellent original condition.
This is a elegant and very easy-to-wear bracelet set with a stunning stone; a marvelous combination
of traditional, old-style Navajo silversmithing with a distinctly modern viewpoint.
Price $2,250