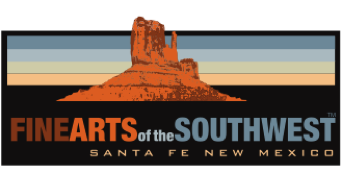 © 2010-2021 by Fine Arts of the Southwest, Inc. All rights reserved.
Unauthorized reproduction or use is strictly prohibited by law.

A beautiful Navajo ingot-silver row-style
bracelet set with 7 Godber-Burnham Nevada spiderweb turquoise stones, c. 1940's
This one is just a dynamite stunner with an absolutely terrific and classic look. There are six gorgeous bright blue oval-shaped spiderweb turquoise stones with dark reddish-black matrix which very much appear to be from Nevada's famed Last Chance-Godber-Burnham mine one of America's oldest and finest turquoise mines, first opened in 1932. The center stone is the largest at 5/8" in length and the size graduates gracefully down from there to 3/8" for the smallest stones on both ends of the row.
The stones are set in old-style plain silver "foldover" type bezels and the stone settings are interspersed with six rows of very attractive applied silver "raindrops" in a most classic and skillfully crafted design. The bracelet's shank is traditionally hammered out from a silver cast-ingot "slug" most likely composed of silver from melted-down silver coins. The silver shank is decorated with spare and elegant stampwork designs.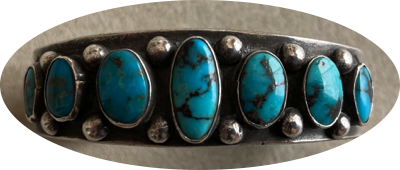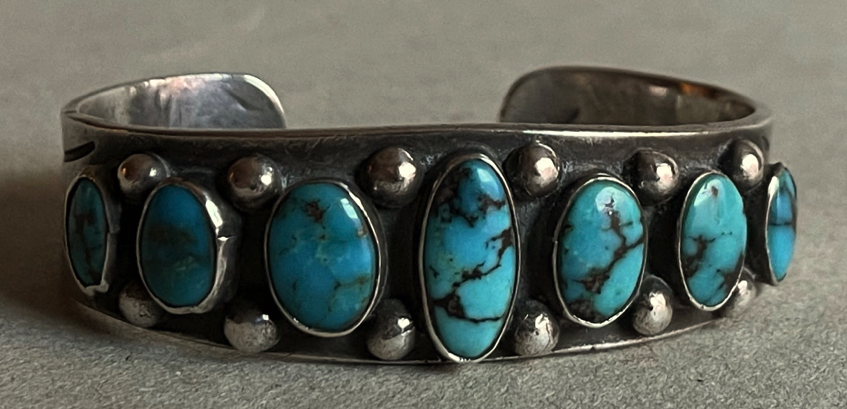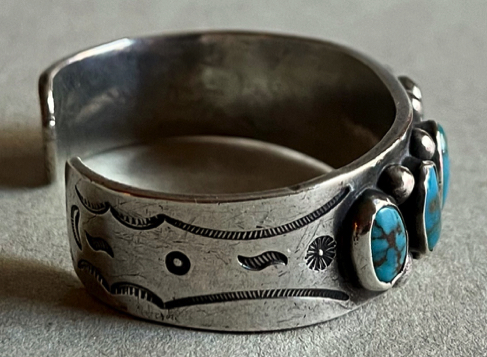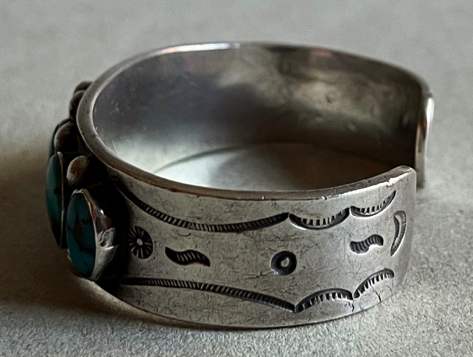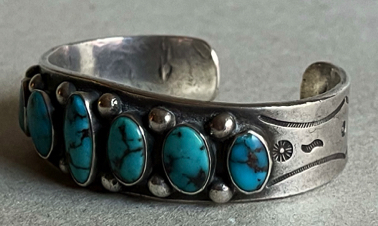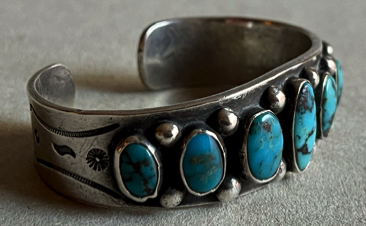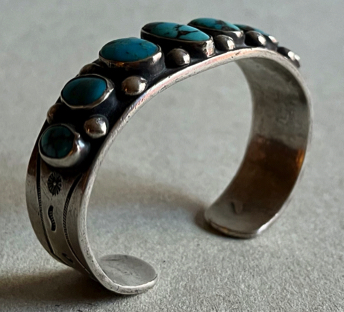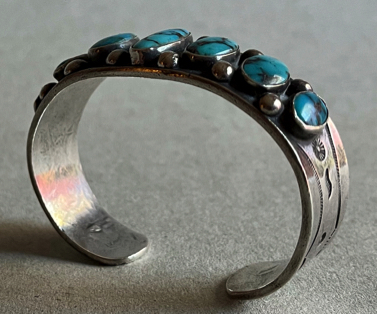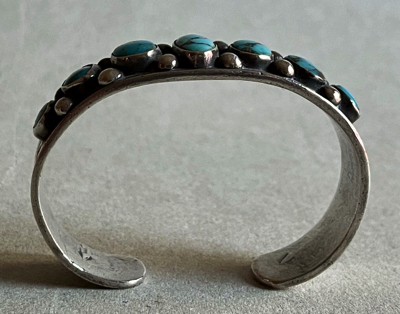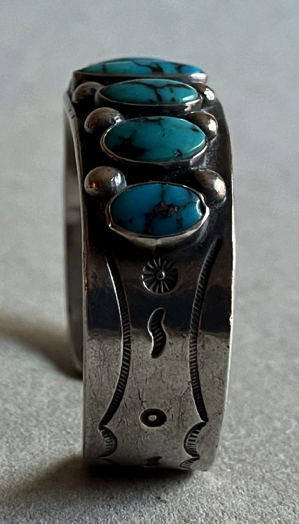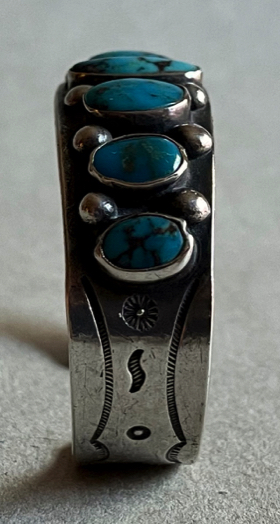 "The Godber mine, discovered in 1932, is located east of Austin, Nevada. The turquoise ranges from medium to dark blue, usually with a beautiful spider webbing. It has also been know for a very dark or black mottling forming, blotches and veins running through the stone."
-Quotation source and © NevadaGem
The bracelet measures 3/4" in width at the center and tapers down to 1/2" at the terminal ends. The interior circumference end-to-end is 5 5/8", the gap between the terminals is 7/8" for a total interior circumference of
6 1/2". The bracelet weighs a substantial, yet very comfortable and easy to wear 43 grams or 1 1/2 ounces.
The bracelet is in excellent original vintage condition with some age appropriate nicks and scratches. Several of the silver bezels are slightly dented.
Impress your friends and demoralize your detractors with this delightful and historic piece.
Price $1,650