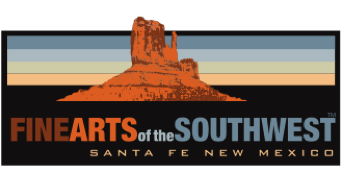 © 2010-2021 by Fine Arts of the Southwest, Inc. All rights reserved.
Unauthorized reproduction or use is strictly prohibited by law.

A large vintage Navajo silver ring set with
a rare Lone Mountain, Nevada Blue or #8
spiderweb turquoise stone, c.1940's-50's
We are having a running debate with ourselves about the fabulous Nevada spiderweb turquoise stone in this wonderful ring. We can't decide whether it's rare Lone Mountain spiderweb or the equally rare and equally famous Nevada Blue spiderweb turquoise or the renowned turquoise from the #8 Mine. The very knowledgable and experienced Indian Trader colleague from whom we acquired the ring insists that its Lone Mountain, and he is most likely right, but we ourselves have gone back and forth a bit. Of course, you can't go wrong with any one of these three outstanding varieties and whichever way, it's a completely stunning stone with a gorgeous fine, almost dendrite-like spiderweb matrix.
The rectangularly-shaped stone is nicely-sized and measures approximately 3/4" in height and 1/2" in width and it is perfectly set into a very finely-serrated silver bezel. And, what a completely fitting stone and bezel to perfectly complement such a spectacular and most beautifully-crafted silver setting. The setting is made on quite a sizable and dramatic scale, measuring 2" in height and 1 1/4" in width and features a four-part "Ketoh" style design layout with gorgeous file and chisel work. At an earlier point in its life, this piece was possibly something other than a ring, it might have been a bolo slide or possibly a pin. There are several old solder marks visible on the back of the ring face and it is very slightly domed in shape which leads us to believe that it could have converted to a ring but, if so, that this work would have been done quite a while ago as can be witnessed by the old-style, hand-wrought, ingot-silver split-chiseled ring shank. It's also equally possible that the original Navajo silversmith simply changed his mind in the process and made it into a ring after starting it off as something different.
The ring measures a size 8 on a professional, graduated ring sizer and weighs a substantial, yet very comfortable 29 grams or 1 ounce. The ring is in excellent original condition, there is a matrix-related crack in the spiderweb turquoise stone, but this poses no difficulty at all. This is a real historic Southwest Native American jewelry connoisseur's piece-a spectacular large scale silver ring with an equally spectacular Nevada spiderweb turquoise stone from a world-famous turquoise mine. Walk into a room wearing this one and people will definitely know you're there, it makes quite the powerful statement indeed!
Price $1,150