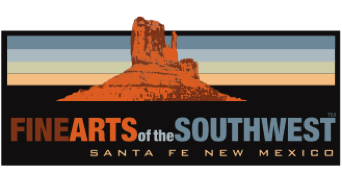 © 2010-2021 by Fine Arts of the Southwest, Inc. All rights reserved.
Unauthorized reproduction or use is strictly prohibited by law.

An extraordinary, large Navajo tufa-cast coin-ingot silver belt buckle c. 1890-1900
ex: Teal McKibben Collection, Santa Fe, New Mexico
Pieces such as these today are literally as rare as hen's teeth. They have almost completely disappeared from the market and are now seen almost exclusively in Museums or in honored places in the old "connoisseur" collections of longtime Indian Traders and early jewelry collectors. This buckle came from precisely such a collection, that of the renowned dealer in and collector of historic Navajo and Pueblo jewelry, the late Teal McKibben (1928-2006) of Santa Fe, New Mexico, whose Canyon Road shop "La Bodega" was, for decades, the first absolutely must-go-to stop in Santa Fe for any serious collector of early and modern Southwestern jewelry. Teal was longtime friend and colleague of ours and we remember Teal wearing this buckle on any number of our countless visits with her. Significantly, Teal was also quite instrumental in helping to develop the careers of many of todays finest and most well-known Navajo and Pueblo jewelry artists, from McKee Platero to Cippy Crazyhorse to Harry H. Begay to Cody Sanderson.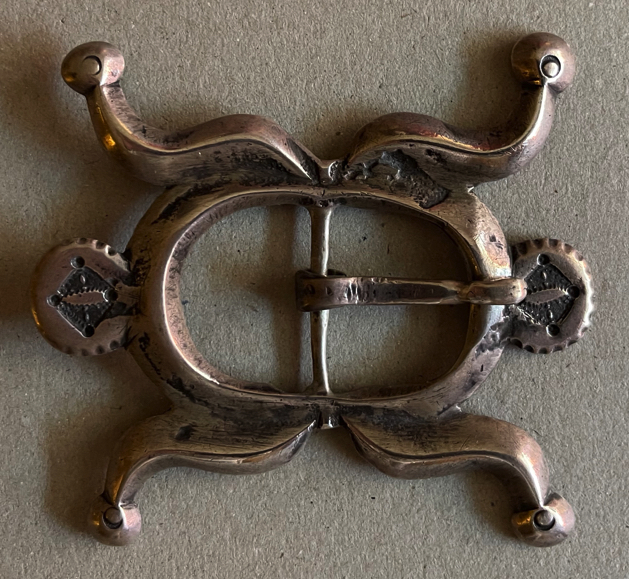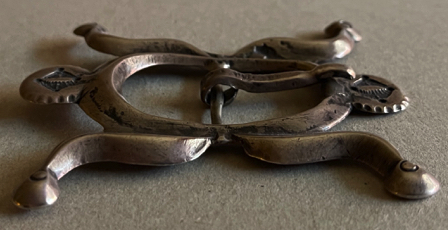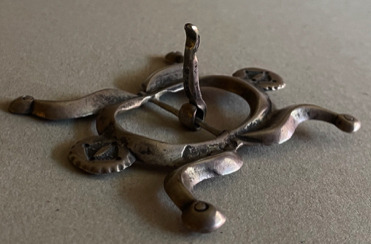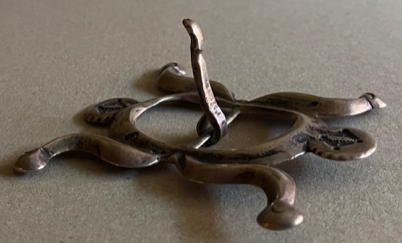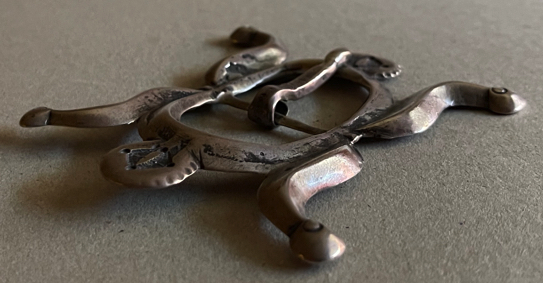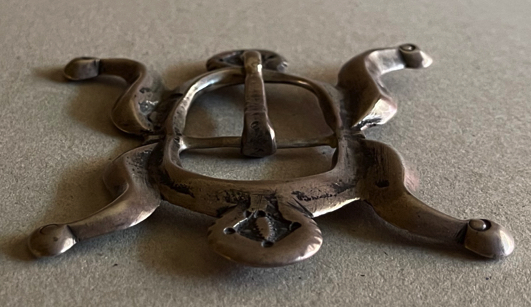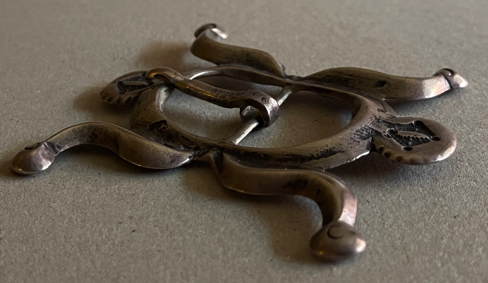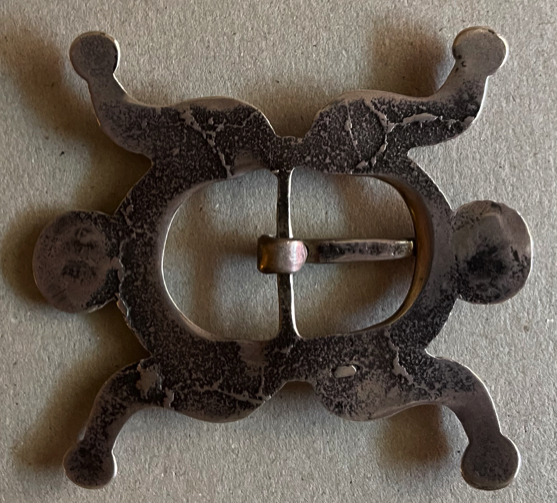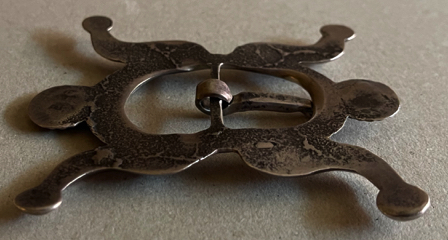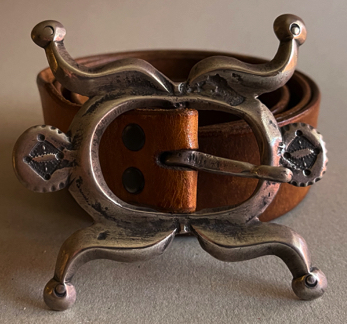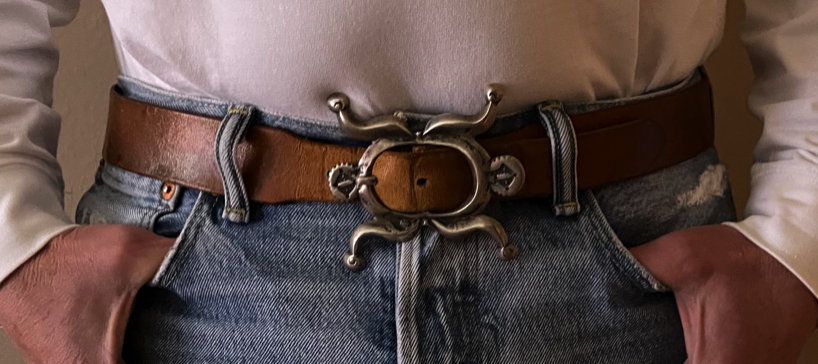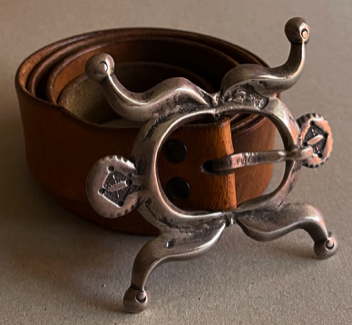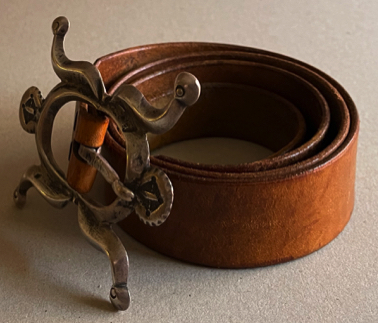 This buckle owes absolutely not one whit to commercial or modern influences or concerns. The buckle was painstakingly made from melted-down silver coins using the traditional and exceedingly difficult Navajo tufa-casting method of manufacture. It was handcrafted at the turn of the 19th-20th Century using only these completely traditional methods and traditional materials by a Navajo silversmith for a Navajo customer, traded for sheep, tobacco or hides and subsequently worn every day for decades until ultimately being traded or sold. The beautiful tooling and casting marks on the front and the back, the old-style craftsmanship and completely authentic feel, dedicated wear and smooth warm surface patina and color of the silver tells this story most eloquently.
The buckle measures 3 5/8" in width and 3 1/4" in height and it weighs a comfortable but significant
69 grams or 2 3/8 ounces. It is in excellent original condition with the age-appropriate wear and mellow glow of well over a century of dedicated use. This buckle is a rare and historic piece with a most distinguished provenance to be appreciated, worn and treasured forever.
Note: The leather belt pictured here is for demonstration purposes only and is not included in the sale of this buckle. If desired, we can recommend an excellent custom belt maker here in Santa Fe.
Price $3,450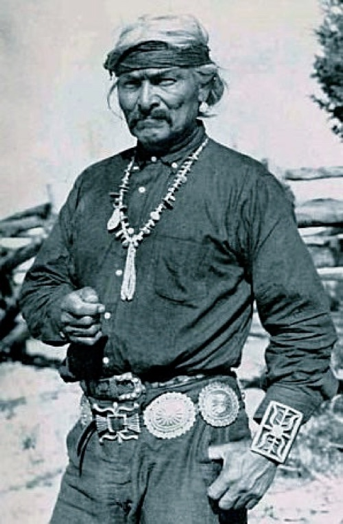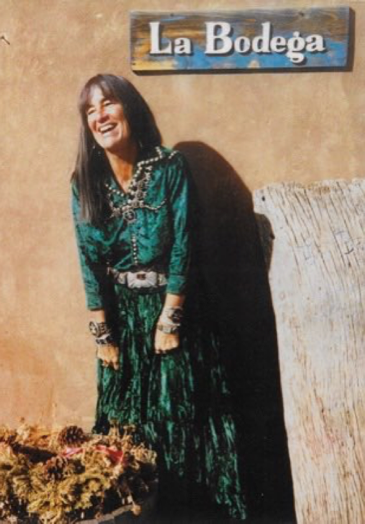 At left, Teal McKibben at her La Bodega Gallery, Santa Fe, c. 2002. At right, a well dressed Navajo man wearing a similar Navajo tufa cast silver buckle on a Navajo Classic Period Second Phase-Style silver concho belt, c. 1920's
Right photo source and © John Adair "The Navajo and Pueblo Silversmiths"