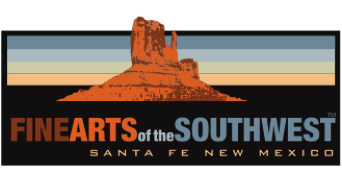 © 2010-2021 by Fine Arts of the Southwest, Inc. All rights reserved.
Unauthorized reproduction or use is strictly prohibited by law.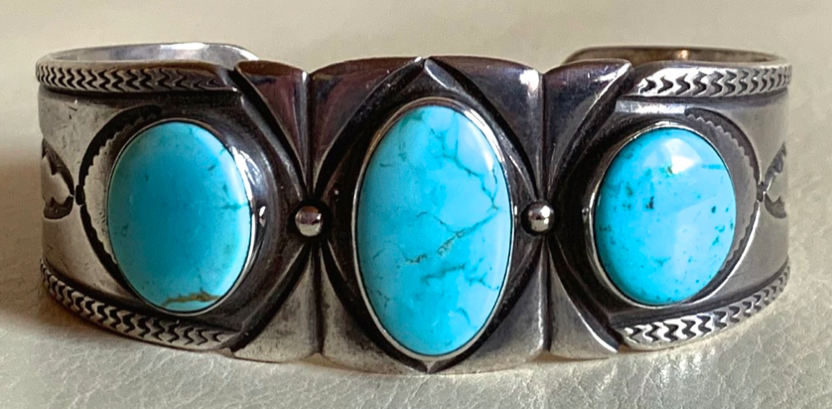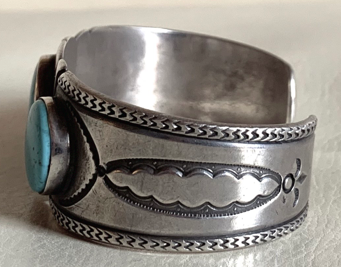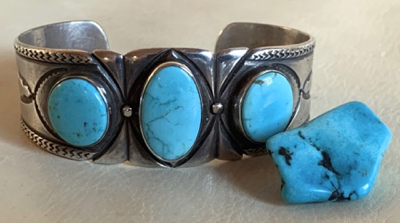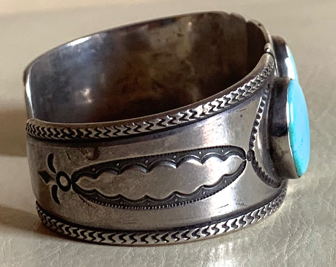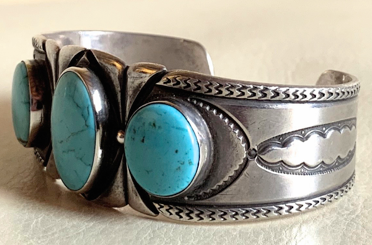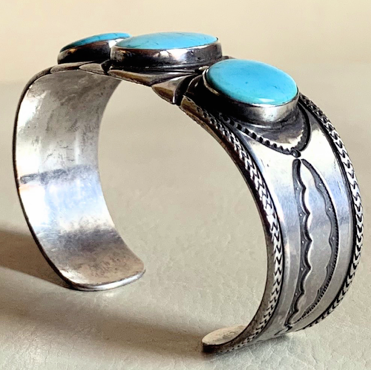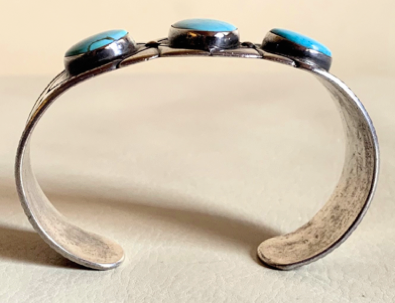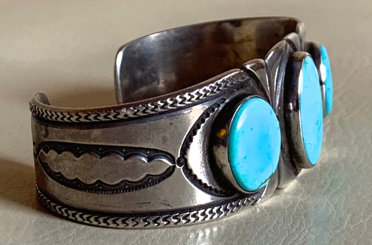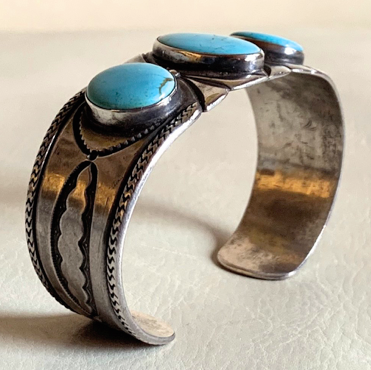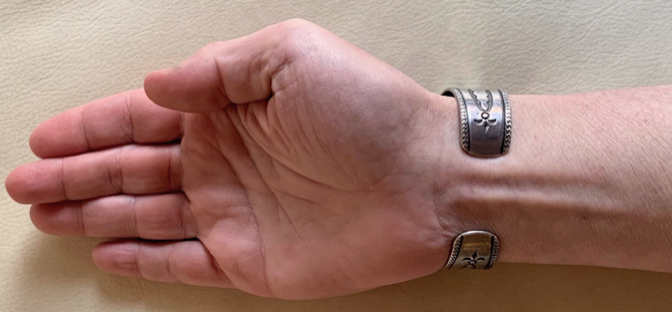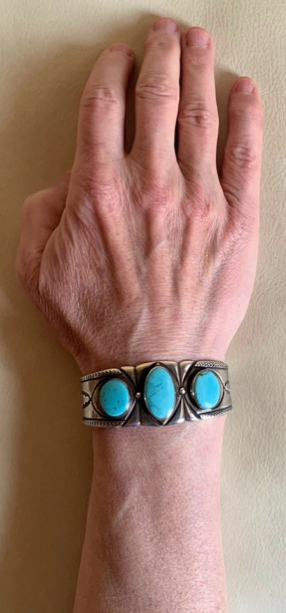 An extremely beautiful Modernist-style Navajo
ingot-silver and turquoise cuff bracelet, c.1940's-50's
THIS VERY STRIKING vintage bracelet is an exciting combination of the classic and the modern, a streamlined, elegant bold design with some very fine traditional historic touches. The Navajo silversmith who made this piece really knew his business; the design layout is beautifully conceived and very finely executed with three main rectangular panels in the center each enclosing a beautiful matched oval-shaped turquoise stone set in an old-style "foldover" type silver bezel. The three panels are defined by precisely-chiseled borders and nicely scalloped edges at the top and bottom. There are also two small silver "raindrops" used as perfect accent dividers between the three panels.
The three lovely matched and graduated high-grade turquoise stones are a clear, penetrating, almost glowing sky-blue in color with whitish overtones, and, as such, appear to us to be from the famed #8 turquoise Mine near Carlin, Nevada. The stones are mostly clear in nature with some light spiderwebbing. The center panel containing the stones is flanked on both sides by matching, very well-executed spare stampwork design panels and is edged all the way around on top and bottom by a very precisely done stamped and filed border.
The bracelet pictured with a natural #8 Mine Nevada turquoise nugget.
The attention to detail and quality of workmanship and skill in evidence here are quite remarkable as is the high-quality, high-grade turquoise; someone really cared about making this bracelet special and it shows. The beautiful bright whitish color of the silver leads us to believe that the bracelet was formed from pounded out silver coins or hammered out of a cast coin-silver ingot slug.
The bracelet is sized for the medium-to-large wrist and it measures 1 1/8" in width at its widest center point and it tapers down to 5/8" in width at the end terminals. The inner circumference end-to-end is 5 3/4" and the gap between the terminals is 1 1/16" for a total interior circumference of 6 13/16". It weighs a nice and comfortable 54 grams or 1 7/8 ounces. The bracelet is in excellent original condition and it is unsigned for its maker which is fairly typical of this time period. It is unfortunate that we will likely never know who made this piece as its beauty and quality are completely consistent with the work of the finest Navajo silversmiths of the era, such as Ambrose Roanhorse and Austin Wilson.
This piece is a clear triumph of excellence in design and craftsmanship; a beautiful, easy to wear piece that can go anywhere with anything while making a distinctive statement all its own.
SOLD