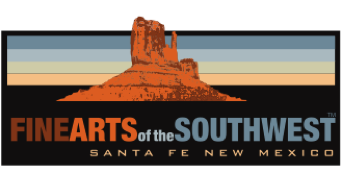 © 2010-2021 by Fine Arts of the Southwest, Inc. All rights reserved.
Unauthorized reproduction or use is strictly prohibited by law.

A stunning Modernist-style vintage Navajo
Sterling silver wide cuff bracelet with interesting stamp work decoration, c.1950's
This one is a real serious beauty; elegant and streamlined in the 20th Century Modernist style of Navajo jewelry pioneered by Ambrose Roanhorse and later at his Navajo Arts and Crafts Guild in the 1930's and 40's and continued and built upon by Kenneth Begay and his colleagues at Scottsdale's White Hogan Shop and still later
by Cochiti Pueblo silversmith, Joe H. Quintana.
The fabricated silver cuff is subtly curved and contoured inwards along every edge creating a wide expanse of gleaming silver which is unexpectedly and boldly decorated with a diagonal row of perfectly-applied chisel and stampwork designs cutting sharply all the way across the bracelet from end to end and top to bottom.
The overall visual effect created here is just dazzling! The stamped motifs bear a distinct resemblance to some we have seen on signed pieces by Ambrose Roanhorse and it is certainly in the realm of possibility that this bracelet could be an unsigned piece by him or by his brilliant Modernist Navajo jewelry colleague, Kenneth Begay.
Alas we will likely never know the maker, but the bracelet speaks perfectly well and most eloquently for itself. The bracelet measures 1 3/4" in width all the way around. The inner circumference end-to-end is 5 5/8" and the gap between the terminals is 1" for an overall interior circumference of 6 5/8". It weighs a very comfortable and easily wearable 69 grams or 2 3/8 ounces. The bracelet is in excellent original condition with some age-appropriate abrasions and nicks and it is marked "Sterling" on the interior.
This bracelet is a beautifully conceived, perfectly-crafted piece with a serious amount of style and attitude. Because of its unique blend of boldness and subtlety, it both screams and whispers "elegance" at the same time.
Price $1,850