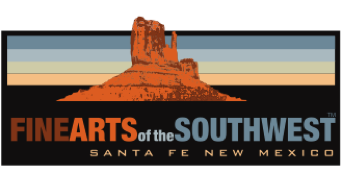 © 2010-2023 by Fine Arts of the Southwest, Inc. All rights reserved.
Unauthorized reproduction or use is strictly prohibited by law.
A beautiful Modernist-style Navajo tufa-cast
silver and turquoise bracelet, c.1950's
ex: Laura Anderson Collection, Mattapoisett, MA
This bracelet is a real streamlined beauty reminiscent of the great Modernist architect, Mies van der Rohe's
famous dictum that "Less is More." It has the exalted purity and beauty of essential structure.
The craftsmanship displayed here is absolutely superb. Tufa-casting is one of the most difficult and demanding of all classic Navajo silversmithing techniques to master, the melted silver must be at the exact right temperature to pour smoothly and quickly, the tufa mold must be carved and ventilated exactly right and even then there are a myriad of things that can go wrong, but in this instance everything went exactly right and the result is precisely what you look for in a fine tufa cast; delicacy and "lightness" with strength. The silverwork is perfectly accentuated with the single rectangularly-shaped stone, an especially beautiful piece of clear, vivid, sky-blue stone from what appears to be the Sleeping Beauty mine in Southern Arizona. The stone is very nicely set in an old-style "foldover" type silver bezel inside a vertical shadowbox.
The bracelet measures just slightly over 1 1/2" in width at its widest point and tapers down to 1/2" in width at the terminal ends. The inner circumference end-to-end is 5 1/2" and the gap between the terminals is a hair under 1" for a total interior circumference of just under 6 1/2". The bracelet weighs a very comfortable 48 grams or 1 3/4 ounces and it is in excellent original condition although it is very slightly out of round. This could be easily corrected by a professional jeweler,
if desired, although it is of no practical consequence.
The bracelet is unmarked for its maker, but whoever the unknown Navajo silversmith who crafted it was, he was an
extremely accomplished artist and craftsman. This piece also has an excellent provenance. We purchased it in 2017 from the distinguished late collector of and dealer in historic Navajo jewelry, Laura Anderson (1944-2017) of Mattappoisett, MA.
This bracelet is a beautiful and very beautifully-made piece of jewelry meant to be owned and worn with pride.
Price $1,250