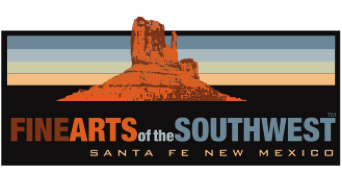 © 2010-2021 by Fine Arts of the Southwest, Inc. All rights reserved.
Unauthorized reproduction or use is strictly prohibited by law.

A Navajo or Hopi silver overlay-style pendant necklace with a large "Blue Diamond" Mine, Nevada turquoise stone, circa 1950's. Ex: Tobe Turpen Trading Post collection, New Mexico
A very striking and unusual design, this elegant silver pendant necklace features a large silver overlay pendant with a handcrafted silver bead chain. The technique of Southwestern silver overlay-style jewelry is generally identified with the Hopi, but there were Navajo practitioners of the style and since the primary overlay design motif on this pendant is that of a stylized Navajo "Yei" or Holy Person figure it stands to reason that the necklace could be Navajo in origin. Too, the provenance of the former Tobe Turpen Trading Post points to the likelihood of a Navajo Maker. As Turpen's old post (Tobe Turpen's business was purchased in 2002 by Gallup, NM trader Perry Null) was located in the "Checkerboard" area where the Navajo Reservation borders the small Zuni Pueblo Reservation about 10 miles west of Gallup, New Mexico and some 85-90 miles or so west of the edge of the Hopi Reservation in Arizona.
The large silver pendant measures 2 3/4" in length including the hanging loop and features a very sizeable and striking "Blue Diamond" Mine Nevada turquoise stone, one of the rarest and most beautiful varieties of American turquoise in existence. The turquoise stone itself measures 1 1/4" in height and 7/8" in width at its widest point. We would conservatively estimate that the weight of this outstanding stone is between 30-40 carats. The last time we were able to purchase high-grade "Blue Diamond" turquoise stones of this quality was in 2010 and we paid $10 per carat wholesale for them which would make the retail value of this stone somewhere north of $600-800 today. The pendant hangs from a beautifully hand-crafted silver chain made of long tapered cylindrically-shaped silver beads each of which is approximately 1" in length. (There are 7 of these on each side of the necklace, 14 in all.) and small round silver beads, each of which is slightly less than 1/4" in diameter. (There are 24 of these round beads on each side of the necklace, 48 in all.)
The necklace measures 15" in length from the top of the silver hook and eye clasp to the bottom of the pendant measured while lying flat on a table and it measures 24 3/4" end-to-end when completely opened up. The necklace weighs a very wearable 60 grams or 2 1/8 ounces. The pendant is marked on the back with a Tobe Turpen Trading Post identification inscription of "TT 2 pc. set". There is no maker's mark in evidence. Both the pendant and the silver bead chain are in excellent original condition.
Price $975