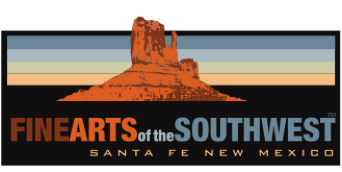 © 2010-2021 by Fine Arts of the Southwest, Inc. All rights reserved.
Unauthorized reproduction or use is strictly prohibited by law.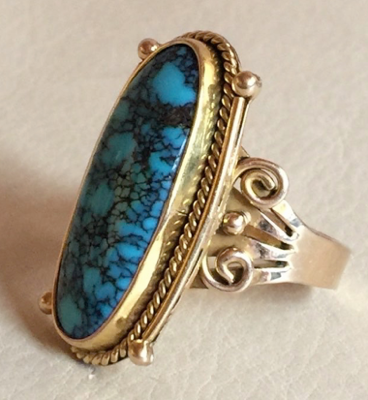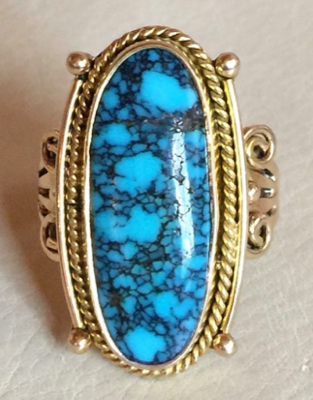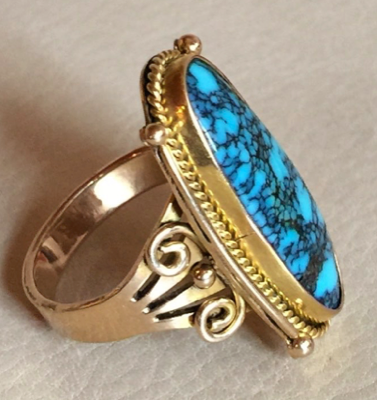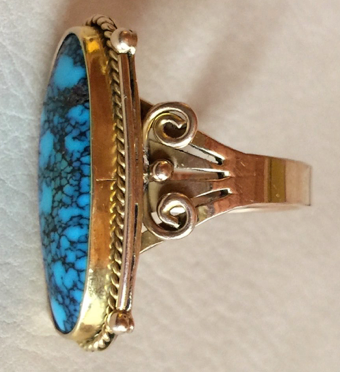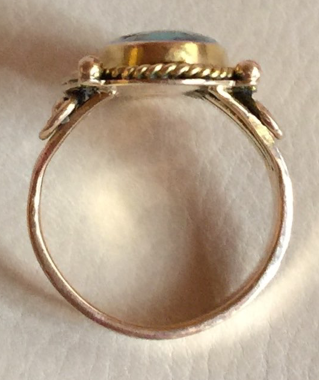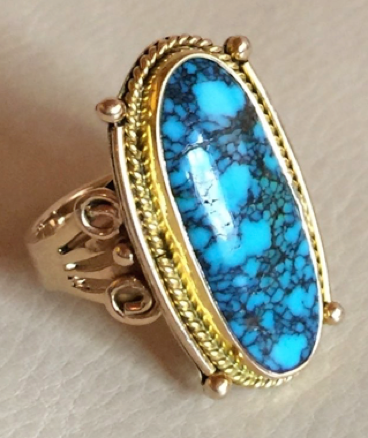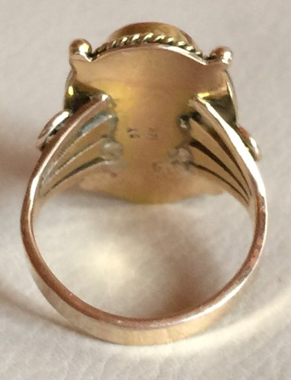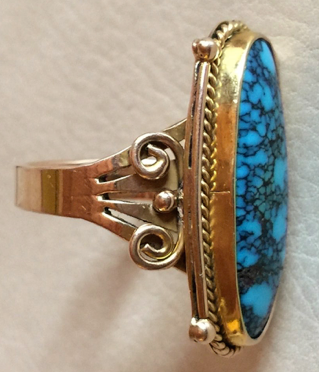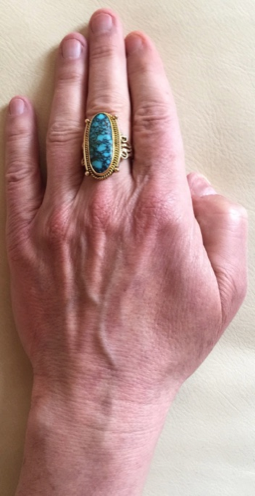 A superb Navajo or Pueblo 14K gold ring set with
a beautiful, large Lone Mountain Nevada spiderweb turquoise stone, c.1970
THIS RING is certainly a combination made in heaven; gold and Lone Mountain spiderweb turquoise. This beautiful fabricated Navajo or Pueblo ring features a delicate, finely crafted triple-split gold shank atop which is mounted a gold bezel platform surrounded by gold twisted wire and flat gold wire enclosing a large oval-shaped high-grade, gem quality Lone Mountain turquoise stone. Lone Mountain is one of the most beautiful, most desirable most expensive varieties of turquoise in the world today with finished stones of this quality selling in the $100-125 or more range per carat.
We would conservatively estimate this 1 1/8" by 1/2" stone at around 10 carats. To the cost of the turquoise add that of the gold with gold being approximately $1,250 per ounce and this ring weighing 13 grams or 1/2 ounce and thus estimated to contain approximately $350 worth of gold the math here is fairly easy to do. We would give a slight nod to the likelihood of the ring being Pueblo in origin as the metalwork is somewhat lighter and more delicate in nature than Navajo work often is and it also bears a closer and more distinct resemblance to the fine gold Spanish filigree jewelry which influenced Pueblo metalsmiths who historically lived in closer proximity to their Spanish neighbors than did their Navajo counterparts.
The ring measures a size 10 3/4 on a professional graduated ring sizer and it could be readily sized up or down by a competent professional jeweler, if desired. The ring is quality marked "14K" on the interior and is also marked with the initials of an unknown maker, "DY". The ring is in excellent original condition, the stone has a horizontal, matrix-related crack but it is completely secure in its bezel.
This ring is a striking and elegant piece of Southwestern native jewelry using some of the finest, most precious materials the region has to offer.
Price $2,250