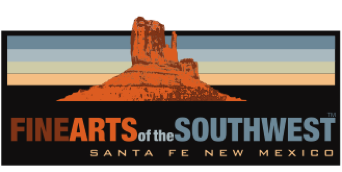 © 2010-2021 by Fine Arts of the Southwest, Inc. All rights reserved.
Unauthorized reproduction or use is strictly prohibited by law.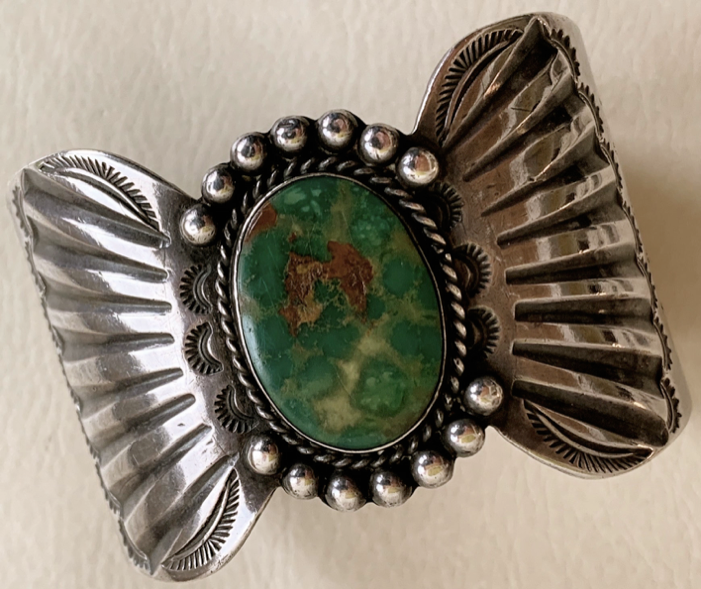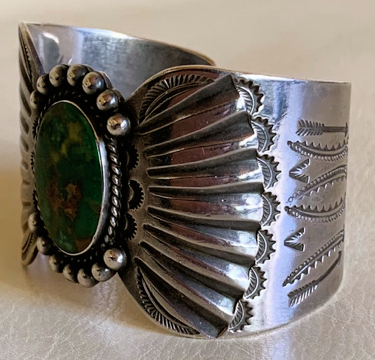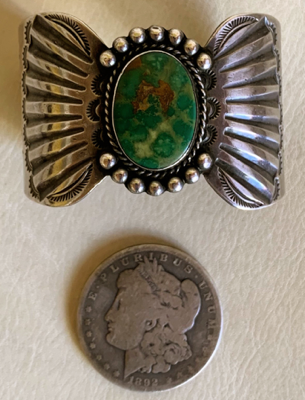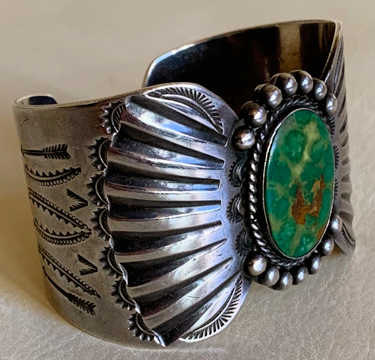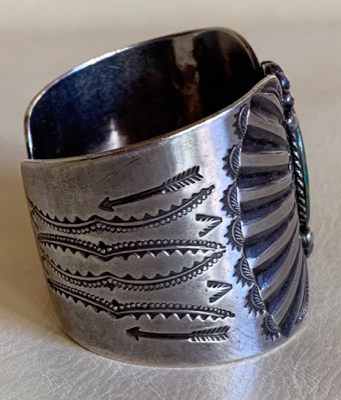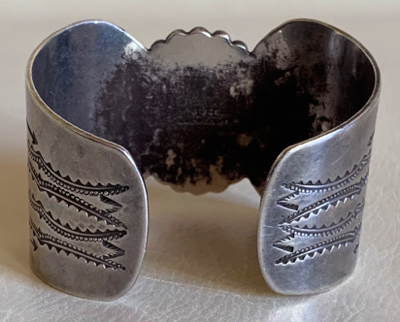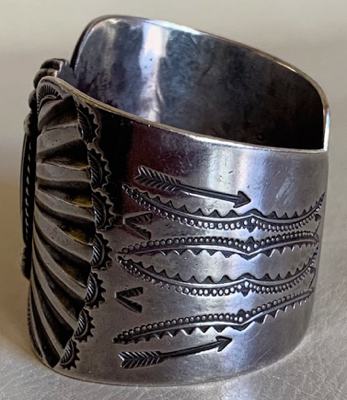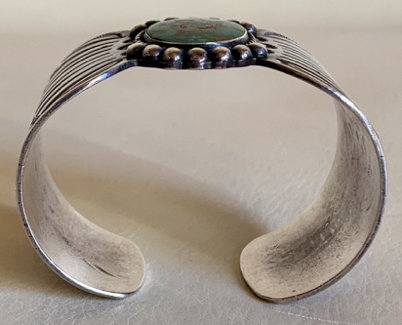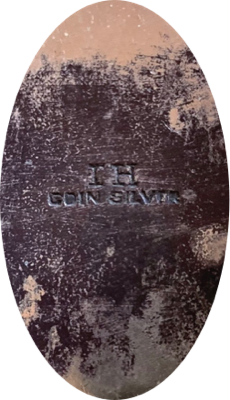 A historic Navajo or Pueblo "Indian Handmade" coin-silver and turquoise cuff bracelet of exceptional quality, c.1925-35
Let's talk some about this marvelous Navajo or Pueblo "Indian Handmade coin-silver" bracelet. This bracelet is an early trading post era revival-style piece likely dating from around 1925-35. During this era, various prominent Southwestern Indian trading posts, such as Garden of the Gods in Colorado, Vaughn's And J.L Hubbell in Arizona and Charles Ilfeld, C.G. Wallace and the Foutz family in New Mexico adopted various sets of rigorous quality standards for the making of Navajo and Pueblo silver jewelry sold at their posts.
Foremost among these standards was that the pieces be entirely Native and traditionally handmade with no machine methods or pre-fabricated parts or processes employed, another important mandate in this case was the use of the traditional "coin-silver" which had been the primary raw material used in the classic period of Navajo and Pueblo jewelry (1870-1900). That this bracelet was made entirely in this manner with these materials is attested to by the now-famous "IH COIN SILVER" designation stamped on the interior, then as now, an indication and guarantee of its superior quality materials and completely traditional craftsmanship.
The bracelet's coin-silver shank is beautifully designed and carefully formed to frame the central turquoise stone dramatically. The middle section of the bracelet shank features a butterfly-shaped design with twin fan-shaped wings flanking the stone on either side. These wing-like designs appear to have been made by a process known as "swedging" where the silver is hand-hammered into a specially carved or cast form made of metal or wood.
The bracelet pictured with a Morgan silver dollar; one of the varieties of coins used to make it.
The large oval-shaped cabochon turquoise stone at the center of the bracelet is a beautiful rich, deep green with lighter green inclusions and a rich brown matrix. We are not completely certain of which mine the stone is from; our main candidate is the famous I.P. King's Manassa in southern Colorado but other possibilities are Cerrillos, New Mexico and Royston, Nevada. The stone is set in an old-style "foldover"-type silver bezel which is surrounded by a very finely-done silver-twisted wire surround accented by rows of seven large applied silver "raindrops" at the top and bottom. The additional stamp work around the sides of the stone is also superb; perfectly and artistically executed to frame and highlight the stone. The fine stamp work continues down the silver shank on both sides until it reaches the terminals with more interesting and attractive designs. The overall decorative design here is rich, profuse and harmonious giving the bracelet a marvelous unity of appearance.
The bracelet measures just shy of 1 3/4" in width at its widest points and tapers down to 1 1/8" in width at the end terminals. The inner circumference end-to-end is 5 5/8" with a 3/4" gap for a total interior circumference of 6 3/8".
The center turquoise stone itself measures a generous 15/16" in length and is 5/8" in width. The bracelet weighs a satisfying and easy-to- wear 70 grams or 2 1/2 ounces.
The bracelet is in excellent original vintage condition overall, especially for its considerable 80-90 years of age. There is some degree of tarnish to the silver, particularly on the inside of the bracelet, which we have chosen not to remove. Of course, this can be very easily and quickly done if desired. The bracelet is properly and nicely marked with the capital letter initials "IH" for "Indian Handmade" and also stamped "COIN SILVER" on the interior. This bracelet is a special prize; a spectacular old collector's type of piece just dripping with authentic historic character, beauty and patina.
Price $2,600
Some of the various 20th Century quality marks which were used by Southwestern
Indian trading companies on historic Navajo and Pueblo silver jewelry
Source: Bille Hougart, "The Little Books of Marks on Southwestern Silver",
TBR International, copyright by by Bille Hougart 2011, pp.26