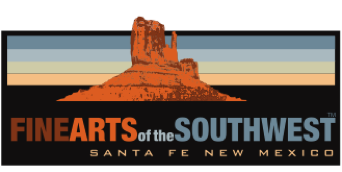 © 2010-2021 by Fine Arts of the Southwest, Inc. All rights reserved.
Unauthorized reproduction or use is strictly prohibited by law.


A splendid Navajo or Pueblo row-style
bracelet set with ten matched "Lavender pit" Bisbee, Arizona turquoise stones, c. 1950's
Let's talk about this seriously beautiful bracelet, just packed to the gills with ten scrumptious "Lavender Pit" Bisbee, Arizona turquoise stones among the finest, most coveted turquoise to be found anywhere in the world.
The specific type of turquoise used is what pretty much dates the bracelet here, otherwise we'd readily say that
the silverwork could be 1930's or even earlier and more on that in a moment.
Bisbee turquoise might be the world's most beautiful industrial by-product, so to speak. Its discovery and availability primarily dates from around1950 when the giant Phelps-Dodge Corporation began large-scale open-pit copper mining operations at its "Copper Queen" mine in Bisbee, Arizona where mining had formerly been done in tunnels. One specific section of this mine which opened in 1950 was what will now be forever known as the famed "Lavender Pit" which was not named as one would expect for the lavender color of the matrix in the beautiful turquoise found there but for the Copper Queen mine's General Manager, Harrison P. Lavender (1890-1952).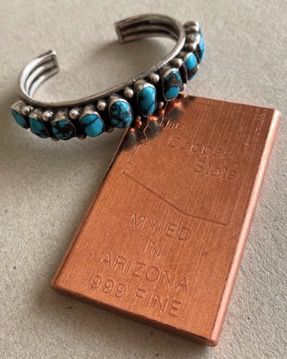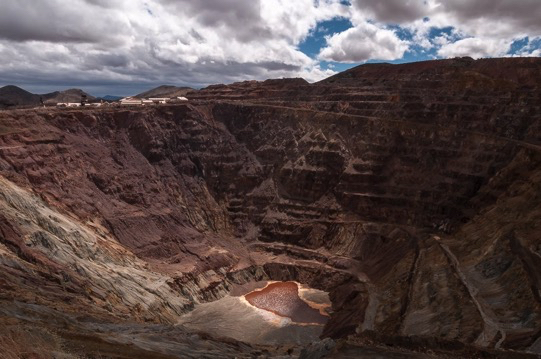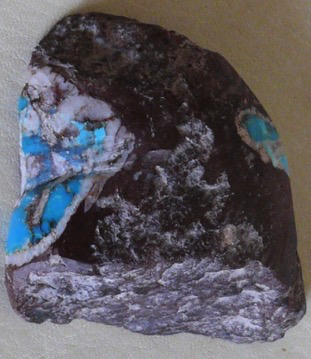 At left, Bisbee "Lavender Pit" turquoise stones and Arizona copper metal both found in the exact same place, The Phelps-Dodge Company's "Copper Queen" copper mine outside Bisbee, Arizona, pictured above at center. At right, a specimen rough stone of Bisbee "Lavender Pit" turquoise.
Lavender Pit Mine photo source and © Wikipedia
"Bisbee turquoise is as good as turquoise gets".
-Gene Waddell, owner, Lone Mountain Turquoise Mine
The copper miners would typically carry (or smuggle) out the turquoise, a by-product which the copper mining company wasn't terribly concerned with, out of the mine hidden in their lunch pails and sell it or trade it to local dealers and artists. Previously, there were some small amounts of Bisbee turquoise coming out of shallower deposits in the Mule Mountains around Bisbee years earlier, but this particular type of Bisbee turquoise, the "Lavender pit" variety, with its distinctive dark purplish-grey matrix was found almost exclusively in this
relatively small open pit section of the giant Copper Queen Mine beginning in 1950.
Back now to the silverwork. On first glance, one would think (and we initially did too) that this bracelet's shank was made from three strands of heavy pulled silver wire, but it wasn't. It was actually made from a single piece of tufa-cast ingot-silver which becomes apparent once you look at it more closely where there are abundant casting marks in plain sight and where several sections of the three strands are actually solid pieces. It's a fascinating and decidedly old-style way of doing it and it gives the silver a terrific rustic texture. On top of the cast silver shank the ten beautifully-matched Bisbee stones are set in heavy also old-style "Foldover" type silver bezels.
The stones are splendidly accented with nine matched pairs of beautifully applied round silver "raindrops".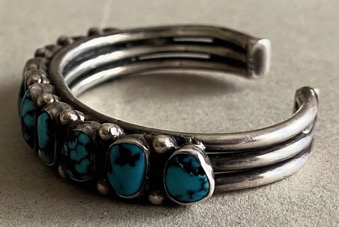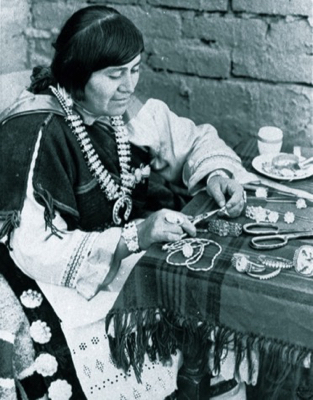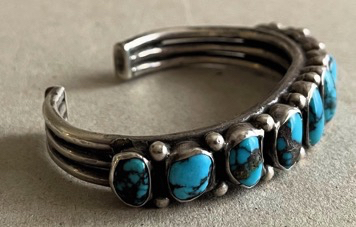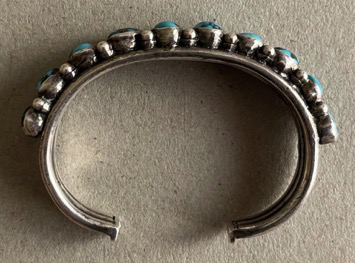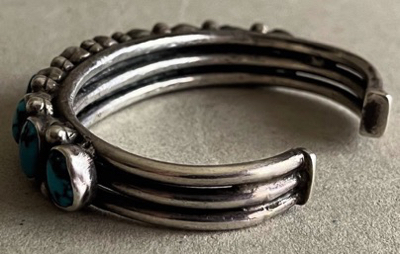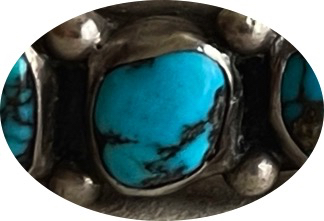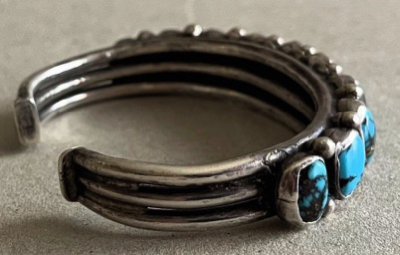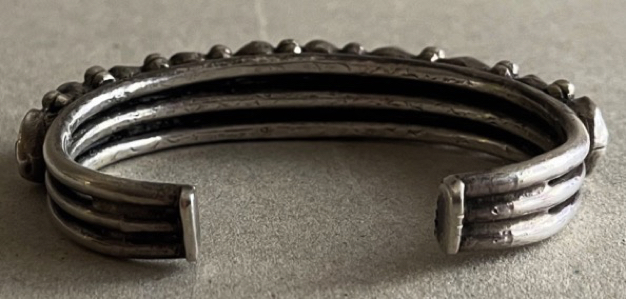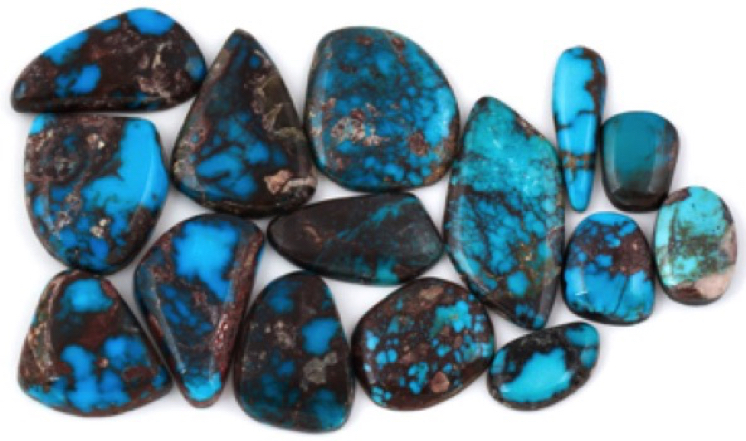 Bisbee Turquoise
Bisbee turquoise is a significant by-product of the huge Lavender Pit copper mine, which is now closed. With some of the finest turquoise coming from the section of the copper mine known as the "Lavender Pit," where for years copper miners would bring out fine turquoise in their lunch boxes. In March of 1972 a miner named Bob Matthews was given the only lease ever granted for rights to mine Bisbee turquoise. He was said to have recovered more than 2,000 pounds of good to excellent turquoise by 1974 . Bisbee turquoise is famous for its deep blue color and its smoky black matrix, which has been described as "smoky Bisbee" and as "lavender." Bisbee turquoise is as good as turquoise gets. In 2004 the Phelps Dodge Mining Company no longer allowed anyone near the hazardous old mine and buried the turquoise pit under 100 feet of dirt. There will be no more Bisbee mined. Any Bisbee on the market today was officially mined prior to 1974.
-Photo and text source and © WaddellGallery.com
Della Casa Appa making jewelry at C.G. Wallace's Trading Post
Photo source and © Palace of the Governors Photo Archives, Santa Fe, NM
It is impossible really to say with any certainty whether this piece was Navajo or Pueblo made and since the bracelet is unsigned one can never really be completely certain but there are several stylistic, technical and aesthetic similarities here to some of the work of the great Zuni Pueblo female silversmith, Della Casa Appa (1889-1963) who worked for renowned Indian Trader, Charles Garret (C.G.) Wallace from the 1930's throughout the 1950's and who made a number of very similarly styled silver and turquoise row bracelets using the highest-quality turquoise stones, something C.G. Wallace always prided himself on using in the jewelry made at his post.
No matter who made it, this piece is an absolutely superb and stunning presentation all around. The bracelet measures 1/2" in width at its widest center point and it tapers down to 5/16" in width at the nicely-square-capped and slightly upturned silver terminals. The inner circumference end-to-end is 5 5/8" and the gap between the terminals is 1 1/16" for a total interior circumference of 6 11/16". The bracelet weighs a very nice feeling but supremely comfortable 70 grams or 2 1/2 ounces and it is in excellent original condition. One of the ten turquoise stones is cracked in one corner but is completely stable in its bezel, one side of one of the silver bezels appears somewhat irregularly shaped but it seems to have been made this way to fit the contour of the stone.
This piece has a marvelous feel and presence, it literally "glows" with the penetrating luminous blue of the luscious stones and the mellow, yet brightish-whitish "color" of the nicely-patinated cast ingot-silver.
This one is a true vintage treasure! 
Price $3,150