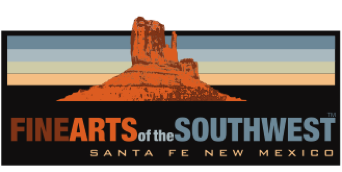 © 2010-2022 by Fine Arts of the Southwest, Inc. All rights reserved.
Unauthorized reproduction or use is strictly prohibited by law.

A large and fancy Navajo or Pueblo silver
and turquoise "Manta" style pin, c.1930's-40's
This lovely, large pin was made by an extremely accomplished unknown Navajo or Pueblo silversmith around the second quarter of the Twentieth Century. The silver is very finely and delicately worked in a beautiful filigree-like design surrounding and perfectly framing a large, beautiful, oval-shaped deep blue-green turquoise stone which is possibly from the famous Blue Gem turquoise mine in Nevada. The stone is set in a very interestingly made low serrated or scalloped silver bezel. The pin is further decorated all around with ten round silver balls or "raindrops."
The delicacy of the silverwork and the somewhat Spanish-looking elements of the overall design point in the direction of this piece being of Pueblo origin, but it could easily be Navajo made. Large fancy silver and turquoise pins such as these were and sometimes still are traditionally used by Navajo and Pueblo women to hold together the edges of their wearing blankets or "Mantas" particularly on festive or other important occasions.
The pin measures a very good-sized 3 1/4" in width and is 2 1/2" in height and the turquoise stone itself measures
1 3/4" height and 1" width. The pin weighs a substantial 42 grams or 1 1/2 ounces. The pin is in excellent original condition.
This beautiful and dramatic pin is sure to turn heads whenever and wherever you wear it.
Price $1,150