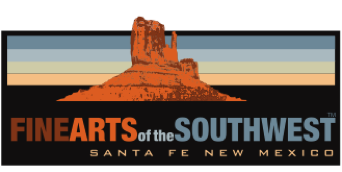 © 2010-2023 by Fine Arts of the Southwest, Inc. All rights reserved.
Unauthorized reproduction or use is strictly prohibited by law.
A unique and beautiful Fred Harvey Company Trading Post-era Navajo or Pueblo Sterling silver figurative pin of an Indian pottery-maker, c.1930's-50's
This is a wonderful old trading post type piece from the late golden age of tourist travel in the American Southwest, when people from all across the country and around the world came to the Southwest by car over the old "Mother Road", historic U.S. Route 66, and by train on the famed Santa Fe Railway. Along the railway and Route 66 were a long string of trading posts and fine hotels mostly operated by the famed Fred Harvey Company where travelers could find comfortable lodging, good food and avail themselves of a variety of eye-catching souvenirs such as this fanciful pin.
We say "fanciful" because this pin is a somewhat stylized depiction of an Indian pottery maker, the potter is clearly identifiable as a Navajo woman but the pottery is most likely a pueblo pottery jar.
This mixing of tribal metaphors and symbols was common throughout this "tourist" era in the Southwest and lends
an interesting, sort of kitschy or campy appearance to this beautifully crafted pin which was made by a Navajo
or Pueblo Bench silversmith probably working in one of the Southwest's many Trading posts, such as Maisel's in downtown Albuquerque, NM near the Fred Harvey Company's famed Hotel Alvarado at the Santa Fe Railway depot. The
pin could also have been sold at the Harvey Company's Indian Building there or at Verkamp's at the South Rim of the Grand Canyon or The Hopi House there or at The La Posada Hotel in Winslow Arizona, The La Fonda Hotel in Santa Fe, NM, The Castaneda in Las Vegas, NM and at numerous other similar places.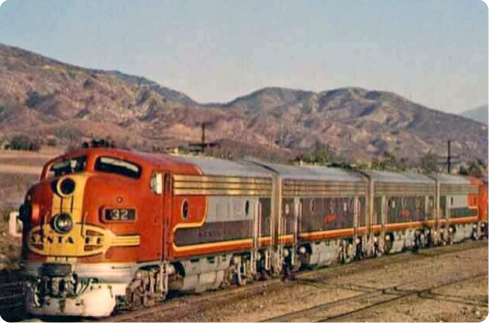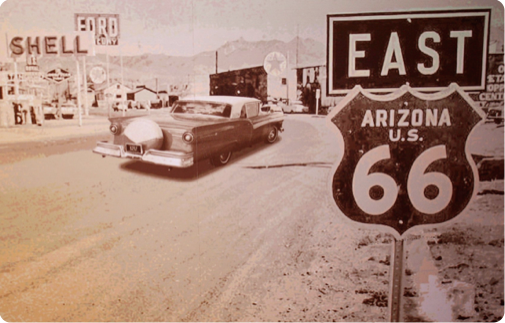 Left, driving along old U.S. Route 66 in Arizona, c. 1950's. Right, The Santa Fe Railway's "Super Chief" en route from Albuquerque to Los Angeles.
Left photo source and © The St. George News. Right photo source and © Atchison, Topeka and Santa Fe Railway
Your own grandmother might have bought it back home in the day, our Grandmothers certainly purchased such pieces
on their frequent road trips through the Southwest. This pin is a fond and beautifully-evocative recollection of an earlier simply time where the vast expenses of land, the endless big sky and the romance of the open empty road attracted scores of intrepid travelers to the exotic, timeless beauty of the American Southwest.
The pin was beautifully hand wrought by a Native silversmith who clearly knew his business, very finely formed and equally finely decorated with stamp-worked designs. The pin measures 2" in height and is 1 1/2" in width at its widest point. It weighs a very comfortable 6 grams or 1/4 ounce and it is in completely excellent original condition. It is quality marked "Sterling" on the back.
This sweet pin is both a lovely memory of a bygone yet timeless classic age and a unique and easy to wear piece
of vintage Southwestern jewelry.
Price $475