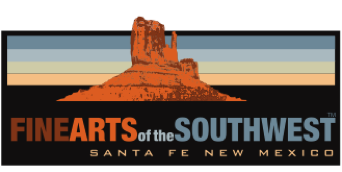 © 2010-2021 by Fine Arts of the Southwest, Inc. All rights reserved.
Unauthorized reproduction or use is strictly prohibited by law.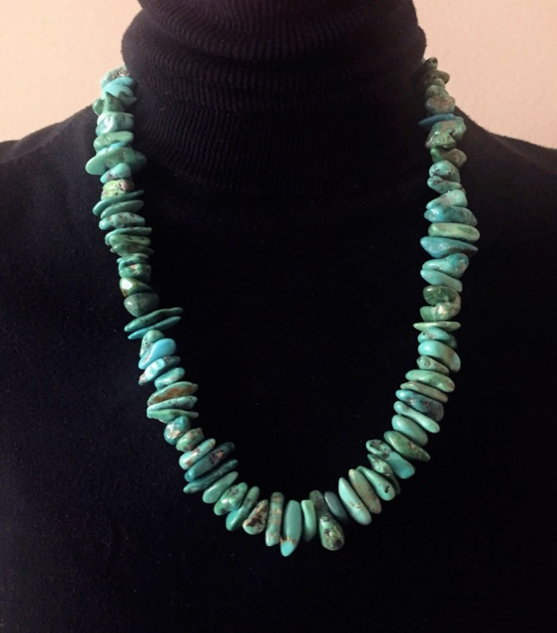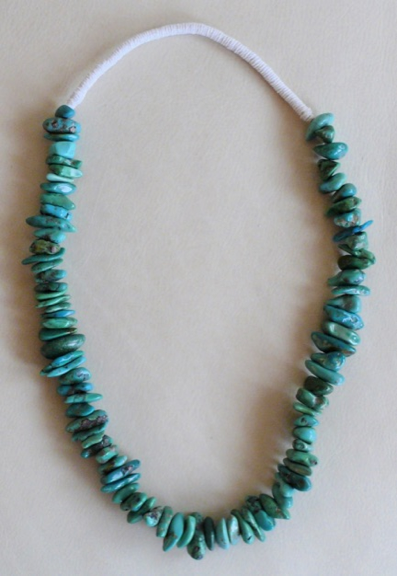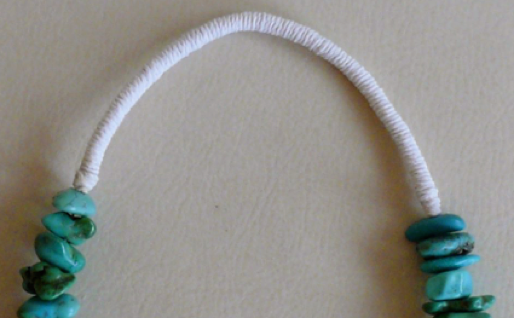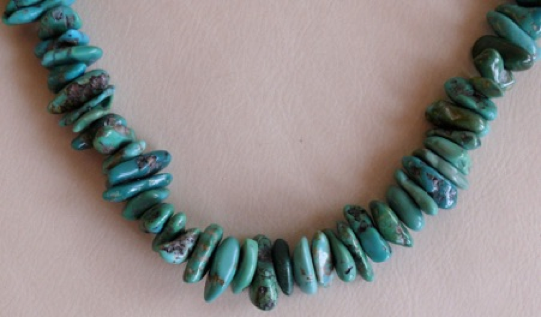 A truly beautiful Navajo or Pueblo
turquoise nugget necklace, c.1950's-60's
There are turquoise nugget necklaces and then there are turquoise nugget "knockout" necklaces; this one is the second variety. The visuals here are just terrific; the nuggets are a beautiful, deep saturated greenish-blue, they are very good-sized and nicely shaped and extremely well-matched along the entire length of the necklace.
No, this is not the ultra-rare Lone Mountain or Landers, at $150-$200 per carat, this is simply a really great-looking and easy to wear piece composed of a mixture of very good quality turquoise types, mostly what appear to be Royston, Nevada with a few Morenci, AZ with its characteristic pyrite matrix thrown in. The nuggets are all very nicely tumble-polished. The 83 or so nuggets in the necklace range from around 3/4" to 1" in width, most are in the 3/4" size range. The necklace measures 11 1/2" from the top of the cotton wrap to the bottom of the nuggets measured while lying flat and it is approximately 23-23 1/2" in circumference all the way around. The necklace weighs a substantial, yet very comfortable 159 grams or 5 5/8 ounces and it has a very nice feel on the body. It is in excellent condition and it has just been professionally and securely re-strung for safety and beautifully finished off with a wonderful white cotton "Pueblo" style wrap which is about 6" in length.
We guarantee that you can spend a lot more money on any number of turquoise nugget necklaces out there, but will you enjoy any of them that much more?
Price $1,950