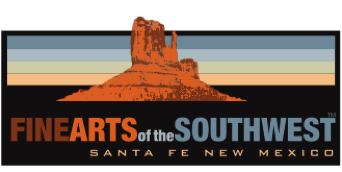 © 2010-2022 by Fine Arts of the Southwest, Inc. All rights reserved.
Unauthorized reproduction or use is strictly prohibited by law.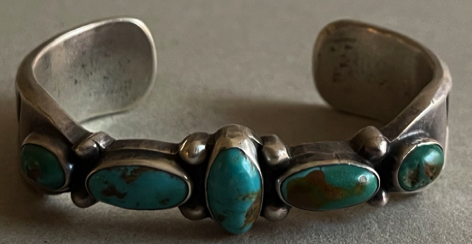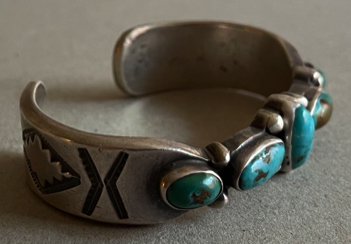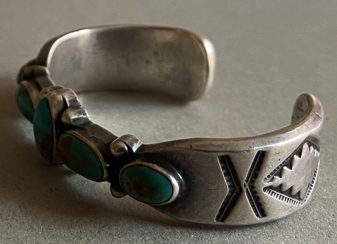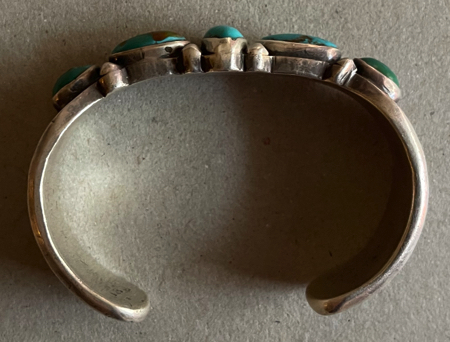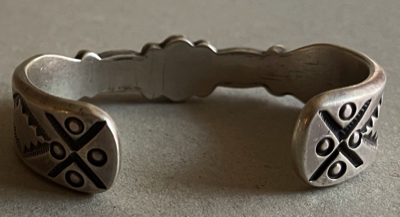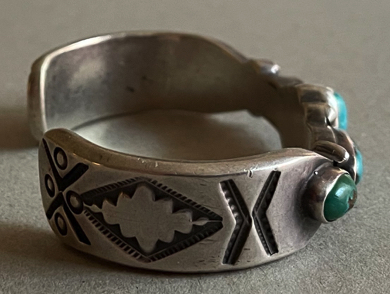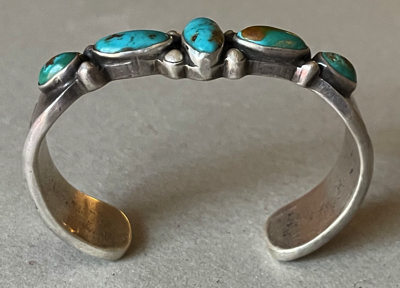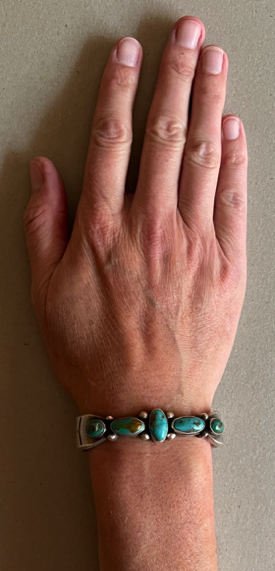 An excellent vintage Navajo or Zuni
Pueblo cast ingot-silver and turquoise
narrow cuff bracelet, c. 1940's
This is a masterfully crafted bracelet made by a clearly outstanding Navajo or Zuni silversmith. The bracelet's thick cast silver shank is tapered narrowly in the center panel and flares out beautifully along both sides.
The center panel is set with five beautiful oval-shaped blue-green turquoise stones in a lovely alignment with the center stone being set vertically and the two stones on both sides being set horizontally. The stones vary in color from sky blue to medium green and this color range plus their medium brown colored matrix suggests their possible place of origin might be either Cerrillos New Mexico or the Royston Mining district in Nevada.
The stones are set in old style "foldover" type silver bezels and accentuated by four pairs of round applied silver "raindrops" interspersed between them.
The design layout and fabrication is reminiscent of the work of the great C.G. Wallace Zuni Pueblo trading post silversmith, Della Casa Appa (1889-1963) and it is entirely possible that she did indeed make this bracelet, but we will never know for certain. What we do know for certain is that this is a most impressive, beautiful and infinitely wearable historic piece.
The bracelet measures 1/2" in width at its center point and flares outwards to 5/8" in width on both the side silver panels. The inner circumference end-to-end is 5 3/8" and the gap between the terminals is 1 1/8" for a
total interior circumference of 6 1/2". The silver shank is 1/8" in thickness. The bracelet has a very nice and comfortable weight of 68 grams or 2 1/2 ounces. It is in excellent original condition, there is a very tiny matrix related pit in one of the small green turquoise stones at one end.
A classic elegant piece. Period.
Price $2,350