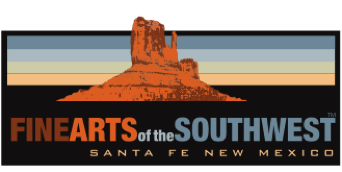 © 2010-2021 by Fine Arts of the Southwest, Inc. All rights reserved.
Unauthorized reproduction or use is strictly prohibited by law.

An outstanding vintage Navajo "Revival-Period" wide silver cuff bracelet, c.1940's
This bracelet is an incredibly beautiful piece, beautifully crafted, a 12 on a scale of 10. It was made during the
early "Revival" period in the 1940's when the Navajo Arts and Crafts Guild under its first Director, the brilliant Navajo jeweler, Ambrose Roanhorse (1904-1981), was teaching a new generation of Navajo and Pueblo silversmiths
the traditional silver-working methods and techniques of 1880-1910 Classic-Period Navajo silversmithing but with
a distinctly Modernist twist in design sensibility. The emphasis upon and large expanse of silver and the minimal
restrained stamp work displayed in this bracelet here are fully in keeping with the Guild's design principles.
To learn more about the Navajo Arts and Crafts Guild please click here.
This bracelet might possibly even be an unmarked piece made under the Guild's auspices, possibly even by Roanhorse himself, as not all the Guild's pieces were hallmarked, especially in its earlier years. Another distinct possibility is that it could be an unsigned piece by another one of the Guild's brightest, while he was there or later and that person
would be Kenneth Begay (1910-1977) We have seen several signed Kenneth Begay pieces that are distinctly similar to
this piece in design and quality of craftsmanship. There were only a mere handful of people at that time capable of imagining and making a piece such as this and Roanhorse and Begay are at the top of the list.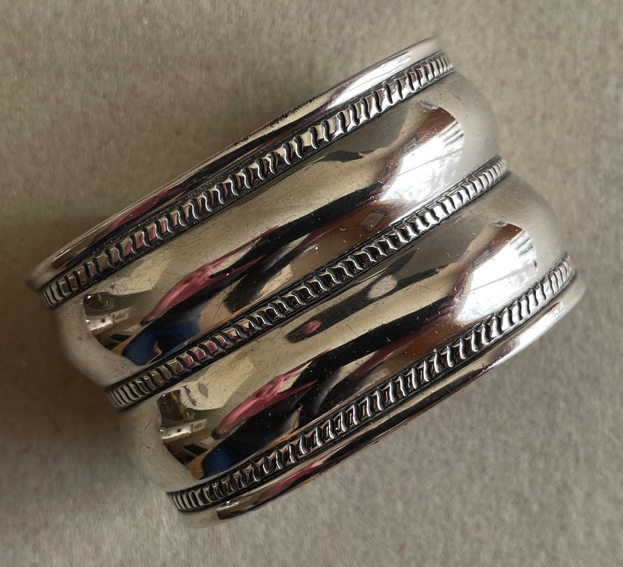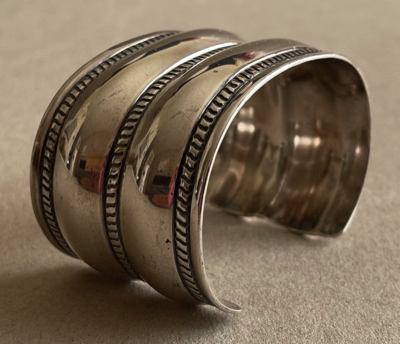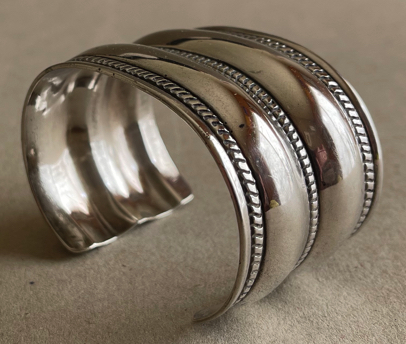 In any case, no matter who made it, the bracelet is an artistic and technical tour de force with beautifully-accomplished repoussees accentuated by perfectly-executed stampwork. The high polish, the beautifully-smooth and lustrous
surface and the bright, almost white "color" of the silver in this piece are simply stunning. The bracelet measures
1 5/8 in width, the inner circumference end-to-end is 5 11/16" and the gap between terminals is 1 3/8" for a total interior circumference of 7 1/16". It weighs an impressive 82 grams or 2 7/8 ounces and is in excellent original vintage condition with some age-appropriate abrasions and nicks.
This piece is a bases loaded grand-slam home run, it has everything, looks, style, flash, dazzle, elegance
and refinement all in one piece, all in one place. That's a big job for one bracelet.
Price $2,100