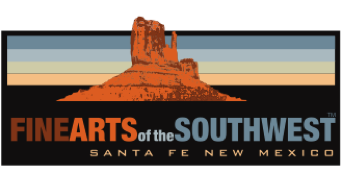 © 2010-2021 by Fine Arts of the Southwest, Inc. All rights reserved.
Unauthorized reproduction or use is strictly prohibited by law.

A stunning vintage Navajo Sterling silver and Blue Diamond Nevada turquoise cuff bracelet, c. 1950's
Pay close attention all you turquoise lovers! Can you spell d-r-a-m-a-t-i-c? This bracelet certainly can with its dynamic and incredibly vivid large oval-shaped central stone of rare Blue Diamond, Nevada turquoise. Blue Diamond
is one of Nevada's famous turquoise "hat" mines, so-called because as the saying goes they are small enough that you can cover them with your hat. With its intense blue color and dark chert matrix inclusions, Looking down at this beautiful stone feels like flying high over the ocean and seeing the water and various land masses and islands far beneath you. Blue Diamond turquoise is also known for being one of the hardest types of turquoise in existence
hence its eponymous name. The turquoise stone itself measures 1 3/8" in length and 1 1/8" in width and we would guesstimate the weight of this marvelous high-domed stone to be around 40-50 carats of pure turquoise delight.
The turquoise stone is simply and perfectly set in an old-style "foldover" type silver bezel in the center of the bracelet's silver shank which is beautifully decorated on both sides with elegant and refined stampwork designs. There is a sleek and streamlined feel to the entire extremely handsome presentation. The unknown Navajo silversmith who made this piece clearly knew his business well; it's a real artistic achievement. The bracelet measures a touch over 1" in width at its widest center point and is 1" in width the rest of the way around. The inner circumference end-to-end is 5 3/4" and the gap between the terminals is 11/4" for a total interior circumference of 7". The bracelet weighs a substantial but very comfortable 67 grams or 2 3/8 ounces and it is in excellent original condition with some age appropriate wear. The bracelet is unsigned for the maker which is not unusual for its time period and it is marked "Sterling" twice on the interior.
A beautiful silver bracelet set with a rare and beautiful Blue Diamond, it's a pretty darn
irresistable combination any way you look at it. Remember, Blue Diamonds are a girl's best friend.
(And a guy's too).
Price $1,750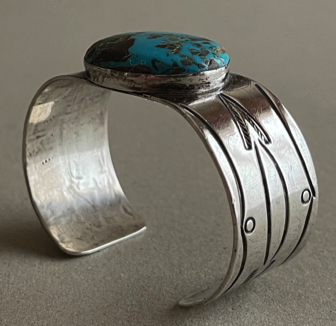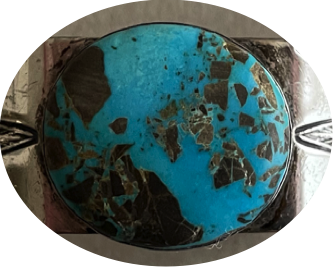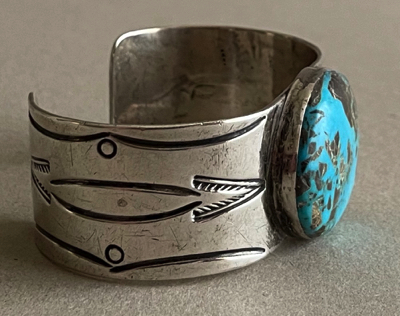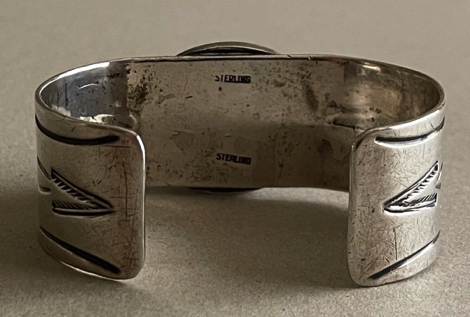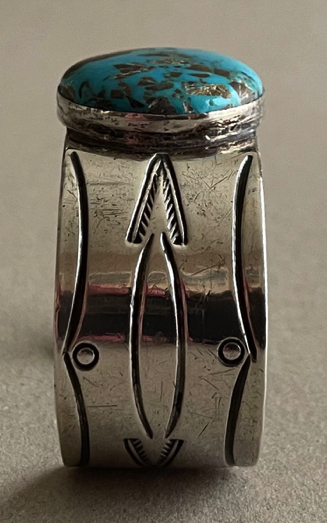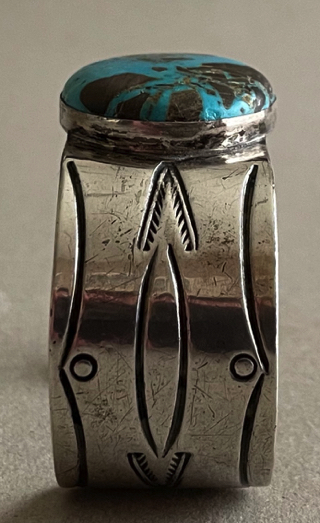 Blue Diamond Turquoise
The Blue Diamond mine, located in central Nevada, opened in the late 1950's and was mined up to 1980. This mine is considered a "hat mine" of which there are very few. A hat mine is a small deposit of turquoise that, "you can cover with your hat." The stones that the mine produces, which are usually large pieces of plate form, looks a great deal like Stormy Mountain turquoise because of its black smoky matrix. This stone features dark smoky matrix surrounded by a brilliant blue, The characteristic black chert is ever-present. This mine is now closed and buried under thousands of tons of rock.
-Photo and quotation source and © Waddell Gallery, Scottsdale, Arizona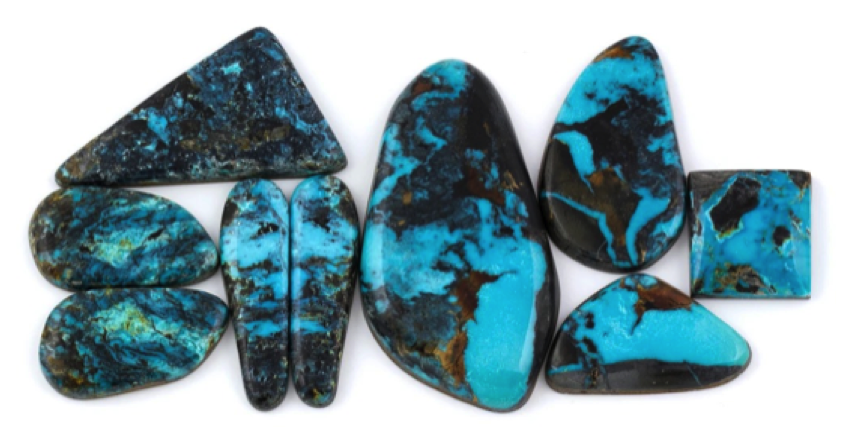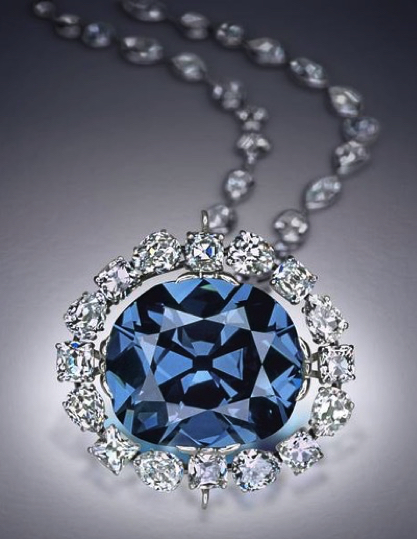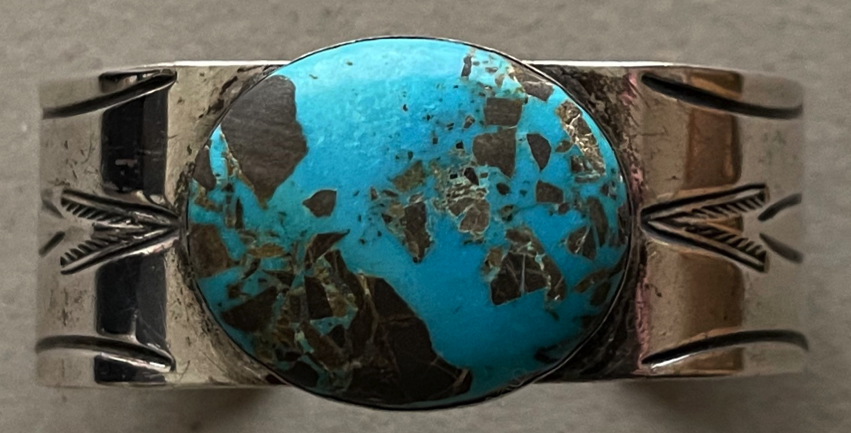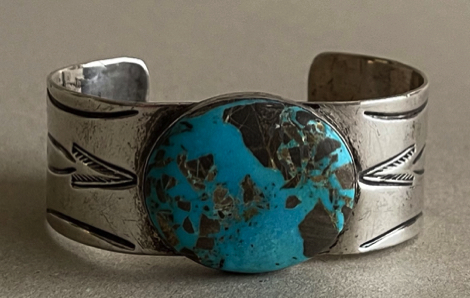 The World's most famous actual blue diamond, the Hope Diamond in the Smithsonian Institution in Washington, DC weighs 45.52 carats, roughly the same weight as this Blue Diamond turquoise stone, and is valued at $200-$350 million.
Photo source and © Smithsonian Institution, Washington, D.C.