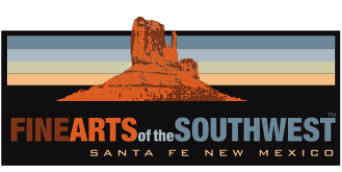 © 2010-2022 by Fine Arts of the Southwest, Inc. All rights reserved.
Unauthorized reproduction or use is strictly prohibited by law.
A very fine "Old Pawn" Navajo silver and Nevada
spiderweb turquoise Second-Phase concho-style belt
buckle c.1930, attributed to Hosteen Goodluck
ex: Hubbell Trading Post and National Historic Site, Ganado, Arizona
This beautiful buckle has an interesting history. It was purchased by its previous owner 26 years ago in 1996 as an "Old Pawn" piece from the renowned Southwestern Indian trader, Bill Malone, who at the time was the Shop Manager at the old J.L. Hubbell Trading Post and National Historic Site in Ganado, Arizona. This legendary post, now operated by The National Park Service, was originally established in 1878 under the direction of the famed Indian trader Juan Lorenzo (J.L.) Hubbell (1853-1930) and later his son, Roman Hubbell (1891-1957).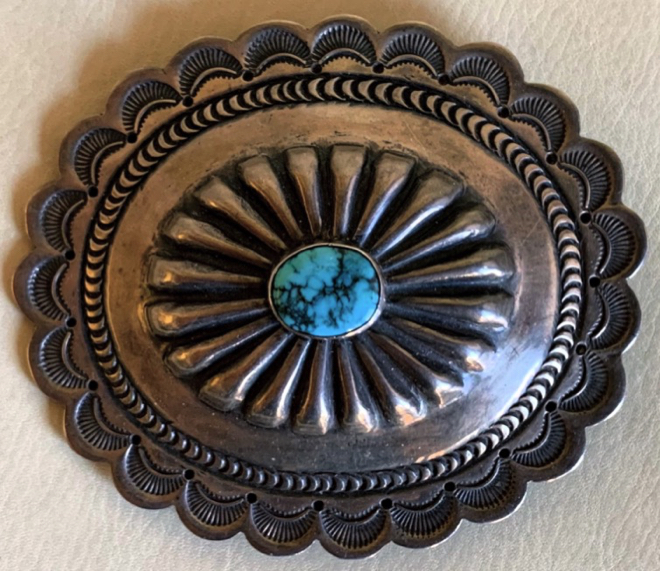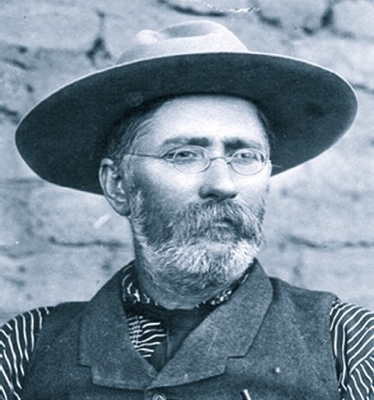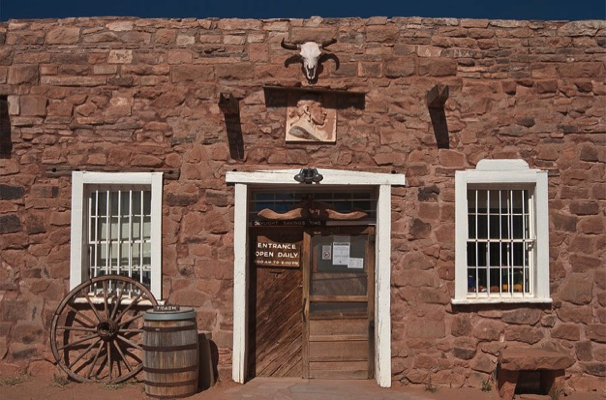 Juan Lorenzo Hubbell, c. 1900
Front entrance of Hubbell Trading Post
Photo source and © by Witold Skrypczak
The Hubbell Trading Post was for decades one of the most renowned and important trading posts in the entire Southwest, a "must-see" destination for anyone traveling through the region in the last decades of the 19th Century and the early decades of the 20th century from Presidents and other politicians to foreign dignitaries to Museum curators, artists and intrepid travelers from around the world. This buckle could have come into the Hubbell Post in a number of ways. It might have originally been pawned at the post by its owner and the interest payments were not kept current and eventually the pawn went "dead", as the official expression goes, and the buckle could then be sold or possibly the buckle might also have been purchased directly by Mr. Malone himself as a "Dead Pawn" piece from another trading post in the surrounding area.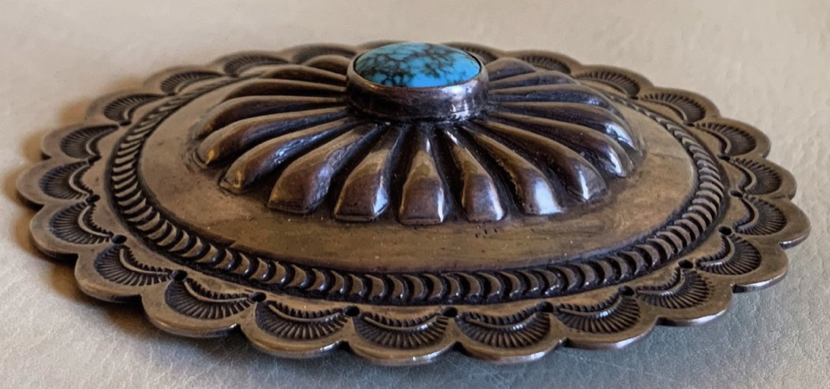 In any case, this buckle is a classically designed and beautifully hand-crafted piece made in the style of a closed-center "2nd Phase" style oval-shaped silver concho and decorated with very finely and precisely done repoussee, chisel, file and stamp work designs all surrounded by a beautifully-scalloped outer border. Our old friend and colleague Harold Jay Evetts of Gallup, NM was a lifelong collector of and dealer in historic Navajo silver and one of the most knowledgeable people we have ever known on the subject.
We just recently discovered a pair of silver and turquoise conchos extremely similar to this one which in our view were clearly made by the same maker. Jay had attributed this pair to the great Navajo silversmith, Hosteen Goodluck and dated them circa 1920-1930. Hosteen Goodluck (1860's-1930's) was a master Navajo silversmith who worked for the legendary Indian trader, Charles Garrett, (C.G.) Wallace from the 1920's to his death in the 1930's.
"Hosteen Goodluck was widely respected as one of the most important, early Navajo silversmiths. He was a master jeweler and active from the 1890's to 1930's."
-Source and quotation copyright, Brown's Trading Company, AZ
The buckle features a stunning, oval-shaped piece of high-grade blue spiderweb turquoise stone from one of Nevada's premier mines, possibly the famed Lone Mountain or the Nevada Blue. The turquoise stone itself measures 9/16" in width and is 1/2" height. The stone is beautifully set in an old-style "foldover"-type silver bezel. The buckle measures a very good-sized 3 1/2" in width and is 3" in height and approximately 1/2" in depth. It weighs 77 grams or 2 3/4 ounces and it will fit a leather belt strap of up to 1 1/2" in width. Both the silver buckle and turquoise stone are in excellent original condition with some age-appropriate wear and a fine original patina. This buckle is a beautiful and historic piece made by a significant artist which was, fittingly, previously purchased at a beautiful and historic place.
Please note that the leather belt pictured here is for demonstration
purposes only and is not included in the sale of this buckle.
Price $2,400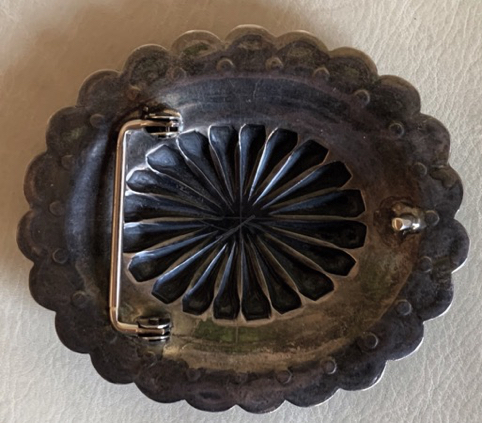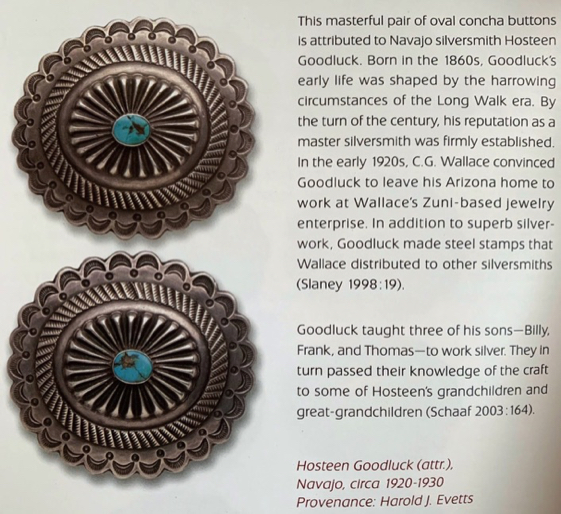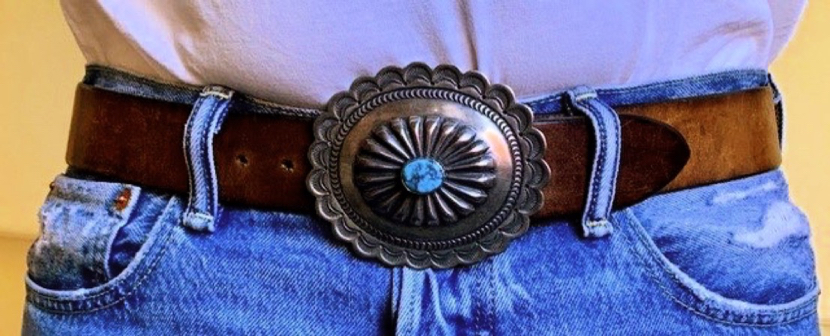 Source and © Gary Brockman, "Wearing the Moon, Navajo and Pueblo Silver Buttons", Sky Hill Press, LLC, 2017, pp. 51