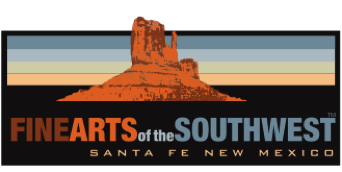 © 2010-2021 by Fine Arts of the Southwest, Inc. All rights reserved.
Unauthorized reproduction or use is strictly prohibited by law.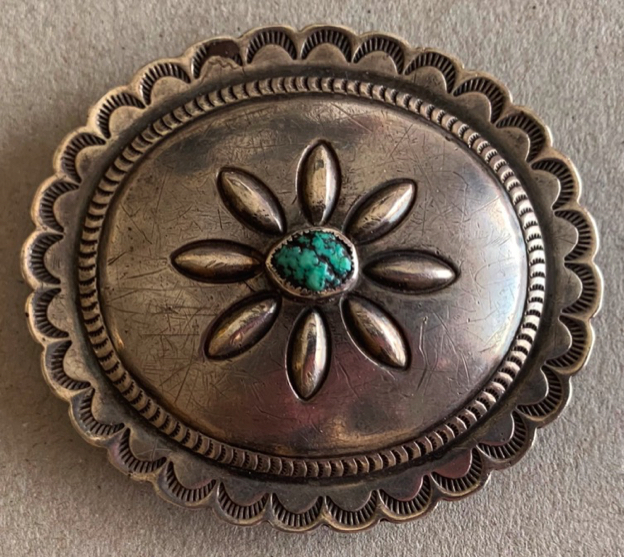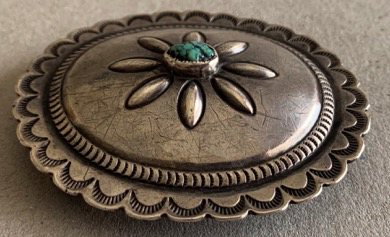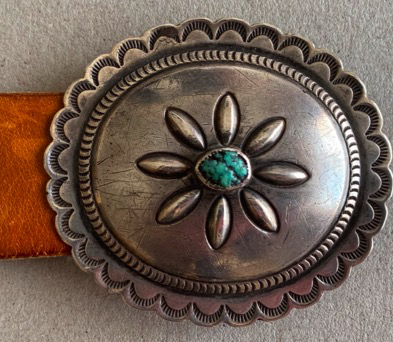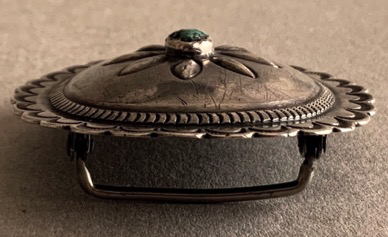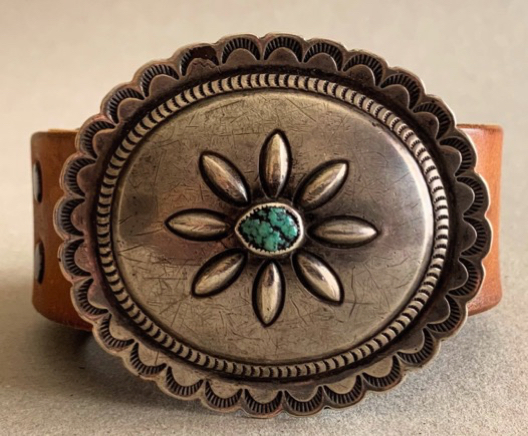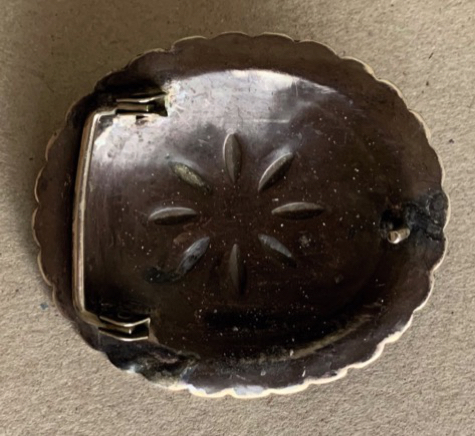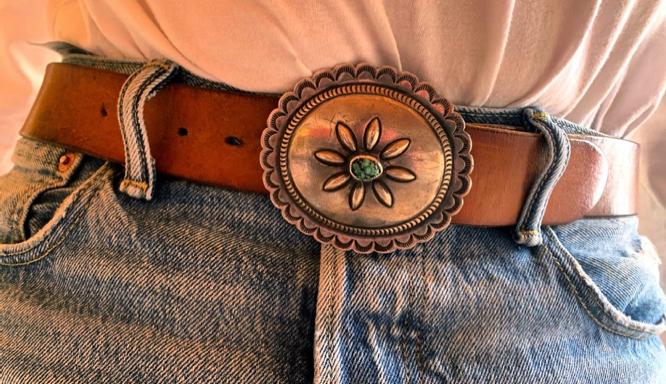 A wonderful old Navajo silver and turquoise
nugget concho-style buckle, c.1930's-40's
This buckle is "The Kind" of marvelous older piece that you always look for and very seldom find unless you are very fortunate. It has everything one could ever possibly want in a historic Navajo buckle; exceptional beauty, exemplary traditional craftsmanship, a beautiful natural turquoise nugget stone, and a fabulous, soft patina from decades of dedicated use and wear.
The oval-shaped buckle is made in the "Concho" style in the fashion of oval-shaped Navajo Conchos found in Classic-Period 1st and 2nd Phase Navajo Concho belts of the late 19th and early 20th centuries. In the center of the buckle is set a beautiful high-quality natural blue-green spiderweb turquoise nugget stone which appears to be from the famed Lone Mountain Mine in Nevada or a related Nevada mine such as Indian Mountain or Godber-Burnham. The nugget is set in a very finely-serrated silver bezel which is in turn surrounded by a beautiful radiating circle of repeating oval shaped repousseed designs.
There are eight of these reousseed designs, two sets of four, recalling the four directions of Navajo mythology and legend. The encircling repoussees beautifully frame the turquoise stone in a field of silver until moving outwards there is a finely rendered border of precisely stamped and chiseled parallel linear designs which is itself bordered on the outside by a scalloped silver outer border decorated with crescent-shaped stamped designs. The overall design displays a marvelous combination of discipline and restrained exuberance.
The buckle measures an extremely wearable for anyone 3" in width and 2 5/8" in height and it weighs a comfortable 46 grams or 1 5/8 ounces. The buckle will accept a leather belt strap of up to 1 1/2" in width.
The buckle is in very good and very well-worn vintage condition with a beautiful aged all-over pattern of scratches and nicks compiled over its 80-90 years of life. It has been well-loved and it shows. However, it is completely sound and ready to wear beautifully for the next 80-90 years.
As we said previously, this is a truly flat-out terrific older piece with the sort of beauty and character
you just don't often come by anymore unless you are lucky. Well, here's your lucky chance.
Please note that the leather belt pictured here is for demonstration purposes only
and is not included in the sale of the buckle.
Price $1,275