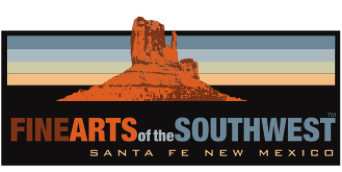 © 2010-2021 by Fine Arts of the Southwest, Inc. All rights reserved.
Unauthorized reproduction or use is strictly prohibited by law.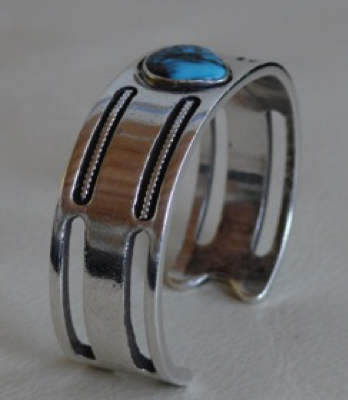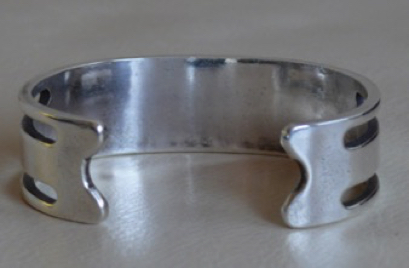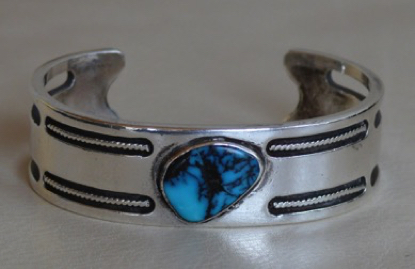 A Navajo silver cuff bracelet set with a Bisbee, AZ "Lavender Pit" turquoise stone, c.1930's
This is an extremely handsome and impressive bracelet, an early example of what would later become known as the
"Navajo revival" style, characterized by its clean, elegant lines, beautifully accomplished, minimal stampwork, sparing use of turquoise stones of excellent quality and interesting character along with an extraordinarily high level of overall workmanship and attention to detail.
The turquoise stone is a prime piece of natural, smoky Bisbee blue turquoise, with its characteristic, intense, saturated clear blue color and dark purplish/blackish/reddish matrix. This is one of America's most prized varieties of gem turquoise, commonly referred to in turquoise circles as "Lavender Pit" Bisbee for the particular area of the mine in which it was found, for its unique, deep-colored matrix as well as for the fact that when this stone is cut, the runoff water often runs dark purple or blood-red. There is also an old story that the "Lavender Pit" was so named after Mr. Harrison Lavender, a former manager of The Copper Queen/Phelps Dodge copper mine, of which the Bisbee turquoise mine was a tiny part. The Bisbee turquoise mine has been permanently closed since the 1970's. 
This fine bracelet is unmarked and could easily be an unsigned example by one of the great silversmiths of this period, Ambrose Roanhorse, Kenneth Begay or Austin Wilson, as its design and the quality of its workmanship are consistent with many of their best efforts. It is in excellent original condition and measures 3/4" overall width, inner circumference 5 1/2", gap between terminals 1 1/8", total interior circumference 6 5/8". The bracelet weighs 53.8 grams or1.91 ounces.
Price $2,150