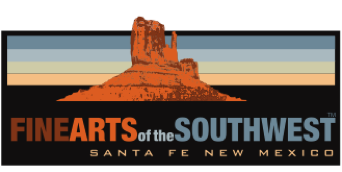 © 2010-2022 by Fine Arts of the Southwest, Inc. All rights reserved.
Unauthorized reproduction or use is strictly prohibited by law.

A wonderful Navajo silver cuff bracelet
possibly by Austin Wilson, c. 1940's-50's
This outstanding silver cuff bracelet was made by a master silversmith. The repousees are deep and perfectly executed and the surrounding stampwork is beautifully and precisely rendered. The design layout and quality of the craftsmanship in this bracelet are very strongly reminiscent of the work of the renowned Navajo master silversmith, Austin (Ike) Wilson who was active during this time period. However, since the piece is unsigned, we cannot make a completely ironclad attribution to Wilson.
The bracelet is 1 3/8" wide. The inner circumference is 5 13/16" and the gap between terminals is 1 1/2" for a total bracelet circumference of 7 5/16". The bracelet weighs 65.9 grams or 2.32 ounces. It is in excellent original condition with normal wear for its age and a fine patina. A truly unique and magnificent piece!
Price $2,650