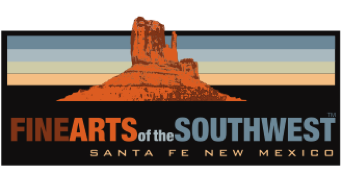 © 2010-2022 by Fine Arts of the Southwest, Inc. All rights reserved.
Unauthorized reproduction or use is strictly prohibited by law.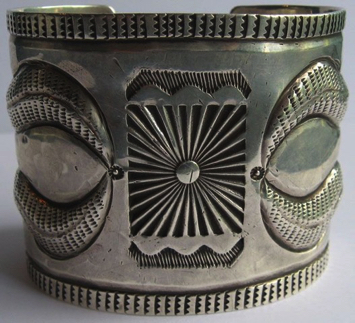 A very fine vintage Navajo silver cuff bracelet with outstanding stamp, repousse and chisel work, c.1925-1935, possibly made by Austin Wilson for C.G. Wallace
This bracelet is like a virtual encyclopedia of fine Navajo silversmithing techniques. The silversmith who made this piece was a true virtuoso; the work is beautifully conceived and masterfully executed from the large repousseed round central medallion panel to the flanking "wings" of stampwork designs and the fine chiseling around the perfectly stamped upper and lower borders. This work is on an artistic and technical level of achievement that is so fine it leads us to the possibility that the bracelet might have been made by one of the greatest Navajo silversmiths of the 20th Century,
Austin Wilson (1900- approx.1976) who worked primarily for the renowned Indian Trader Charles Garrett (C.G.) Wallace (1898-1993) at his seminal trading post at Zuni Pueblo, NM making high-level jewelry for Wallace's high-end clientele.
This is an interesting speculation and of course we will never know this for certain since the bracelet is not signed, but the overall design layout and particularly the form and application of the highly-detailed stamp work designs and the top and bottom borders and the overall outstanding quality of the craftsmanship all have certain strong affinities with Austin Wilson's work to our eye. Austin Wilson was one of the earliest Navajo silversmiths to sign his pieces which he began doing in the late 1930's. This bracelet very likely predates that by at least a few years.
Above and below, examples of Navajo silver work by Austin Wilson
Top photo source and © Pinterest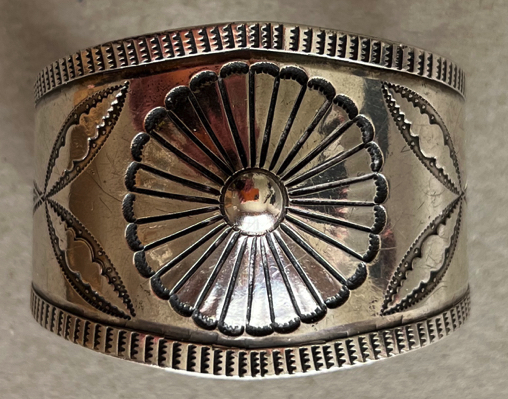 The bracelet measures 1 3/4" in width at its widest center point and tapers down to 3/4" in width at the terminal ends. The inner circumference end-to-end is 5 3/4" and the gap between the terminals is 1 1/16" for a total interior circumference of 6 13/16". The bracelet weighs a substantial, yet very comfortable 69 grams or 2 1/2 ounces. It is in completely excellent original vintage condition with some age-appropriate wear and a fine soft patina from age and use and is unsigned for the maker as befits its relatively early time period.
This bracelet is a extremely elegant and distinctive-looking historic piece made by a distinguished artist, whether Austin Wilson or not, which would be rewarding to own and wear and which would likely make everyone who saw it very envious.
Price $2,150