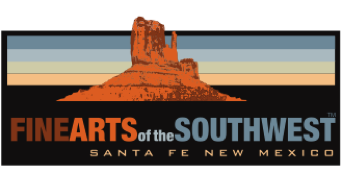 © 2010-2022 by Fine Arts of the Southwest, Inc. All rights reserved.
Unauthorized reproduction or use is strictly prohibited by law.

A very striking Navajo silver cuff bracelet with complex chisel, file, repoussee and stamp work and two turquoise stones, c. 1930's-40's
This bracelet is a visual extravaganza. The master Navajo silversmith who made this piece pulled out all the stops in the book for this fancy and masterful display of traditional Navajo silversmithing techniques. It was made to impress and it does; the repoussee, stamp, chisel and file work is all first rate and the swoopy design of the shank gives the bracelet an exciting and dynamic quality. The silverwork is perfectly accented by two matched greenish turquoise cabochon stones set in plain silver "fold-over" style bezels.
This complex shaped bracelet is 1 1/2" in width at its widest center point then it tapers in sharply to 1" in width and then flares back out to 1 1/4" in width at the terminals. The inner circumference end-to-end is 5 3/4" and the gap between the terminals is 7/8" for a total interior circumference of 6 5/8". The bracelet weighs a comfortable 63 grams or 2 1/4 ounces. It is in excellent vintage condition with age-appropriate wear.
Go ahead, knock everyone's eyes out with this historic powerhouse. As you can see, it packs quite a punch!
Price $1,450