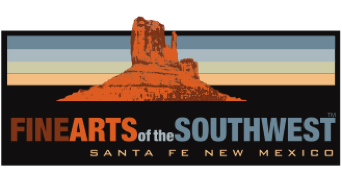 © 2010-2021 by Fine Arts of the Southwest, Inc. All rights reserved.
Unauthorized reproduction or use is strictly prohibited by law.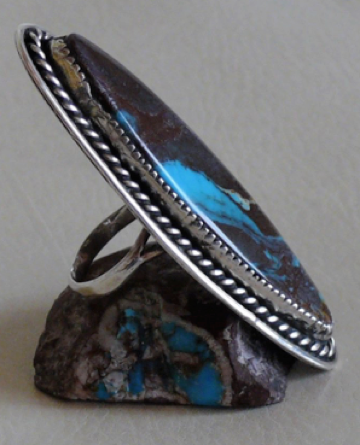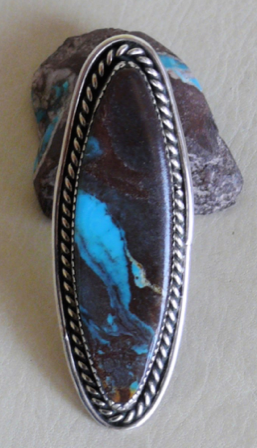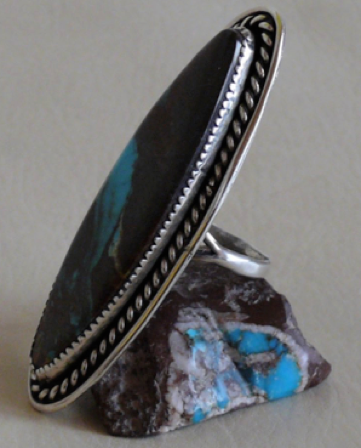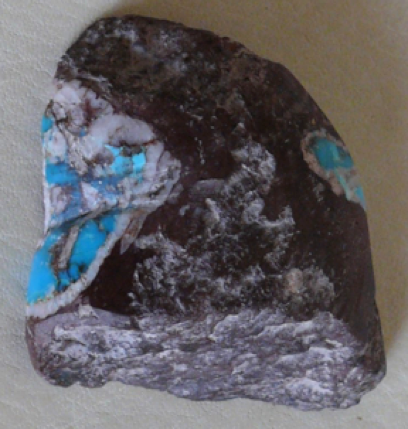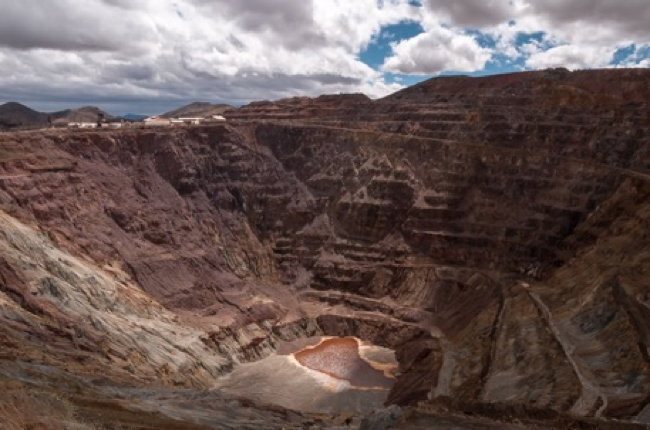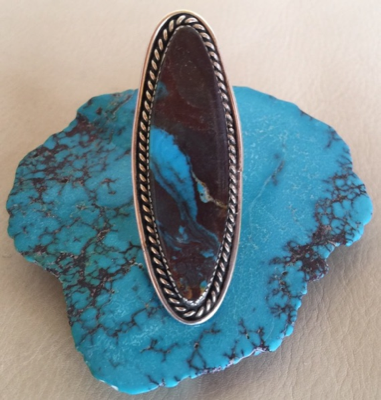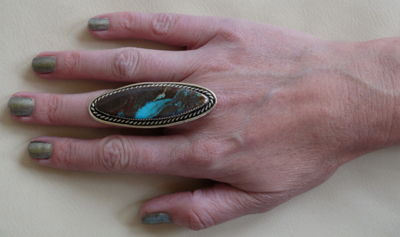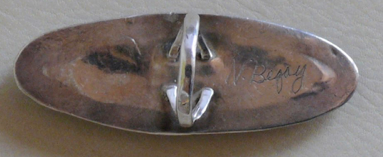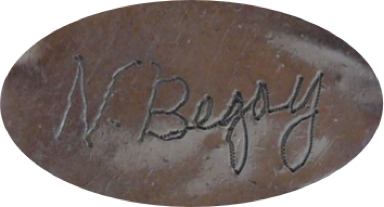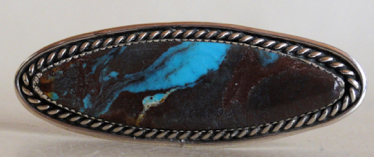 A Navajo silver ring set with an extraordinary, very large "Lavender Pit" Bisbee, Arizona turquoise stone, c. 1950's-60's
There's turquoise and then there's TURQUOISE!! This is the second kind. Ever since it started coming out,
a few pieces at a time, stashed away in copper miner's lunch boxes in 1950, "Lavender Pit" Bisbee has been regarded as one of the finest and most beautiful varieties of turquoise in the world. As turquoise authority and owner of the famed Lone Mountain turquoise mine, Gene Waddell states, "Bisbee turquoise is as good as turquoise gets". Its smokey purplish-brown grey-black matrix shot through with that heavenly saturated pure turquoise blue is a simply spectacular combination. And it is almost as rare as it is beautiful.
The "Lavender Pit" Copper Mine, Bisbee, Arizona, circa 1970.
Photograph courtesy of and © by Wikipedia
An uncut "Lavender Pit" Bisbee turquoise "rough" stone
The "Lavender Pit" copper mine comprised only a very tiny section of the gigantic Phelps-Dodge "Copper Queen" Copper mine complex outside Bisbee and after only a very short time of leasing it out (from 1972-1974) for turquoise mining, Phelps-Dodge decided that it was too dangerous to continue to allow turquoise mining there and closed off the Lavender Pit entirely, eventually burying it under a hundred feet of dirt. No Lavender Pit Bisbee turquoise has officially been mined there since 1974 and none ever will be again.
"Bisbee turquoise is as good as turquoise gets".
-Gene Waddell, owner, Lone Mountain Turquoise Mine
The sensational, long, oval-shaped stone in this ring measures a seriously impressive 2 1/4" by 3/4" and it is set in a very well-crafted serrated silver bezel accentuated by a fine twisted silver wire surround, The bezel platform sits atop a beautifully-made split chisel silver shank. The ring measures size 8 on a professional graduated ring sizer. It weighs a comfortable 17 grams or 5/8 ounce and is in excellent original condition. The ring is inscribed "N. Begay" in cursive script on the back. This could possibly be a maker's signature although we are not familiar with an artist named "N. Begay" or it could simply be the name of a previous owner of this absolutely gorgeous ring.
Price $1,275
Note: The Bisbee turquoise "rough" specimens photographed here are for display purposes only and are not included in the sale of this ring.