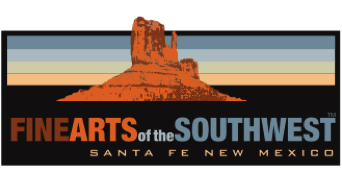 © 2010-2021 by Fine Arts of the Southwest, Inc. All rights reserved.
Unauthorized reproduction or use is strictly prohibited by law.

An outstanding tufa-cast Navajo ingot-silver bracelet set with a large round turquoise stone, circa 1920's-1930's
Another early and very beautiful example of the extremely-difficult-to-execute traditional Navajo jewelry technique of tufa-casting of ingot-silver, this classic old-style bracelet features a large, round, hand-cut blue turquoise stone set in a simple fold-over bezel. The bracelet's silver shank is decorated along its length with finely-executed simple stampwork and the triangular shaped terminals of the bracelet are very unique and distinctive.
The bracelet measures 1 3/16" in maximum width. The inner circumference end-to-end is 5 1/4", and the gap between terminals is 1 1/8" for a total interior circumference of 6 3/8". The bracelet weighs 49 grams or 1 3/4 ounces and it is in excellent original condition. A marvelous example of early Navajo tufa-cast ingot-silver.
Price $2,250