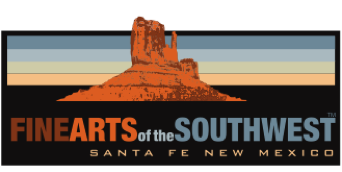 © 2010-2021 by Fine Arts of the Southwest, Inc. All rights reserved.
Unauthorized reproduction or use is strictly prohibited by law.

A very-finely tufa-cast Navajo ingot-silver bracelet set with three small Cerrillos turquoise stones, circa 1920's-1930's
A hard-to-find classic piece, this fantastic bracelet is a nearly perfect example of the extremely difficult traditional Navajo silver-making technique of tufa casting. Melted down American silver dollars or Mexican pesos were cast into a hand-carved tufa mold to form the bracelet. Make the casting too thin and the resulting piece will lack strength and likely break, too thick and the delicacy is lost. The art is in having the skill to combine two opposing extremes as this piece does perfectly. The bracelet is designed in the form of a stylized butterfly and features three beautiful, small, round, green Cerrillos, New Mexico turquoise stones set in extremely finely-serrated bezels.
The bracelet's shank is decorated with fine stampwork in the form of six central arrow designs and other areas marked with end-of-the-file punch stamping. The bracelet measures 1 1/4" in maximum width. The inner circumference end-to-end is 5 1/2", the gap between terminals is 1 1/4" and the overall interior circumference of the bracelet is 6 3/4". It weighs 34 grams or 1 1/4 ounces and it is in excellent original condition. A rare, beautiful and very wearable masterpiece of traditional Navajo silverwork.
Price $1,950