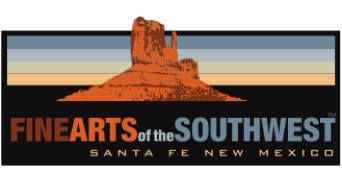 © 2010-2022 by Fine Arts of the Southwest, Inc. All rights reserved.
Unauthorized reproduction or use is strictly prohibited by law.

A very striking Navajo tufa-cast silver and
Nevada turquoise buckle, c. 1930's-40's
This piece is a sort of "Stealth Bomber" of Navajo buckles, the kind of piece that sneaks up on you quietly under the radar, so to speak. It's not particularly flashy or unusually large or elaborate, but it is exceptionally elegant and most beautifully and finely-crafted and it speaks most eloquently and convincingly in that sort of quiet language.
The design is a masterful somewhat Modernist execution of a traditional Navajo "Four Directions" design done in
the traditional Navajo silversmithing technique of tufa-casting, in which red-hot molten silver from melted-down American and/or Mexican silver coins is poured into a carved volcanic tufa stone mold. If the cast is successful as
it was here, the resulting raw cast silver piece is then filed, sanded and buffed into its finished form, decorated with minimal chisel work designs and set with a fine hand-cut turquoise stone which appears to be either Fox, Royston or Blue Gem, Nevada turquoise. We give the nod to Fox.
The turquoise stone is nicely set into an old-style "Foldover" type plain silver bezel. The buckle is fitted with
a brass tang hook which is a fairly old-style treatment, older Navajo silver "ketohs" or bowguards often had brass or copper fastening loops as did older Navajo silver buttons. In the hardscrabble, predominantly trade economy of 1930's-40's Navajoland one saves the more expensive, scarce and precious silver for the main event and used the cut-up salvaged teakettle pieces for the hardware. This buckle's design is only minimally accentuated with some restrained decorative chisel work, the elegant somewhat streamlined shape and pleasing contour of the cast silver itself are what most define the handsome design here.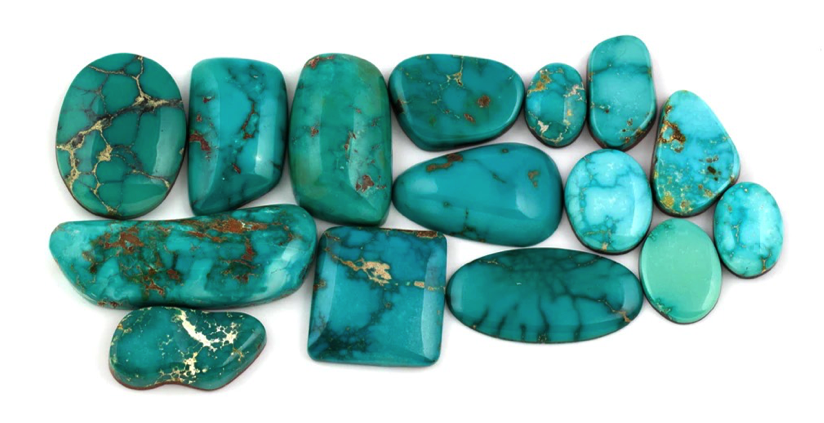 Fox Turquoise
The Fox turquoise mine, located near Lander County and discovered in the early 1900's, was once Nevada's largest producer of turquoise with some half million pounds. At that time, Dowell Ward, the mine operator, amassed one of the largest collections of turquoise rock. The mining operation continued to produce turquoise in quantity after 1968 and is still producing today. Fox turquoise is quite hard and runs from shades of green to an aqua blue color. It is found as both nuggets and vein material. The names Fox, White Horse, Green Tree and Smith to differentiate among the colors of turquoise produced in the area and to create a larger perceived share of the market.
-Fox turquoise text and photo source © Waddell Gallery, Scottsdale, AZ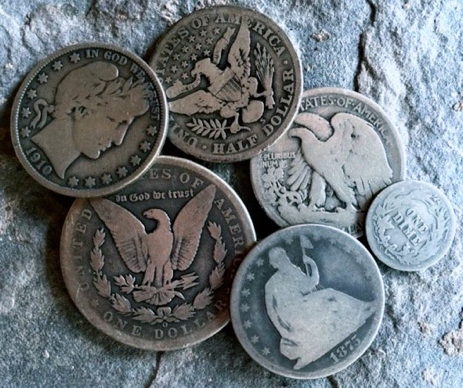 At left, a Navajo silversmith at work in his hogan c. 1930. At right, examples of the types of historic silver coins this buckle was made from.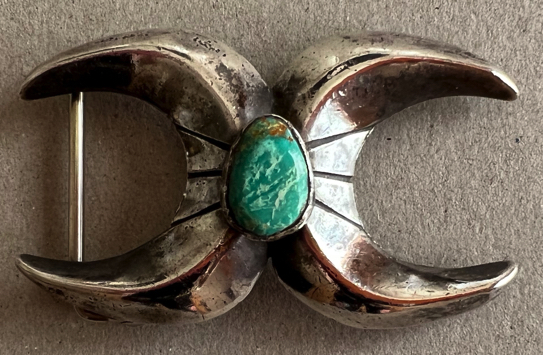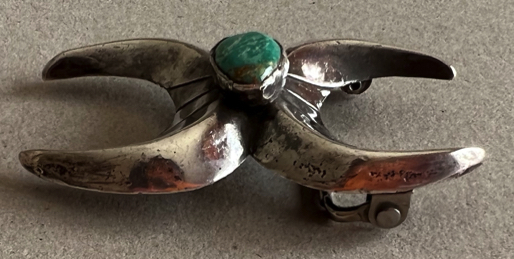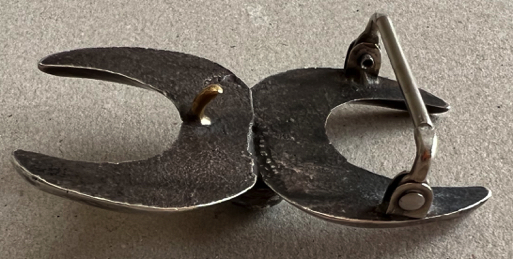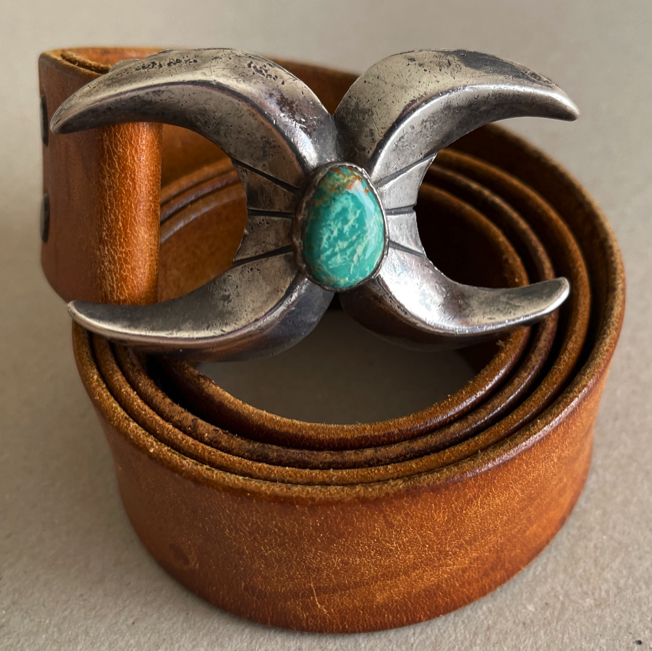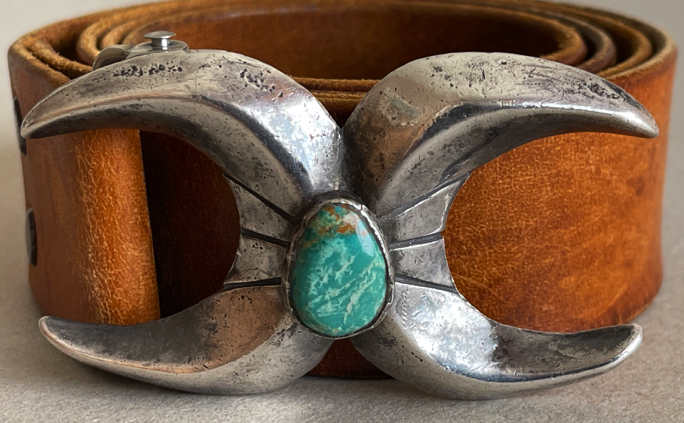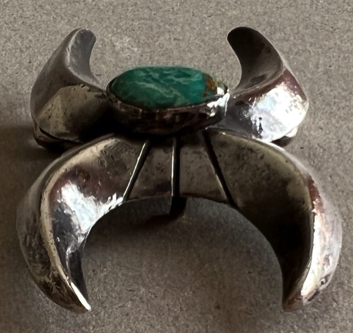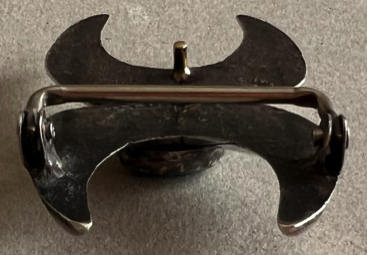 The buckle measures a very nicely-sized 3" in width, a little over 2 3/4" in height and it is just under 1/2" in thickness at its thickest point. It weighs a satisfying, yet very comfortable 71 grams or 2 1/2 ounces and will accept a leather belt strap of up to 1 1/2" in width. The buckle is in excellent condition with some age-appropriate wear and a fine soft patina from age and use. The commercial hinged buckle belt strap keeper might have possibly been updated at some point as it seems somewhat more recent than the buckle though it does still have considerable wear.
This buckle has clearly been well-loved throughout its 80-90 years of life.
This is not one of those showy, elaborate, big-as-a-dinner-plate buckles set with a ton or two of modern plasticized stabilized turquoise. Rather, it's a completely authentic, nicely-restrained, perfectly-crafted medium-sized precious historic jewel which would be equally elegant and wearable on either a man or a woman.
Price $1,250
Note: The leather belt pictured here is for demonstration purposes only and is not included in the sale
of the buckle. If desired, we can recommend an excellent custom leather belt maker in Santa Fe.