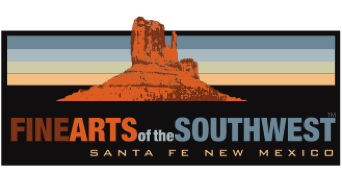 © 2010-2022 by Fine Arts of the Southwest, Inc. All rights reserved.
Unauthorized reproduction or use is strictly prohibited by law.
A particularly lovely Navajo tufa-cast
silver and red coral ring, c.1940's
This is a simply wonderful ring, beautifully conceived and finely crafted. The tufa-cast silver body of the ring displays the ideal combination of strength and delicacy which is the hallmarked fine tufa-casting. one of the most painstakingly difficult of all traditional Navajo silvsemthing techniques and one of the hardest to master.
The silversmith who made this piece pulled it off it perfectly, the ring is elegantly curved and beautifully
beveled with a flowing, sinuous shape and a smoothly polished, almost liquid-looking surface. The design conveys both a graceful lightness and substance at the same time. The silversmith finished the ring off perfectly by setting a fine deep red Mediterranean coral stone in the ring's center mounted in an high-walled old-style "foldover" type silver bezel.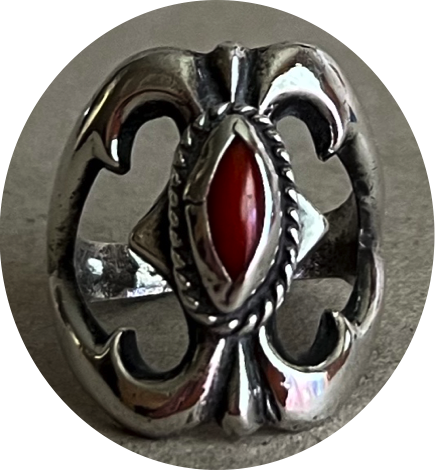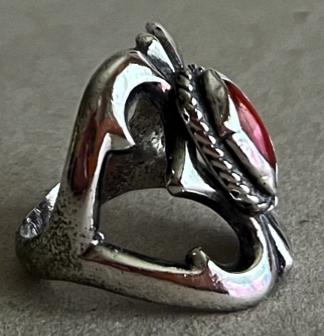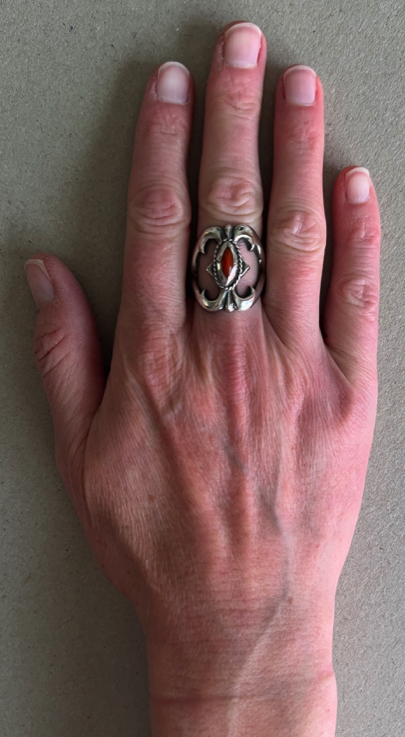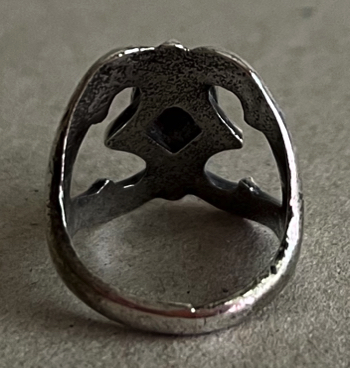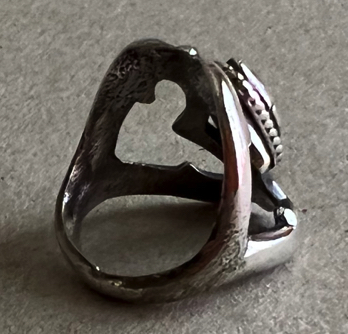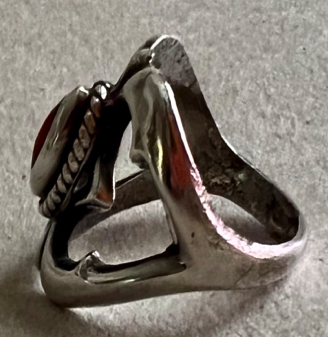 The ring measures a size 9 1/2 on a professional graduated ring sizer. The face of the ring is 1" in height and slightly over 3/4" in width at the widest point. The ring weighs a very comfortable 11 grams or 3/8 ounces and
is in excellent original vintage condition with a fine soft patina from age and use. It is unmarked for the maker
as befits its relatively early time period.
This ring would be equally attractive on either a man or a woman. This is a special piece
for a special someone (possibly yourself.)
Price $475
Note: We are not able to ship this item internationally. Shipping restrictions to certain states may also apply.