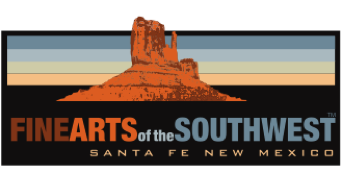 © 2010-2021 by Fine Arts of the Southwest, Inc. All rights reserved.
Unauthorized reproduction or use is strictly prohibited by law.

An exceptional, historic, Navajo tufa-cast
silver belt buckle set with six round blue
"Hubbell" glass beads, c.1900-1910
ex: Teal McKibben Collection, Santa Fe, NM
This gorgeous buckle is the sort of thing one almost never sees today outside of a good museum. It is quite simply one of the very finest pieces we have ever seen in nearly 35 years of buying, selling and collecting historic Navajo jewelry, and, what's more, it also has a wonderful provenance.
These large, early, tufa-cast Navajo silver buckles made in the first quarter of the 20th Century are among the rarest, most accomplished and beautiful of all historic Navajo silver jewelry, in our opinion. They are almost universally considered to be among the crowning achievements of early Navajo silversmithing for their great beauty, rarity, and the extreme nature and difficulty of the process required to create them.
The Navajo silversmith who made this piece was an accomplished master of his craft. Tufa-casting, under any conditions, and particularly under the extremely primitive conditions which existed throughout the remote reaches of Navajoland in the early 20th Century, is one of the most painstakingly difficult and tricky of all silversmithing techniques to execute successfully, particular for a piece on this large scale. If the tufa mold isn't carved exactly right, if the molten silver doesn't flow perfectly and evenly into the mold at the exact right temperature, the casting will be ruined. As can be seen, the casting of this piece turned out perfectly;
it is a model of strength, elegance, delicacy and refinement and the subsequent chiseled and stampwork decorative designs the silversmith applied onto the buckle are restrained, elegant and beautifully executed.
Juan Lorenzo (J.L.) Hubbell, c. 1900-1905
Photo © National Park Service
Due to its large size and impressive scale, its considerable beauty and the particular materials used to make it, it stands to reason that this buckle might have been a custom commission for an important person, possibly a client of the famous Arizona Indian Trader Juan Lorenzo (J.L.) Hubbell (1853-1930). Hubbell might have supplied one of his favored Navajo silversmiths with the scarce American silver coins, four silver dollars worth by weight, needed to make the buckle as well as with the six blue glass "Hubbell" style beads which are set in the buckle.
These distinctive blue glass beads were colloquially referred to as "Hubbell beads" after J.L. Hubbell began importing them in various sizes and shapes from Europe and selling them in his various Southwestern trading posts around 1900-1910 as well as having the Navajo silversmiths in his employ make jewelry pieces with them. At the time, interestingly, Hubbell widely promoted such beads to his Native American and other customers as being a cheaper, easier-to-use and more readily available alternative to turquoise which, at the time, was in somewhat short supply in America. However with the passage of time, Hubbell beads have actually become quite valuable themselves as they are now considered to be rare and extremely collectible.
This large buckle measures an impressive 3 3/4" in width and 3 5/8" in height. It will accommodate a belt strap of up to 1 1/4" in width. The buckle weighs a substantial 107 grams or 3 3/4 ounces. The buckle is in excellent original condition with a fine patina from age and a great deal of dedicated wear around the silver bezels and on the reverse where the leather belt would pass through the buckle. There is a very small chip in one of the glass beads at one corner of the buckle.
This buckle has a distinguished collection history, coming directly from the personal collection of the longtime Santa Fe Native American jewelry dealer and collector, Teal McKibben (1928-2006), a dear old friend and colleague of ours for over twenty years. Teal's extraordinary knowledge in the field and her extensive collection of old Navajo and Pueblo jewelry were unequalled and legendary and most deservedly so. We very well remember her wearing this particular buckle on numerous occasions over the years. After Teal's passing, we purchased the buckle from her family.
This buckle is a remarkable and historic piece of early Navajo silverwork which brings together a distinguished unknown Navajo Silversmith, a prominent and highly-influential Indian Trader and a legendary Native American arts collector. Nice company to be in.
Note: The leather belt pictured here is for demonstration purposes only and is not included in the sale
of the buckle. If desired, we can recommend an excellent custom belt maker here in Santa Fe.
Price $6,750
A selection of historic tools and materials used by Navajo
silversmiths for making tufa-cast silver jewelry.
The height of Southwestern fashion a hundred years ago
in 1920, a terrific Navajo tufa-cast silver buckle worn on a classic Navajo Second-Phase Concho belt.
Photo source and © The Navajo and Pueblo Silversmiths by John Adair, University of Oklahoma Press
Teal McKibben in front of her Santa Fe gallery, La Bodega, c. 2001.