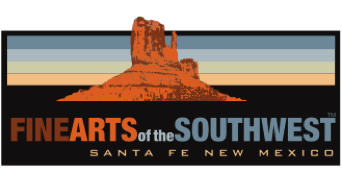 © 2010-2021 by Fine Arts of the Southwest, Inc. All rights reserved.
Unauthorized reproduction or use is strictly prohibited by law.

A very fine vintage Navajo tufa-cast
silver concho belt set with 16 beautiful
Nevada turquoise nuggets, c. 1950's
This piece is a serious pile of silver goodness; no less than twelve gorgeous tufa-cast silver conchos set
with beautiful turquoise stones and an elegant tufa-cast silver buckle set with four more fine stones.
We'll never know who the anonymous Navajo silversmith was who made this belt but he knew his craft cold, all
the silver pieces are beautifully and meticulously cast and tufa-casting is no walk in the park, its one of the most painstakingly difficult and precise of all traditional Navajo silversmithing techniques to master. The cast conchos and buckle have the ideal combinations of strength and delicacy which is the hallmark of fine tufa-casting. Each of the silver conchos is set with a single beautiful blue polished natural turquoise nugget and the buckle is set with four
of them. The turquoise is a penetrating sky blue in color with a dark greyish black chert matrix which is characteristic of some very fine Nevada turquoise mines such as the Blue Diamond, Pilot Mountain and Stormy Mountain.
Each of the twelve cast silver conchos measures a nicely-sized 1 7/8" in width and is 1 5/8" in height and the silver buckle measures 2" in width and is 1 5/8" in height. The entire belt weighs an impressive 297 grams or 10 1/2 ounces, over half a pound of silver. The conchos have brass hanging loops on their backs and they and the buckle are all strung onto a commercial black leather belt strap which is 1" in width and 28 1/2 inches in length from the single belt hole to the center of the buckle. This belt leather could very easily be changed to a different leather of a different length and different color etc. by any competent leather smith and we can recommend an excellent local Santa Fe leather shop to do this, if desired. The twelve conchos and buckle are all in excellent original condition,
the commercial leather has a bit of wear, but is still quite serviceable if somewhat short in length.
This is a beautifully crafted and extremely wearable belt which would look equally striking worn over a little black cocktail dress or with a tee shirt and jeans and when you're not knocking their eyes out with how great you look wearing it you can also enjoy it just hanging on the wall where it would look every bit as good as a beautiful display of exceptional historic Navajo silverwork.
Price $2,150