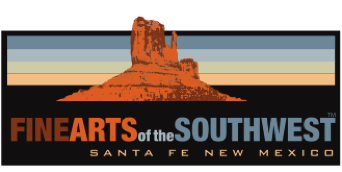 © 2010-2021 by Fine Arts of the Southwest, Inc. All rights reserved.
Unauthorized reproduction or use is strictly prohibited by law.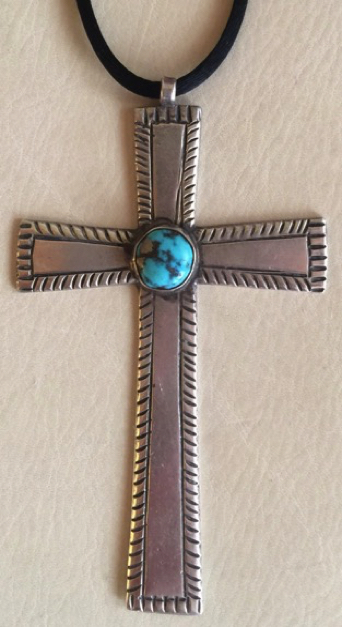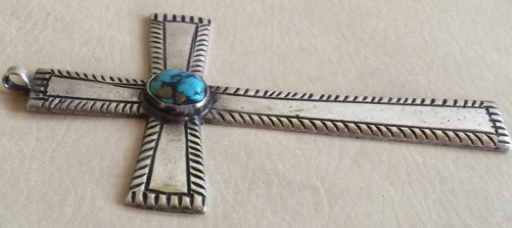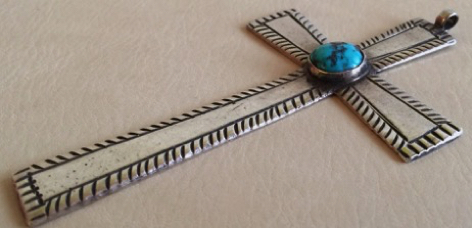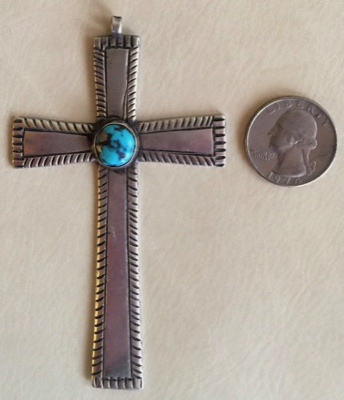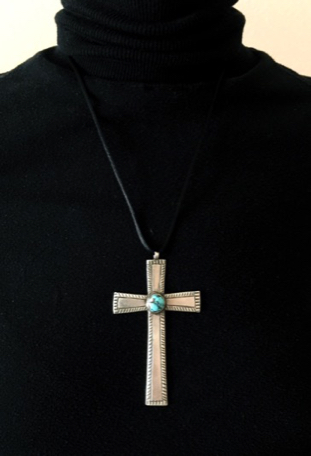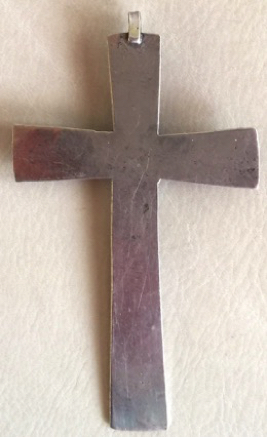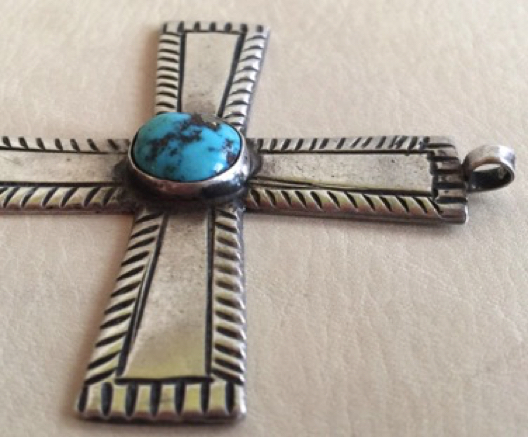 A very striking, large Navajo tufa-cast silver cross
set with a Morenci, AZ turquoise stone, c. 1930's-40's
THIS LARGE NAVAJO silver and Morenci turquoise cross is a triumph of traditional craftsmanship and design.
It is very finely tufa-cast into a beautiful and graceful, slightly-beveled shape and then most beautifully stamped all the way around the perimeter with perfectly-applied chiseled and stamped decorative designs. In the center of the cross sits a lovely round domed turquoise cabochon stone of high-grade Morenci Arizona turquoise, one of the world'e most significant and beautiful varieties of turquoise with some nice pieces of its characteristic pyrite matrix visible in the stone. The stone itself measures 1/2" across. The cross measures a very good-sized 4" in height and is 2 1/4" in width at the widest point. It weighs a very comfortable 27 grams or 7/8 ounce and it is in excellent original condition.
The cross is presently strung on a black silk jewelry cord, but it could also just as easily and interchangeably be worn on a silver chain or leather or suede thong. Whether you choose to see this as an object or symbol of religious devotion or simply as a beautiful decorative piece of Navajo silverwork is completely your choice. What is abundantly true in both instances, however, is that this is an extraordinarily attractive piece in every way.
Price $1,450