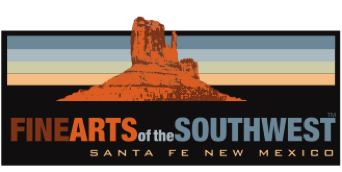 © 2010-2021 by Fine Arts of the Southwest, Inc. All rights reserved.
Unauthorized reproduction or use is strictly prohibited by law.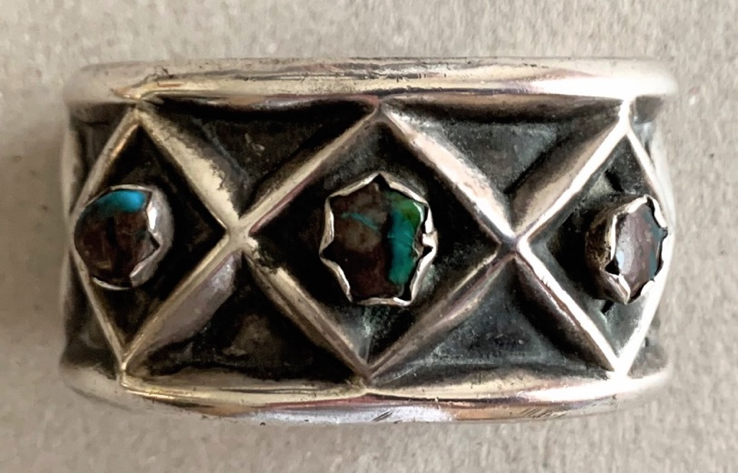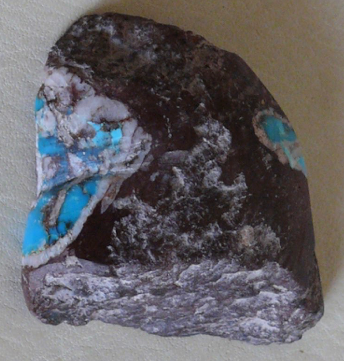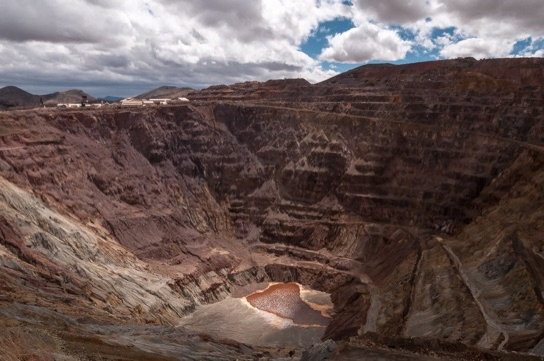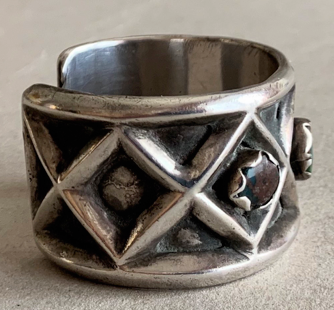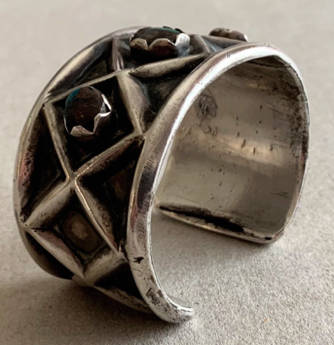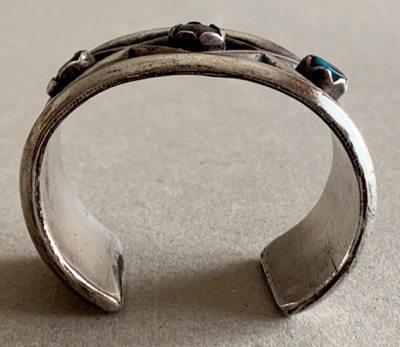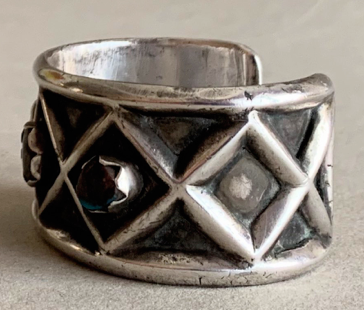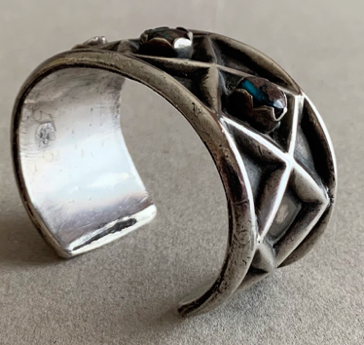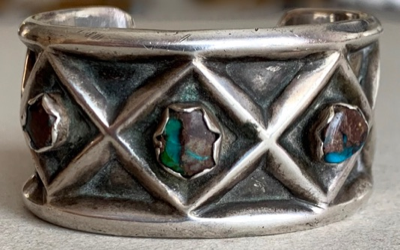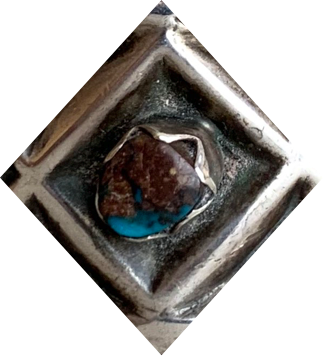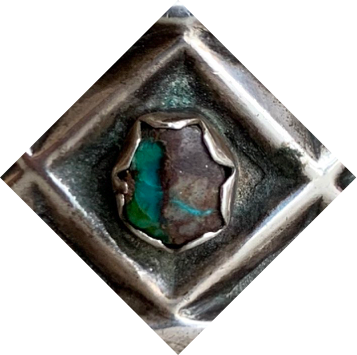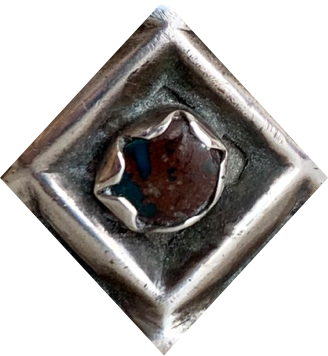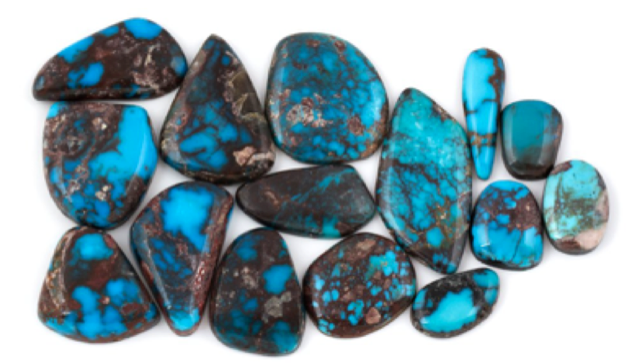 A vintage Navajo heavy tufa-cast silver cuff bracelet set with three very fine "Lavender Pit" Bisbee, Arizona turquoise stones, c. 1950's
This old and bold Navajo silver and Bisbee turquoise bracelet is a real serious beauty monster. It features a heavily tufa-cast ingot-silver shank with repeating raised diamond-shaped designs all the way around. The cast-in diamond designs display an absolutely wonderful contrast of textures between the raised and deliberately polished upper sections and the lower darker and unpolished areas which gives the bracelet a great amount of visual intensity and "depth". Situated inside the center of each of the three central cast diamond designs is mounted a beautifully hand-wrought and heavily scalloped silver bezel which holds a high-grade Bisbee, Arizona "Lavender Pit" turquoise stone.
"Bisbee turquoise is as good as turquoise gets."
-American turquoise authority and turquoise mine owner, Gene Waddell
"Lavender Pit" or "Smokey" Bisbee is an American turquoise legend, renowned the world over today for its intense
blue-purple color and smoky deep brown-grey matrix. However, it is not named "Lavender" for its prized deep purplish-bluish brownish color as one might naturally expect, but rather for the legendary longtime supervisor of the Bisbee copper mine at the time, a Mr. Harrison Lavender. Bisbee turquoise is the beautiful and rare by-product of the giant Phelps Dodge Company "Copper Queen" copper mine just outside Bisbee and the copper miners used to sneak it out of the Lavender Pit section of the mine hidden in their lunch pails.
The "Lavender Pit" Copper Mine, Bisbee, Arizona, circa 1970.
Photograph courtesy of and © by Wikipedia
An uncut "Lavender Pit" Bisbee turquoise "rough" stone
The bracelet measures 1 1/4" in continuous width all the way around. The inner circumference end-to-end is 5 3/16" and the gap between the terminals is 1 1/16" for a total interior circumference of 6 1/4". The bracelet's cast silver shank is about 1/8" in thickness and it weighs a substantial 111 grams or 3 7/8 ounces. The bracelet and stones are in excellent original condition with some age-appropriate wear. There are some interesting original casting marks on the interior of the bracelet, on one terminal and along one edge. These add nicely to the handmade character, in our estimation.
This is a beautiful and intense historic piece sure to well satisfy anyone with an appreciation of fine traditional
Navajo silverwork and beautiful high-quality, rare turquoise stones.
Price $2,100
Bisbee Turquoise
Bisbee turquoise is a significant by-product of the huge Lavender Pit copper mine, which is now closed. With some of the finest turquoise coming from the section of the copper mine known as the "Lavender Pit," where for years copper miners would bring out fine turquoise in their lunch boxes. In March of 1972 a miner named Bob Matthews was given the only lease ever granted for rights to mine Bisbee turquoise. He was said to have recovered more than 2,000 pounds of good to excellent turquoise by 1974 . Bisbee turquoise is famous for its deep blue color and its smoky black matrix, which has been described as "smoky Bisbee" and as "lavender." Bisbee turquoise is as good as turquoise gets. In 2004 the Phelps Dodge Mining Company no longer allowed anyone near the hazardous old mine and buried the turquoise pit under 100 feet of dirt. There will be no more Bisbee mined. Any Bisbee on the market today was officially mined prior to 1974.
-Photo and text source and © WaddellGallery.com