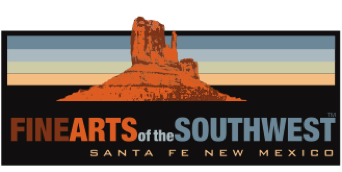 © 2010-2021 by Fine Arts of the Southwest, Inc. All rights reserved.
Unauthorized reproduction or use is strictly prohibited by law.

An extremely well-crafted Navajo tufa-cast
silver belt buckle, c.1940's-1950's
This is a very finely-made and elegant piece, the product of a very obviously skilled unknown Navajo silversmith.
The tufa casting of the silver here, an extremely demanding and difficult traditional Navajo silversmithing technique to execute well is perfectly accomplished with the ideal combination of delicacy and strength which is considered the hallmark of fine tufa-casting. The buckle's design is quintessentially Navajo; a four-part or "Four Directions" horizontally-oriented "Ketoh" style with four horizontal lozenge shapes surrounded by a four-part interior cross-like design with what appear to be stylized corn plant motifs. It's simple and satisfyingly complex at the same time.
The buckle measures a nicely-proportioned 3" in width and is 1 5/8" in height. It weighs a substantial-for-its-size 44 grams or 1 1/2 ounces. It can accommodate a belt of up to 1 3/8" in width. It is in excellent original condition with some age-appropriate wear and a fine patina. This small-to-medium sized buckle could be worn almost anytime, from a high-level corporate board meeting to a day at the rodeo or a trip to the grocery store by either a man on a tooled Western-style leather belt or by a woman on a fine Italian soft calfskin leather belt.
This is an extremely attractive and historic piece perfectly at home in completely different worlds in modern times;
a beautiful confirmation that the true classics are always in style.
Note: The leather belt pictured here is for demonstration purposes only and is not included in the sale
of this buckle. If desired, we can recommend an excellent custom belt maker here in Santa Fe.
Price $875
SOLD