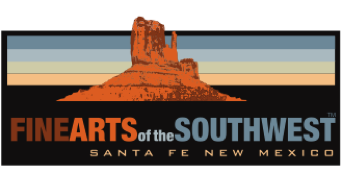 © 2010-2022 by Fine Arts of the Southwest, Inc. All rights reserved.
Unauthorized reproduction or use is strictly prohibited by law.

A beautiful and historic "UITA24" Navajo
tufa-cast ingot-silver bracelet, Wide Ruins Trading Post, Chambers, Arizona c.1940's
Now this is real Southwest history in the palm of your hand so to speak or more properly on your wrist.
In the late 1920's and early 1930's alarmed by the increase in cheap machine made manufactured imitation Native American jewelry a number of important efforts were made to safeguard and guarantee the authenticity and quality of Native American jewelry and ensure that it was indeed made by Native craftsmen instead of machines in the U.S., Japan and elsewhere.
One of the most significant and enduring of these efforts was the organization known as UITA, the United Indian Trader's Association, a voluntary membership group founded in 1931 by a number of the most prominent and influential Indian Traders of the time including such luminaries as C. G. Wallace, C. N. Cotton, Berton Staples and Tobe Turpen. To be able to make and sell UITA-approved Native American jewelry, qualifying member trading posts had to meet a set of strict guidelines regarding quality and authenticity. Only then could the jewelry made at or made for these posts by Native Craftmen be sold with the UITA stamp of approval and the specified number of the individual member trading post. In the case of this marvelous bracelet, that number was "UITA24" denoting the old Wide Ruins Kin-teel Trading post in Chambers, Arizona.
At left, a historic view of Wide Ruins Kin-teel Trading Post, c. 1940. At right, "Wide Ruins" style Navajo weaving, c. 1940's.
Left photo source and © Cline Library, NAU, Flagstaff, AZ, right photo source and © Cameron Trading Post, Cameron, AZ
UITA business card, c. 1930's
Photo source and © Bille Hougart Books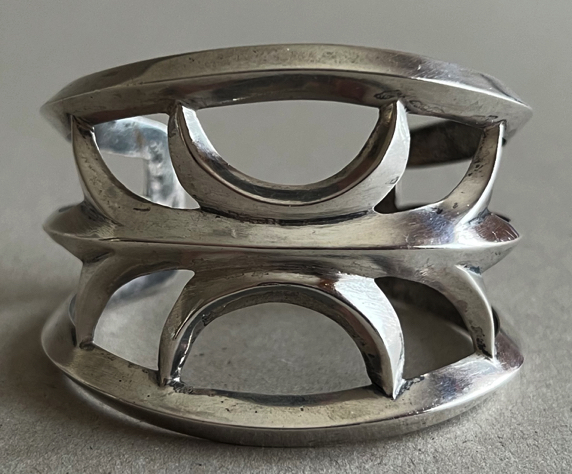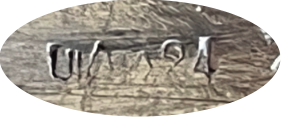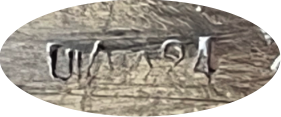 The Wide Ruins post was originally built in part from stone blocks scavenged from an ancient Chacoan outlier ruin nearby known as "Kin-Teel". Traders Sallie Wagner and Bill Lippincott purchased the old post in 1938 and operated it through the 1940's when this bracelet was most likely made. Today, Wide Ruins post (now demolished) is best known for the regional style of Navajo rug produced there in the 1940's and later under the Lippincott's auspices, the so-called "Wide Ruins" rug renowned for its exceptional weave quality and exclusive use of vegetal dyes.
Now let's get to the terrific Navajo tufa-cast bracelet made for and sold at the Wide Ruins trading post.
The unknown silversmith who made it was clearly an accomplished artisan. The tufa-casting here is masterful displaying the ideal combination of strength and delicacy one looks for in a tufa-cast piece. The bracelet was made from a commercial cast sterling silver ingot "slug" most likely obtained by the Navajo silversmiyh from the trading post and then subsequently melted down and cast while red hot into a carved tufa stone mold. The molten silver flowed perfectly through the mold resulting in an even and successful cast. It looks simple but in reality it is anything but; it's an exacting and painstaking process that results in failure far more often than the the clear and resounding success shown here.
The bracelet measures 1 7/8" in width at its widest center point and tapers down to 1" in width at the terminal ends. The inner circumference end-to-end is 5 1/2" and the gap between the terminals is 1 1/8" for a total interior circumference of 6 5/8". The bracelet weighs 70 grams or 2 1/2 ounces and it wears very comfortably on the wrist. The bracelet is in excellent original condition and it is properly signed "UITA24" on the interior with UITA's famous arrowhead hallmark and Wide Ruins Trading Post's numeric designation of "24".
This is a true piece of Southwest history, an evocative memory and memento of a famous place at a historic time and a darn beautiful piece of handmade Navajo jewelry to boot!
Price $1,250
SOLD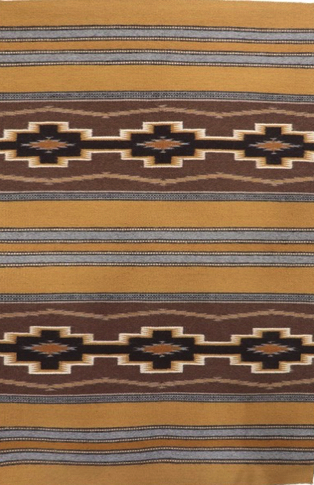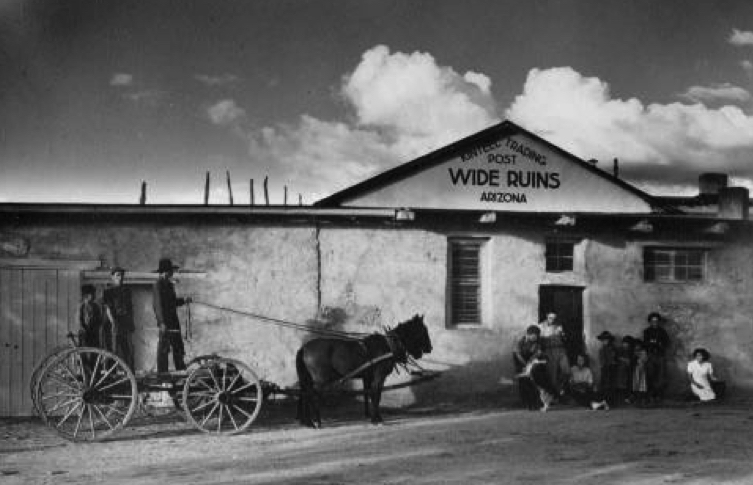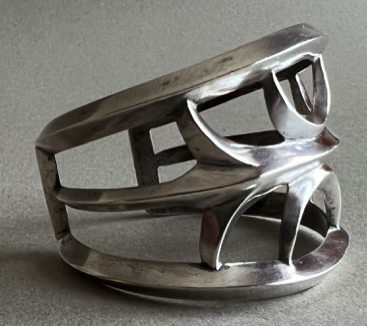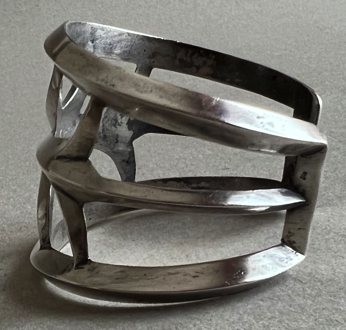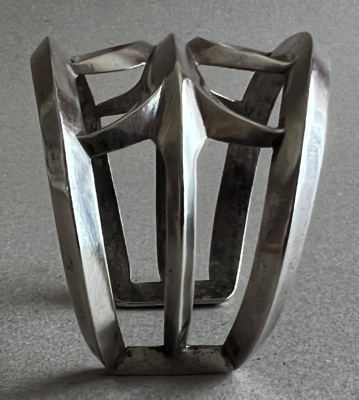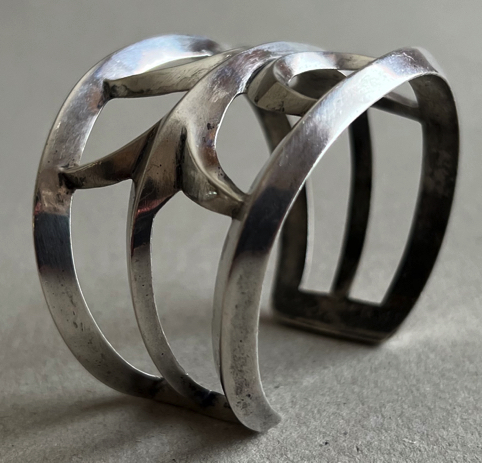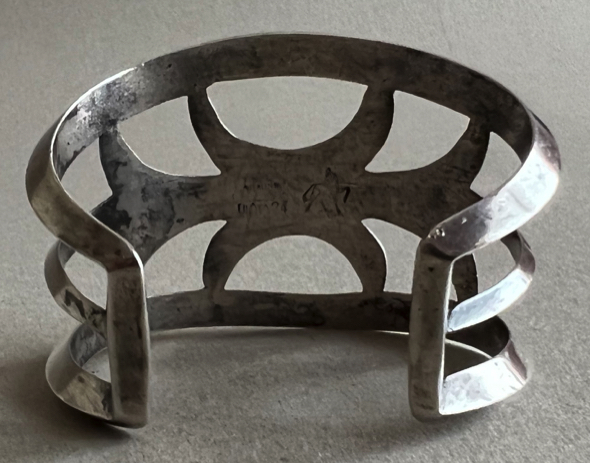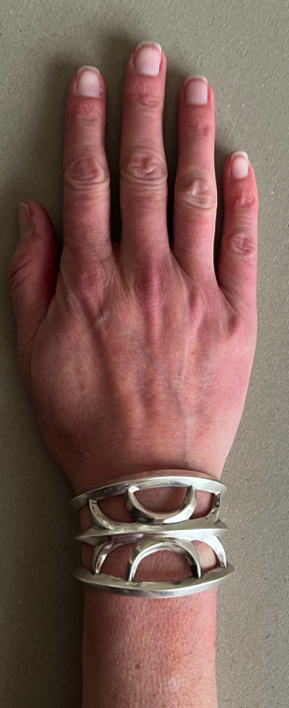 "The United Indian Traders Association (UITA) was established on September 13, 1931 for the expressed purpose of authentication of Indian crafts. At the time, the UITA was an important player both in Indian cultural life and in advocating for the sale of authentic Indian arts and crafts."
-Quotation and UITA card photo source and © Bille Hougart Books
"UITA 24" hallmark and "Sterling" on the interior of the bracelet along with an inscribed figure of a prancing horse which might be a "signature" of the individual Navajo silversmith who made this bracelet or the identification mark of a previous owner.