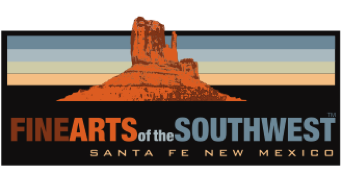 © 2010-2022 by Fine Arts of the Southwest, Inc. All rights reserved.
Unauthorized reproduction or use is strictly prohibited by law.

A superbly-crafted Vintage Navajo coin-silver "Concho" style buckle c. 1920's
The earliest metal buckles used by the Navajo on their belts were commercially manufactured brass harness buckles salvaged from old U.S. Army saddlebags or horse tack for a very simple reason, The Navajo silversmiths had not yet learned to solder, which is also why early First-Phase style concho belts have diamond-shaped slots in them rather than soldered on loops in the back to hold the belt leather.
This beautiful small buckle is the first style of buckle which the Navajo made and used after learning to use solder early in the 20th Century and thus to attach a crossbar across the buckle opening to hold a tang which engaged and held the belt leather.
This buckle is made from American and/or Mexican silver pins in one of two traditional Navajo silversmithing methods. In the first and much more common method a quantity of coins are melted and cast into an ingot silver "Slug" which is then re-heated and hammered out to form the body of the buckle. In the second method, a silver coin or coins is heated until red hot and then hammered out directly to form the body of the buckle. If more then one coin is needed there coins are hammered and layered together. In our opinions, the second method was used here as we can see numerous small remnants of the original serrated coin edges around the buckle. Also, the buckle is almost exactly the weight of one American silver dollar.
In either case, the buckle is most beautifully crafted, its extended horizontal oval shape is finely formed into a slightly-domed Concho like shape and then two encircling bands of gorgeously applied stampwork designs were added to accentuate the scalloped outer edge. The silver crossbar and tang are also beautifully wrought, like tiny artworks themselves, the buckle really looks like a miniature Second-Phase style Concho and thus would naturally be the perfect artistic complement to a historic Second Phase Concho belt such as the one pictured below in the historic photo.
The buckle measures 2 1/4" in width and is 1 7/8" in height and weighs 20 grams or 3/4 ounce. It will accept
a belt leather of up to 7/8" in width. The buckle is in excellent original condition with a fine patina and it is unmarked for the maker as befits its early age.
This buckle is an elegant, timeless, perfectly-crafted and easy to wear piece for a man or a woman, as attractive and comfortable in an executive boardroom in New York City as it would be eating fry bread in
the bleachers at the Navajo Nation Fair Rodeo in Window Rock.
Price $1,450
Please note that the leather belt pictured here is for demonstration purposes only and is not included
in the sale of this buckle. If desired, we can recommend an excellent leather belt maker in Santa Fe.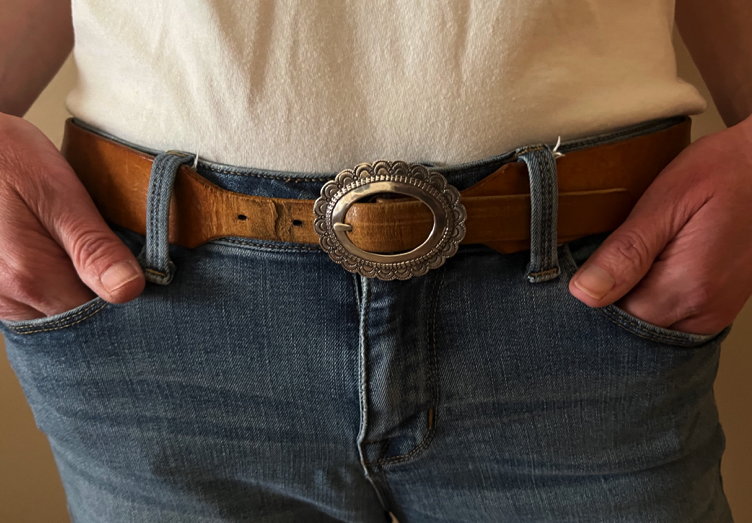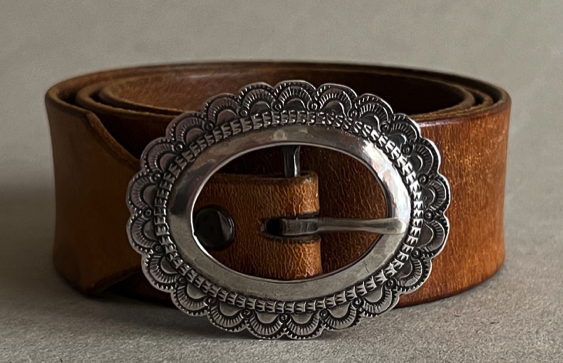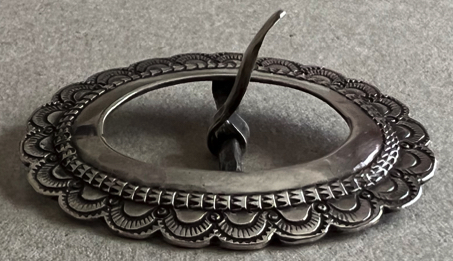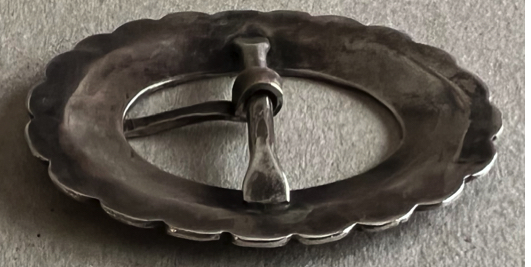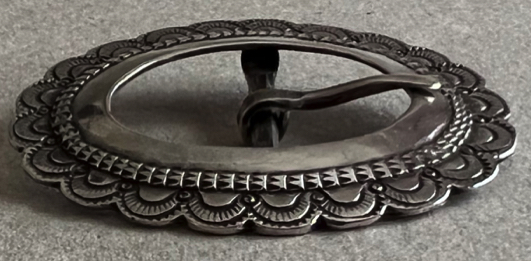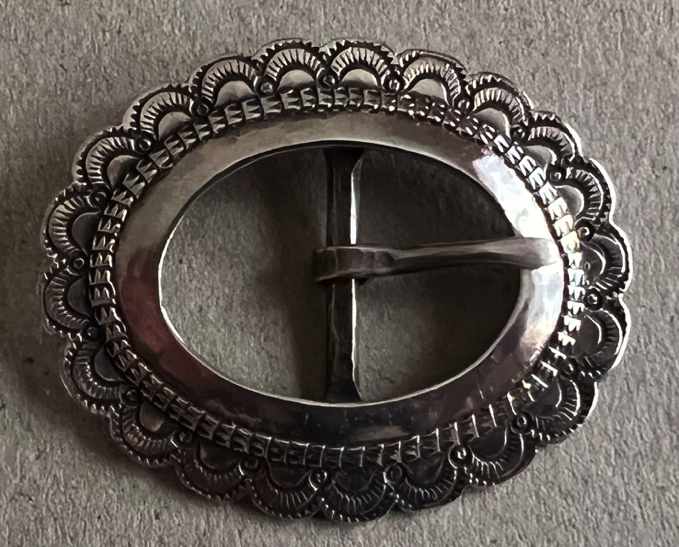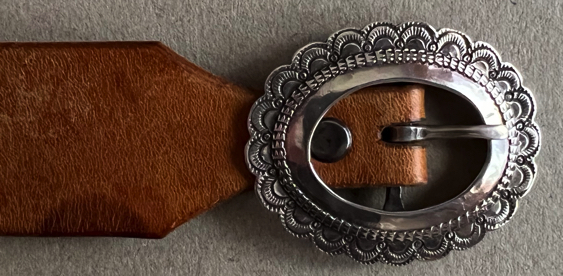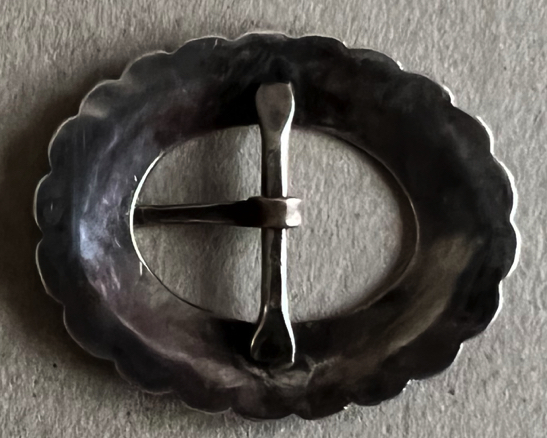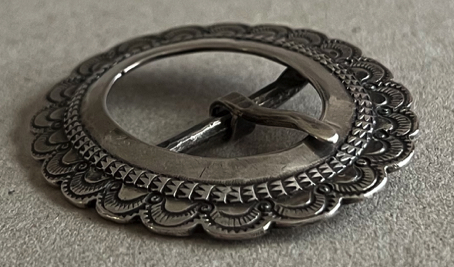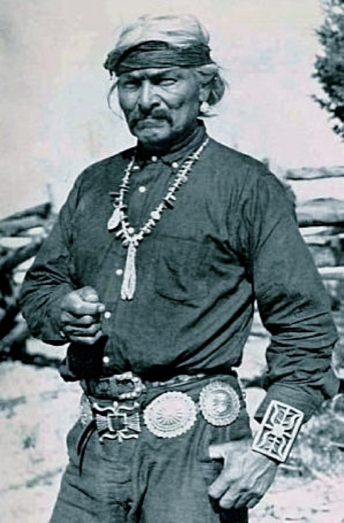 At left, a Navajo man wearing a Navajo Second-Phase concho belt, c. 1920's.
Photo source and © John Adair, "The Navajo and Pueblo Silversmiths"