© 2010-2022 by Fine Arts of the Southwest, Inc. All rights reserved.
Unauthorized reproduction or use is strictly prohibited by law.

A very beautiful vintage Navajo silver and
Fox Nevada turquoise ring, c. 1940's-50's
This ring is a definite head-turner. The design and craftsmanship are simply superb. The ring features a striking and dramatic large oval-shaped greenish turquoise stone with slight overtones of blue and a spidery light brown matrix which we believe to be from the famous Fox turquoise mine in Nevada, one of America's oldest turquoise mines dating back to the early 1900's. The stone is set in a very finely-scalloped silver bezel which is in turn surrounded by a narrow panel of silver overlay and then a wide carinated or slanted silver surround.
Down the ring's shank on either side of the central stone are elaborately fabricated slightly raised silver panels which appear to have been soldered onto the silver shank and all around the stone are beautifully-applied chisel worked accents. All in all, it's a simply marvelous and precious artistic presentation!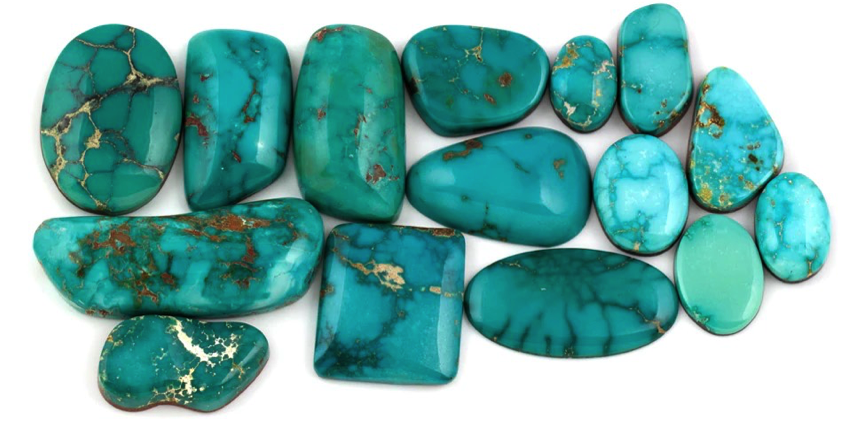 Fox Turquoise
The Fox turquoise mine, located near Lander County and discovered in the early 1900's, was once Nevada's largest producer of turquoise with some half million pounds. At that time, Dowell Ward, the mine operator, amassed one of the largest collections of turquoise rock. The mining operation continued to produce turquoise in quantity after 1968 and is still producing today. Fox turquoise is quite hard and runs from shades of green to an aqua blue color. It is found as both nuggets and vein material. The names Fox, White Horse, Green Tree and Smith to differentiate among the colors of turquoise produced in the area and to create a larger perceived share of the market.
- Fox turquoise photo and text source and © Waddell Gallery, Scottsdale, AZ
The ring measures a size 10 1/4 to 10 1/2 on a professional graduated ring sizer. The ring's face is 1 1/8" in height
and it is 7/8" in width at the widest point. It weighs a substantial, yet very comfortable 21 grams or 3/4 ounce.
The ring is in excellent original vintage condition with some amount of age-appropriate wear.
This piece would look very handsome on pretty much anyone; nice for regular everyday casual use on
a man or as a particularly striking "cocktail" style ring on a lady for a special fancy evening.
SOLD