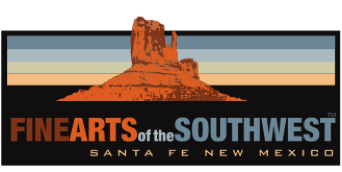 © 2010-2022 by Fine Arts of the Southwest, Inc. All rights reserved.
Unauthorized reproduction or use is strictly prohibited by law.
This one literally makes your mouth water, it simply looks good enough to eat. The seven perfectly matched Persian turquoise stones are just delicious looking. They have that special quality known informally in the trade as "Zat" meaning that their sheer visual presence is elevated and electric.
In addition to its great beauty, the bracelet also has great history behind it. In the early decades of the 20th Century there was not a great deal of American turquoise being produced, only a few mines were open, like Nevada's Blue Jay/Lone Mountain and Arizona's Sleeping Beauty and their output was not very large. To meet the rapidly rising demand for Native American turquoise jewelery resulting from the Southwestern tourist boom occurring during this time aided, abetted and skillfully promoted by The Fred Harvey Company in conjunction with the Santa Fe railway, the enterprising Arizona Indian Trader, Juan Lorenzo (J.L.) Hubbell (1853-1930) had the brilliant brainstorm to begin importing fine Persian turquoise stones like these into the Southwest from Europe for his Navajo silversmiths to make into jewelry and this is one of the results.
We strongly suspect that this bracelet was made for one of Hubbell's trading posts, but it could also possibly have been made at another post to whom Hubbell might have sold some Persian turquoise stones, such as Charles Garrett (C.G.) Wallace who was well known for his vociferous appetite for acquiring the finest turquoise.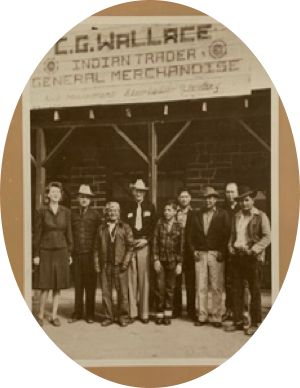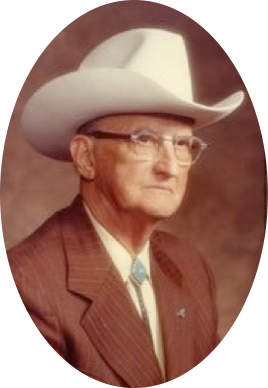 At top left, Indian trader J.L. Hubbell, c. 1910. At top right, Indian trader C.G.Wallace, c. 1930's, At top center, C.G. Wallace's Trading Post at Zuni, New Mexico. At bottom center, J.L. Hubbell inspecting a Navajo weaving at his trading post in Ganado, Arizona.
Top left and bottom center photo source and © National Park Service. Top center and top right photo source and © Sotheby Parke Bernet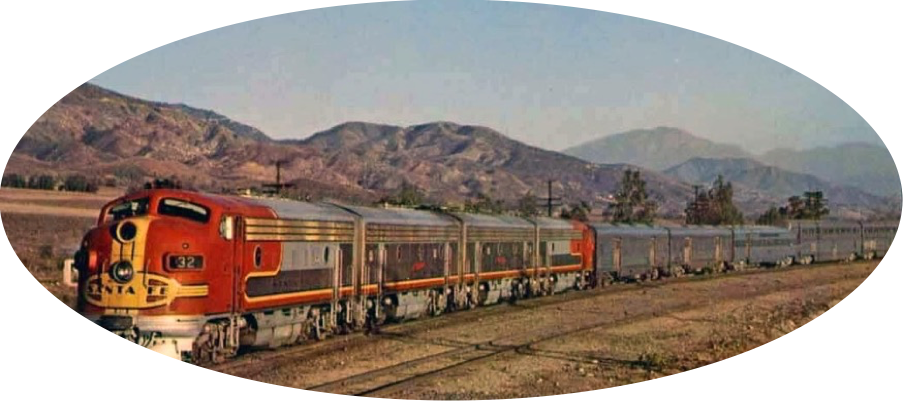 Above, Fred Harvey, whose hotel and trading empire helped introduce the American Southwest to the world and created increased interest in Native American turquoise jewelry in partnership with the Santa Fe Railway whose "Super Chief" train en route from Albuquerque to Los Angeles is shown above.
Top center photo source and © The Fred Harvey Company. Bottom center photo source and © The Atchison, Topeka and Santa Fe Railway.
In any case, the resulting bracelet is riveting and the particulars are as follows: It is constructed on a triple hand-pulled silver wire shank with seven individually made silver bezel platforms to hold the stones and their bezels, the high-domed stones are set in old-style high "foldover" type silver bezels and the bracelet is accentuated with
six rows of applied silver "raindrops" and capped silver terminals. The bracelet measures 11/16" in width at its widest center point and tapers down to 1/4" in width at the end terminals. This bracelet is for the smaller to medium-sized wrist. The inner circumference end-to-end is 5 3/8" and the gap between the terminals is 7/8" for a total interior circumference of 6 1/4". The bracelet weighs a very comfortable 43 grams or 1 1/2 ounces. The bracelet is in excellent original condition overall, with some degree of age-appropriate wear. One of the seven turquoise stones has a very slight crack across the middle, but is completely secure in its bezel. Also, the bracelet's terminals are slightly misaligned as you can see in the photos, but this is of no particular consequence.
Get your hands on this luscious baby while limited supplies last; it has absolutely everything, great beauty,
fine craftsmanship and fascinating history combined in abundance.
Price $2,650

A particularly beautiful old Navajo silver and
seven Persian turquoise row-style bracelet, c.1920's