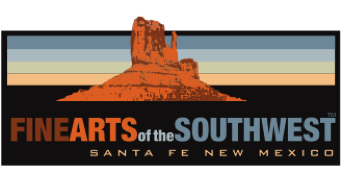 © 2010-2021 by Fine Arts of the Southwest, Inc. All rights reserved.
Unauthorized reproduction or use is strictly prohibited by law.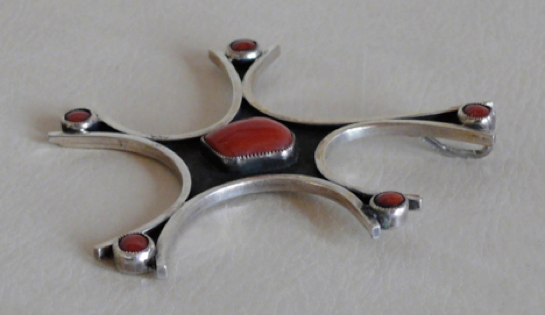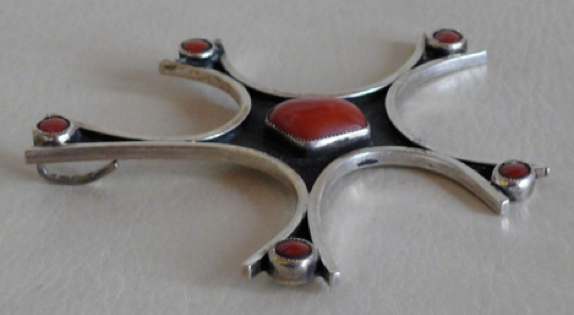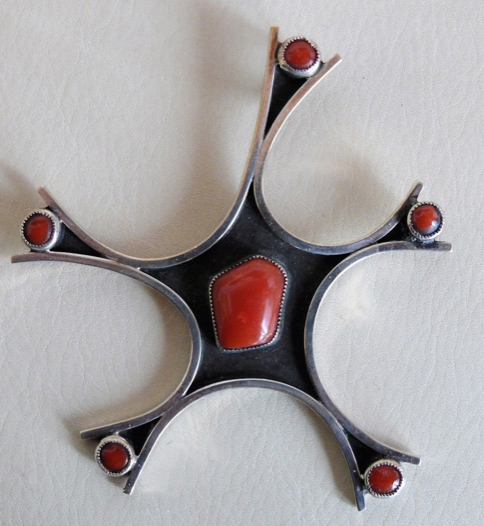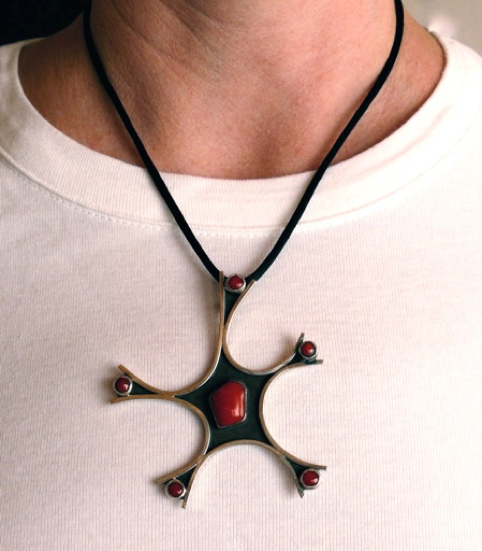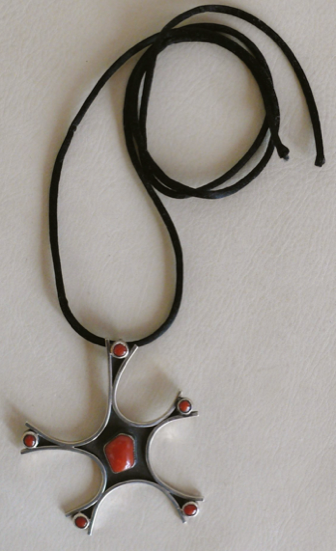 An unusual, vintage Navajo silver and
red coral Modernist pendant, c.1950's
Perhaps we should call this piece "The Attack of The Blob". We're just kidding, of course, but we've had lots and lots of great Native American jewelry over the years, and, in our long experience this piece is definitely something completely different. This silver and red coral freeform "AMOEBA" pendant is quite amazing; a beautiful, organic, natural form that's very finely-wrought in a streamlined, highly-modernist manner by an unknown, but clearly very talented Navajo jewelry artist.
The large pendant measures 3" in height and it is 3" in width at the widest point, and it weighs 22 grams or 3/4 ounce. It is beautifully set with 5 very high-quality small deep red coral stones surrounding one much larger deep-red coral stone. All the stones are set in extremely finely serrated silver bezels. The pendant is in excellent original condition. There is the slightest dent in the top of the bezel on the uppermost coral stone, but it is of no consequence. We presently have the pendant strung on a fine black silk jewelry cord which is included, but it could also be nicely hung on a silver chain or a leather thong if desired.
Be the first on your block or in the entire country for that matter to have such an interesting and striking piece. It's a sure-fire conversation starter!
SOLD