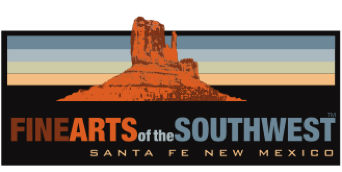 © 2010-2021 by Fine Arts of the Southwest, Inc. All rights reserved.
Unauthorized reproduction or use is strictly prohibited by law.

A hand-carved Taos, New Mexico Modernist wood sculpture by Patrocino Barela, circa 1960
A wonderful piece of modernist sculpture hand-carved from a log of local cedar or juniper wood by the extraordinary 20th Century, Taos, New Mexico artist, Patrocino Barela (Mexican-American,1900-1964). When eight pieces of the self-taught artist's work were displayed at The Museum of Modern Art's Federal art Project joint exhibition in1936 in New York City, it caused an absolute sensation and suddenly the nearly-illiterate and completely unschooled Barela was thrust into the full glare of the art world spotlight. He was widely hailed by influential Art critics and scholars as being "The Picasso of the West" and Time Magazine referred to him as the art world's "Discovery of the year".
This wonderful piece, completed four years before the artist's untimely death in a fire in 1964 and entitled "Sorrow", portrays a group of four, possibly five interconnected abstracted human figures, possibly a stylized version of Barela's own family who were well known for their ongoing domestic difficulties. "Sorrow" was originally purchased in 1960 by its previous owner at the prominent Stables Gallery in Taos, New Mexico, which was then located next door to The Historic Taos Inn in the center of Taos at the intersection of Paseo del Pueblo Sur and Bent Street.
Stables Gallery sold the work of a number of contemporary Taos artists including Barela's as did their next door neighbors, Harold and Hilda Street, the former owners of The Taos Inn who were close friends and longtime patrons of Barela's. The sculpture measures 14" in height and is approximately 6" wide at the widest point. It is in excellent vintage condition with the various nicks, scrapes and cracks one would expect to see in a piece of fifty-plus-year-old wood from a dry high-desert climate. The sculpture is signed "Pat Bar" on the bottom in the artist's customary signature. It is also inscribed "Sorrow" and dated "1960" in an unknown hand. A small part of the signature is slightly obscured by what appears to be plywood and glue residue resulting from the sculpture having been glued to a base at some point in its life. This residue could be easily removed if desired.
Price $4,800