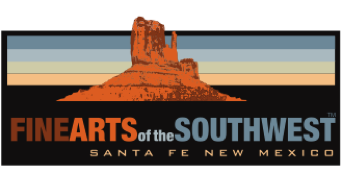 © 2010-2022 by Fine Arts of the Southwest, Inc. All rights reserved.
Unauthorized reproduction or use is strictly prohibited by law.
A beautiful large pair of vintage Sterling silver and turquoise earrings by Nicholas Gambino, c. 1980's
Nicholas (Nick) Gambino is not your typical name in Native American silversmiths but Nick Gambino (b.1940's) was one of the 20th Century's finest and most creative Native American silversmiths. He is not Navajo or Pueblo in ancestry, he is a Morongo Mission Indian from Southern California, but beginning in 1971 he went to work at Scottsdale, Arizona's famed White Hogan Shop where he was mentored and further trained by The White Hogan's all-star team of Navajo silversmiths led by none other than "The Father of Modern Navajo silver", the legendary Kenneth Begay (1910-1977) and Begay's talented first cousins Allan Kee and George Kee so Gambino makes his jewelry with the same sleek and innovative Modernist design aesthetic and meticulous traditional methods of craftsmanship used by the White Hogan. After a decade or so working at White Hogan, Gambino went out on his own.
These gorgeous earrings are a perfect example of Gambino's accomplished work and elegant aesthetic. The large asymmetrically-shaped and beautifully-matched turquoise stones are dazzling enough to light up the night sky like bright blue beacons. We don't know exactly what turquoise mine these stones are from, possibly the famed Morenci Mine in Southern Arizona but they sure are fabulous looking with a powerful and penetrating blue color. The stones are set in straight walled old-style "foldover" type silver bezels. The earrings measure an impressive 11/2" in height and they are 1 1/4" in width at their widest points and are 1/8" in thickness. The earrings weigh a very comfortable and wearable 11 grams or 3/8 ounce each. The earrings are mounted on silver posts. The earrings are in excellent original condition and they are each properly signed "NG" with Nicholas Gambino's co-joined capital initials hallmark on the back and they are also marked "Sterling".
Impress your friends and depress your enemies with these absolutely gorgeous larger than life
ornamental ear sculptures. Have yourself a very bright blue Holiday season this year!
Price $775