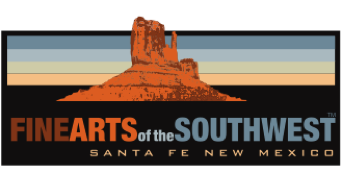 © 2010-2022 by Fine Arts of the Southwest, Inc. All rights reserved.
Unauthorized reproduction or use is strictly prohibited by law.

A beautiful original American Abstract Expressionist
oil painting by an unknown artist, c.1940's-1950's
Could this painting possibly be an undiscovered Jackson Pollock Southwest landscape?
Of course, we're sort of out there where the busses don't run with this notion, but what if this really is a rare Jackson Pollock (1912-1956) Southwestern landscape? Maybe he took an alcohol-fueled road trip out here with his wife and fellow artist, Lee Krasner sometime in the late 1940's or early 1950's and painted this painting by the side of the road or in his motel room in Santa Fe or Flagstaff, threw it in the trunk never signed it and never thought of it again. It might have sat completely ignored gathering dust in a storage shed in the back of his home on Long Island until it went out the door at the estate clearance sale after his death for $15 or 20. Stranger things than this happen in the art business all the time.
In any case, how you perceive the value and significance of this piece is completely up to you. In our view, even if it isn't a Jackson Pollock original, it's still a beautifully-done highly-professional late 1940's to 1950's original American Abstract Expressionist oil painting with great precence and beauty with a dynamic high-key Southwestern color palette. The palette is highly reminiscent of the hues of our unique Southwest landscape of red rock, green piñon and juniper trees, yellow chamisa and bright blue sky. The brushwork and what appears to be the back end of the brush work is just outstanding providing an explosive energetic synthesis of color and form.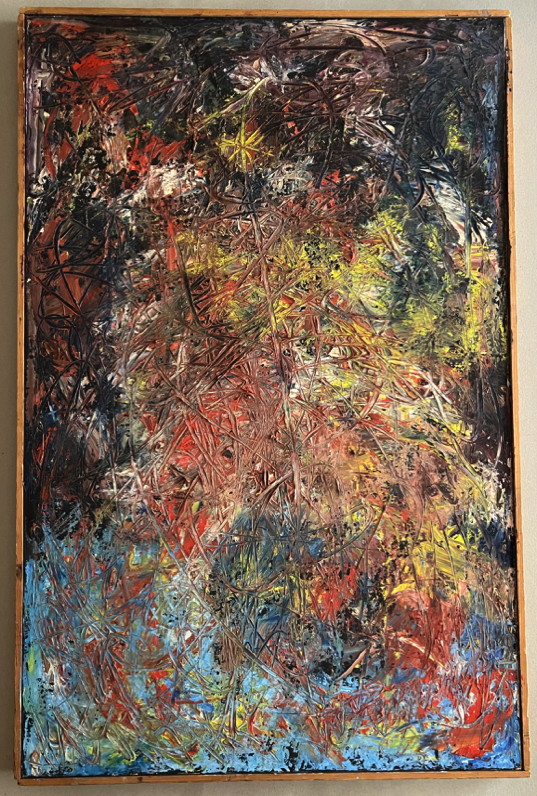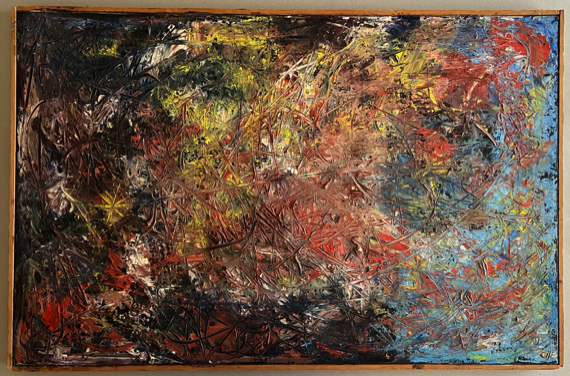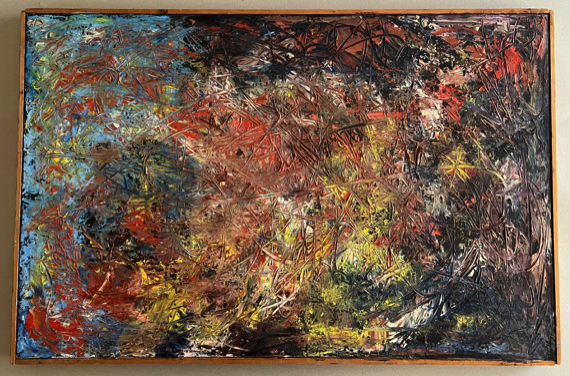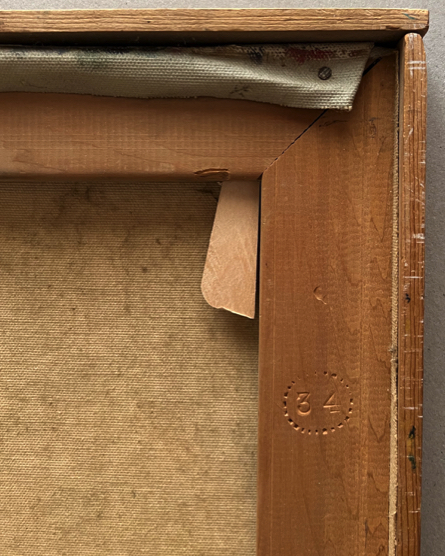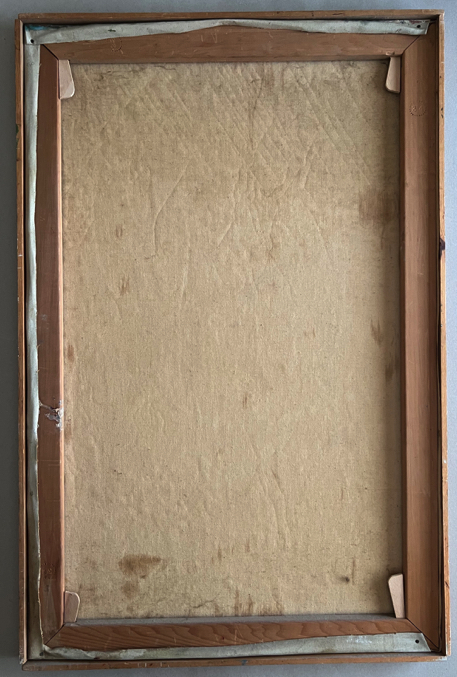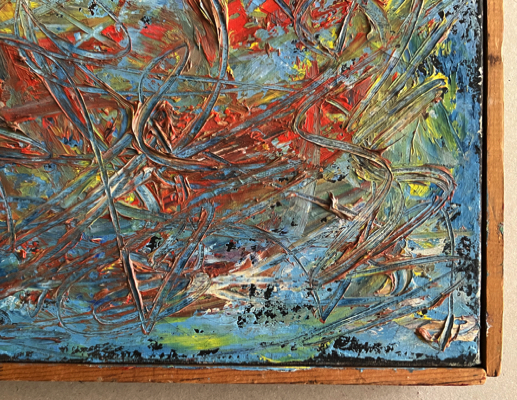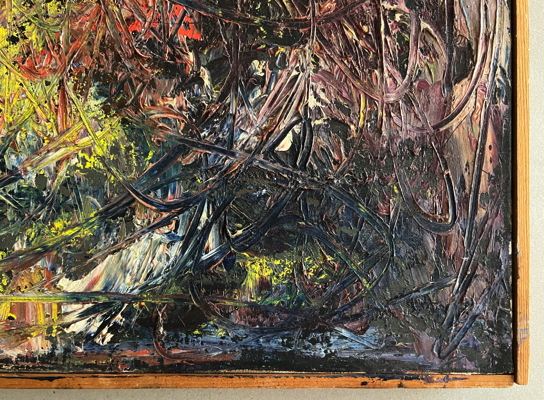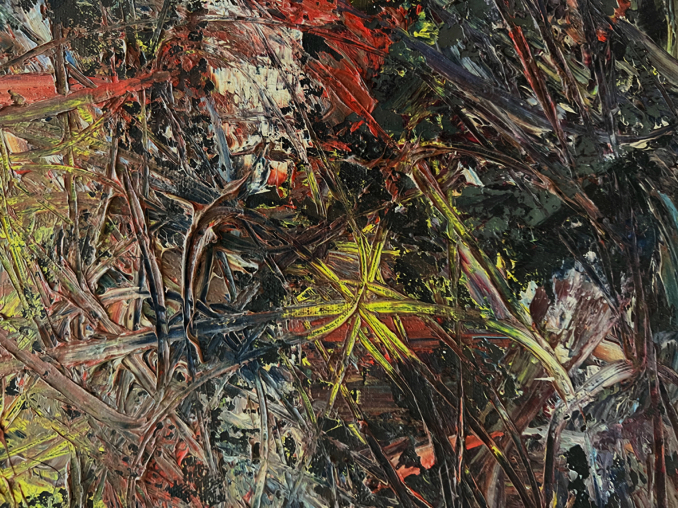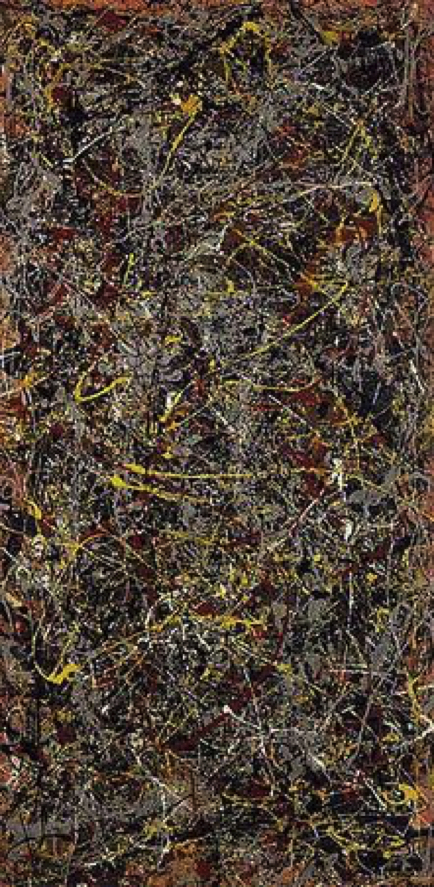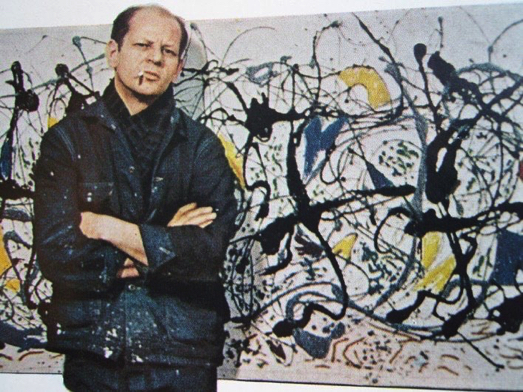 Jackson Pollock, c. 1950's.
Photo source and © Kazoart
Jackson Pollock, "No. 5", 1948, sold in 2006 for $140 million. Private Collection.
The painting is done in oil on canvas and it measures a good-sized 34" by 22". It could be oriented horizontally or vertically as shown above. The painting is in excellent original untouched condition, especially considering its 70 or so years of age. It could benefit from a cleaning, if desired. Examination under UV light shows no evidence of restoration or in-painting. The painting is unsigned and there are no inscriptions or labels on the back. The painting is simply but just perfectly framed in its original plain wood slat frame of the type commonly used by Abstract Expressionist and other Modernist painters of this time period.
Look at it this way, whether it's a Pollock or whether it's a piece by one of his talented contemporaries or followers, this piece is a whole lot of thoroughly Modern art for not much money. And if, just if, you happen to ever show it to a curator at The Museum of Modern Art and they keel over in a dead faint and the painting really turns out be a Pollock well then you'll be hailed as the art world's next genius and be able to retire a hundred times over. If not, at least you'll still have a wonderful painting you can enjoy forever and a terrific story to tell.
Price $2,150 plus shipping or delivery charges
Jackson Pollock "Convergence", 1952.
Photo source and © Albright-Knox Museum, Buffalo, New York.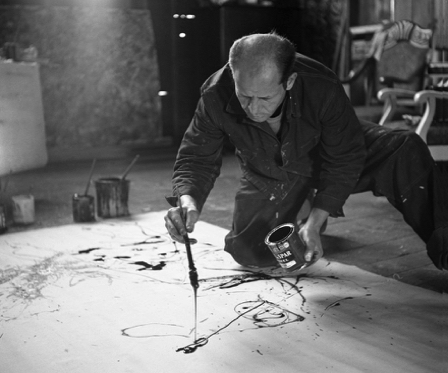 Jackson Pollock, c. 1950's, painting one of his famous "drip" paintings which earned him the nickname "Jack the Dripper".
Photo source and © Life Magazine